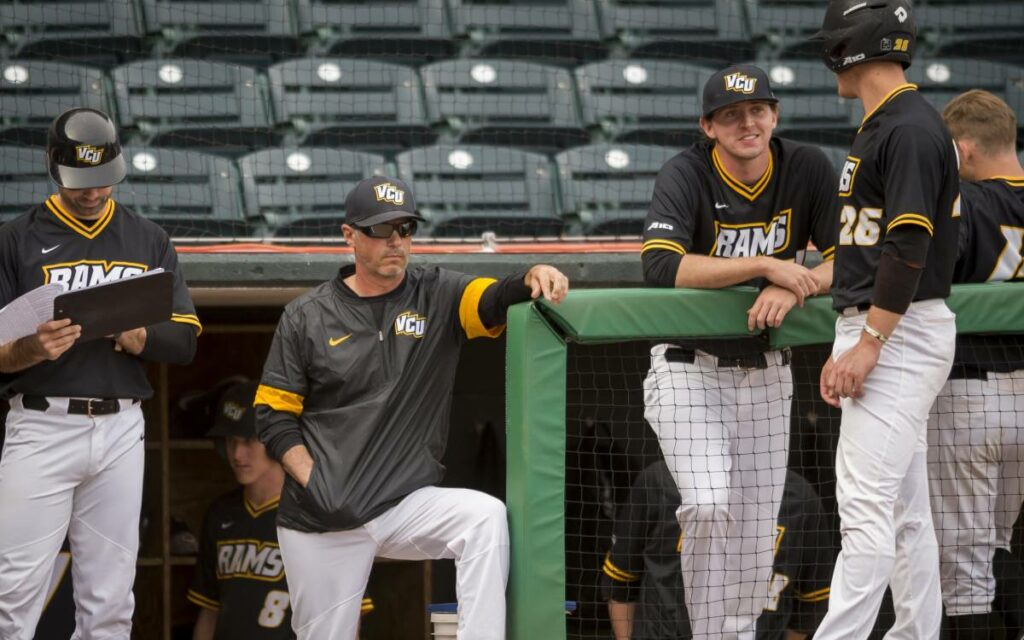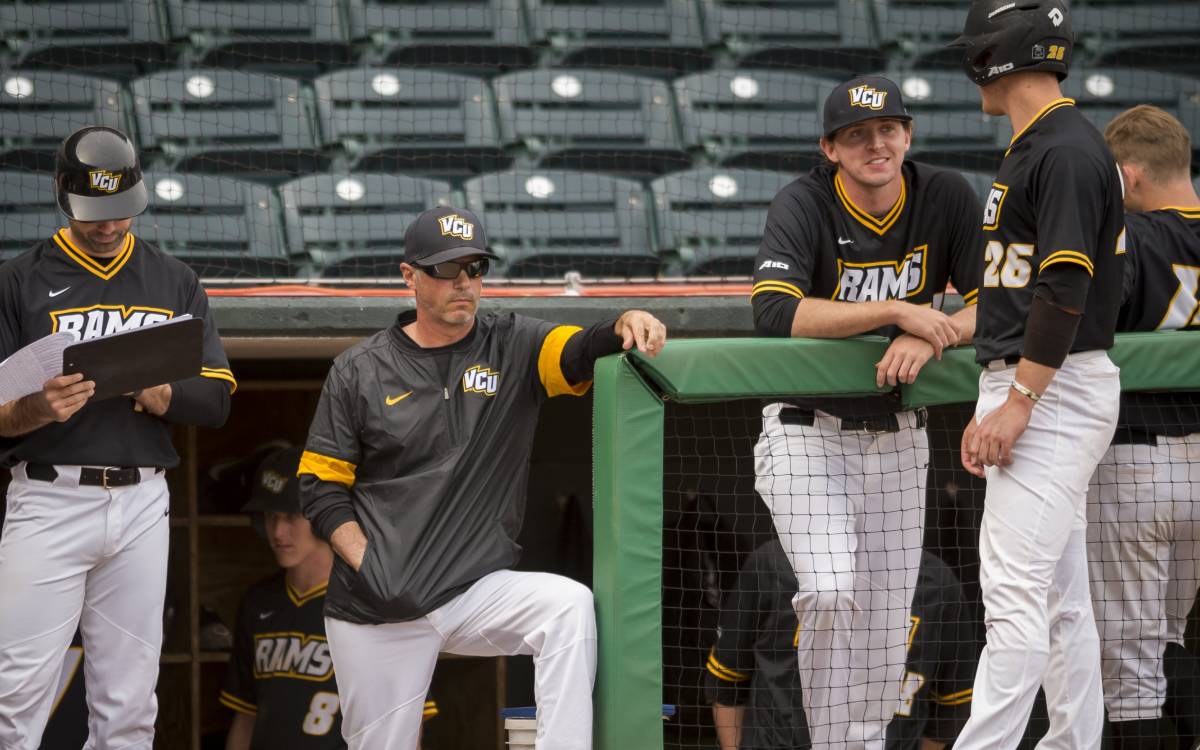 Mike McRae (centre-left) during his time as lead pitching coach at VCU. McRae, originally from Niagara Falls, was recently named head coach of the College of William & Mary baseball squad. Photo credit: Twitter/VCU Baseball
On Tuesday, it was announced that Niagara Falls, Ontario native Mike McRae will serve as the new head coach of the men's baseball team at the College of William & Mary, effective immediately. 
With 16 years of head coaching experience at the collegiate level and 450 career wins to his name, McRae will look to re-establish the Williamsburg, Virginia team as one of the premier division one baseball programs in the NCAA. 
"With the hiring of Mike McRae, William & Mary has found an exceptional baseball coach to lead the Tribe," said the college's director of athletics Brian Mann. "He is a man who lives and breathes the game, and I know his passion for the sport and his dedication to developing his players are the right combination for our baseball program."
McRae began his coaching career at the age of 26 as the inaugural head coach of the newly formed Brock University baseball team in 1995. After helping build the program from the ground up, McRae left Brock to accept an opportunity at Niagara University across the border in Lewiston. While at Niagara, the young up-and-coming coach worked as an assistant with the Canadian National Youth Team, which competed in the 1996 and 1997 World Championships. 
After spending a few years coaching in South Carolina and Maine, McRae returned to Niagara University, this time as head coach. He led the Purple Eagles to a third and second place conference finish in 2003 and 2004, picking up a Metro Atlantic Athletic Conference (MAAC) Coach of the Year award in the process. 
McRae left Niagara in 2005 and travelled down the road to Buffalo to take over the baseball program at Canisius College. 
Canisius had been the MAAC punching bag for years when McRae came in. In the three seasons preceding his arrival, the Golden Griffins baseball team amassed an abysmal 12-119 record. After just a few seasons of working out the kinks, McRae turned Canisius baseball into the powerhouse program it is today. 
"I am genuinely excited for the opportunity to lead the William & Mary baseball team," said McRae in a press release on Tuesday. "So much about the university and program aligns with my personal values and I see it as an ideal fit. While I am fully committed to building a championship program, I am equally passionate about developing student-athletes who graduate and have the tools necessary to make an impact in life beyond baseball."
In all, McRae headed up the Golden Griffins program in Buffalo for 13 seasons. In that time, he achieved over 400 wins and made the MAAC tournament every year after 2008, winning three conference championships and going to the NCAA tournament in 2013 and 2015.
As head coach of Canisius, 13 of McRae's players were selected in the MLB Draft, the most of any school in the conference during that time.  
A perennial fixture on the Canadian Baseball Network's annual list of most influential Canadians in baseball, McRae has spent the last four years leading the pitching staff at Virginia Commonwealth University (VCU) in the Atlantic 10 (A-10) Conference. 
During his time with the Rams, McRae helped the team to an A-10 Championship in 2021 and regular season titles in 2021 and 2019. Six of McRae's former players from VCU have gone on to play with MLB affiliated clubs. 
VCU became nationally recognized as a force during McRae's tenure, climbing in the D1 RPI rankings each season, reaching the mark of 30 in 2021. Under McRae, the Rams pitching staff struck out 1,564 batters, walking just 673 for a 2.32 ratio. 
Like he did at Canisius, McRae will look to rebuild a William & Mary Tribe baseball squad that was hit or miss under the eight-year tutelage of former head coach Brian Murphy, going 14-29 last season. 
Before coaching, McRae played collegiately at Colby College in Waterville, Maine. He was a four-year letter winner in baseball, and as a goalie on the school's hockey team. McRae earned his undergraduate degree from Colby in 1991 and his master's degree in education from Niagara in 1993.