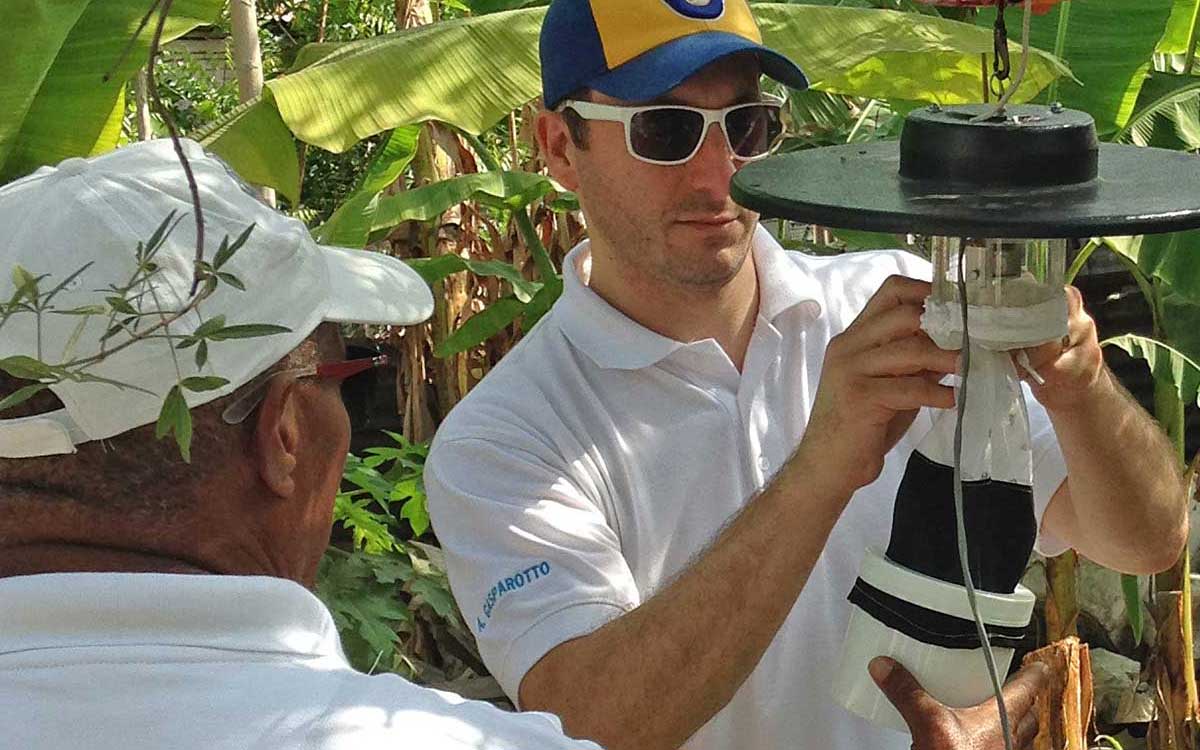 Photo: Research at Brock
Brock alumnus Alessio Gasparotto sets up a light trap baited with dry ice to capture mosquitoes in the Dominican Republic. Looking on is Modesto Cruz, Director of the Research Institute of Microbiology and Parasitology who partnered with Brock biologist Fiona Hunter on a grant to study Zika-carrying mosquitoes.
Brock Mosquito Expert to Conduct Zika Research in Dominican Republic
Researchers at Brock University are going to be "all-in" to help fight against disease-carrying mosquitoes.
Brock University Professor of Biological Sciences, Fiona Hunter, and her co-investigator, Modesto Cruz, will work with additional researchers and students from the Dominican to conduct field research which involves identifying and collecting mosquitoes from sites across the country. Their project is titled "Zika Virus: Factors Influencing Vector Competence in the Dominican Republic."
They received a $250,000 (U.S.) grant from the Dominican Republic government for a mosquito surveillance research project.
Once treated with a substance called a lysis buffer, which inactivates any viruses they may be carrying, the dead mosquitoes will then be shipped to Brock University's laboratories. There, they will be tested for mosquito-borne viruses that cause diseases such as West Nile, dengue, chikungunya and Zika.
"This will give us a greater understanding of geographic patterns of transmission and the mosquito species that are present there," says Hunter.
Researchers are working together to determine the distribution of the mosquito species, Aedes aegypti, and Aedes albopictus, initially in the Dominican, before expanding to other Caribbean countries.
Because the Caribbean is popular with tourists, Hunter says the research will help Canadian vacationers take necessary precautions for the specific places they're going.
Health Care Artificial Intelligence to Include Niagara Health System
The 2018 Ontario budget, delivered at Queen's Park yesterday, includes a targeted investment up to $10 million to create a Centre of Excellence in Health Care Artificial Intelligence at the new Niagara South Hospital Site in Niagara Falls. The government is partnering with Niagara Health System, St. Joseph's Health System Hamilton, McMaster Faculty of Health Sciences and the Vector Institute, in a collaborative effort between academic and private sector interests on this initiative.
By providing clinicians with powerful tools to identify cancer, pneumonia and heart disease risk; assist in monitoring intensive-care patients; and help identify the most effective drugs for individuals, based on their personal genome, Artificial Intelligence (AI) has the potential to transform patient outcomes and quality of care.
Niagara Falls Mayor Jim Diodati is optimistic about the direction: "This important investment signals a sea change in how Niagara Falls is perceived – not only as a world class tourist destination, but as an innovative hub for leading edge artificial intelligence, big data and supercomputing."
MPP Introduces Organ Donor Bill in Peter Kormos' Name
NDP MPP France Gélinas introduced the Peter Kormos Memorial Act (Trillium Gift of Life Network Amendment) and an Act to amend the Labour Relations Act 1995, to commemorate the fifth anniversary of Kormos' passing.
Kormos, who held the provincial seat in the Welland Riding from 1988 to 2011, was an ardent supporter of organ donation. He made many speeches and introduced numerous pieces of legislation to expand organ collection in Ontario. Gelinas' bill would amend the Trillium Gift of Life Network Act to have people opt-out of organ donation rather than opt-in.