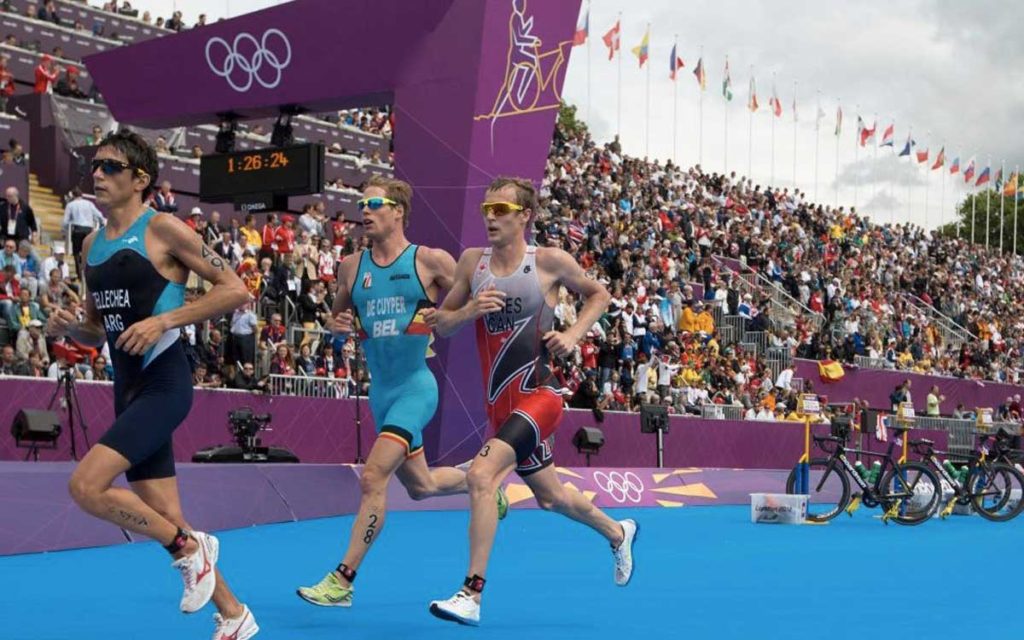 Kyle Jones represents Canada in the 2012 Olympics
Welland resident Kyle Jones has experienced then ultimate highs and some significant lows throughout his athletic career. Originally from Oakville, the husband and father of two children has been to two Olympic Games and in a very controversial decision was left off a third Canadian Olympic triathlon team.
Jones was a runner early on in his life. As a ten-year-old he raced in some local Kids of Steel races – mini triathlons for youngsters. His performances were impressive.
He credits his introduction to triathlon (swim, bike and run) to his father who would participate in six or seven races a year around Ontario. "We'd go and watch my dad and cheer him on and that was my exposure to the sport early on," said Jones.
As the younger Jones got a little older he participated in some try-a-tri races (very short distance triathlons) and some sprint distances which are a bit longer but he continued to focus on cross-country.  His first turning point in his racing career happened when he was training as a youngster at York University. That's when he met well known triathlon coach Barry Shepley who noticed a lot of potential in the young athlete. Shepley was coaching Simon Whitfield who went on to win gold for Canada at the 2000 Olympics in Sydney.
Jones was invited to train with Shepley and his team in Bolton. He raced his first Junior Nationals in 2002 and finished fourth which qualified him for his first World Championships. He followed that up by winning the Canadian Juniors in 2003.
Not long after that Whitfield invited a handful of rising young triathlon stars to train with him in Penticton, B.C. and Jones was one of the chosen few. "That was the big turning point for me," said Jones. "Training with those top athletes made me realize I had a future in this sport."
Jones decided to move out west and train full time with Simon at the National Performance Centre. He also made the decision to be racing on the International circuit. In 2008 he made the Olympic team as the alternate and in 2012 made the team as an athlete. The whirlwind ride quickly turned to heartbreak as Jones was left off the 2016 team to the shock of many. "To this day I still believe I should have made that team," he said. Jones said he didn't really know what to do next and for several months was at a loss for what to do next.
Coaching was always in the back of his mind. Someone who works with Jones' wife mentioned she was training with Edge Triathlon, a Niagara club. "She asked me if I knew her coach, Jeff Scull," explains Jones. "I knew Jeff for years and had no idea he was coaching." Jones looked up Scull and the two connected. "The first thing I did was donate a bunch of gear to the kids in Jeff's program," said Jones. "I had all this stuff with the tags still on them."
Jones and Scull quickly realized they had similar philosophies when it comes to coaching the sport of triathlon. Instead of competing against each other, Jones joined Edge as a coach. The group has about 65 age group athletes and 25 kids (ages seven to 15). Currently Edge is developing an elite under-23 program. They have a second meeting coming up with Brock University to discuss the possibility of having an elite training centre there.
Whether it's an age group athlete or someone training as an elite athlete, Jones and Scull say the best thing is watching the camaraderie of the team and the effort they put into training. "It's great seeing these Niagara residents of all ages enjoying physical fitness. It's not about winning or losing for them, it's about doing the work to get to the start line."