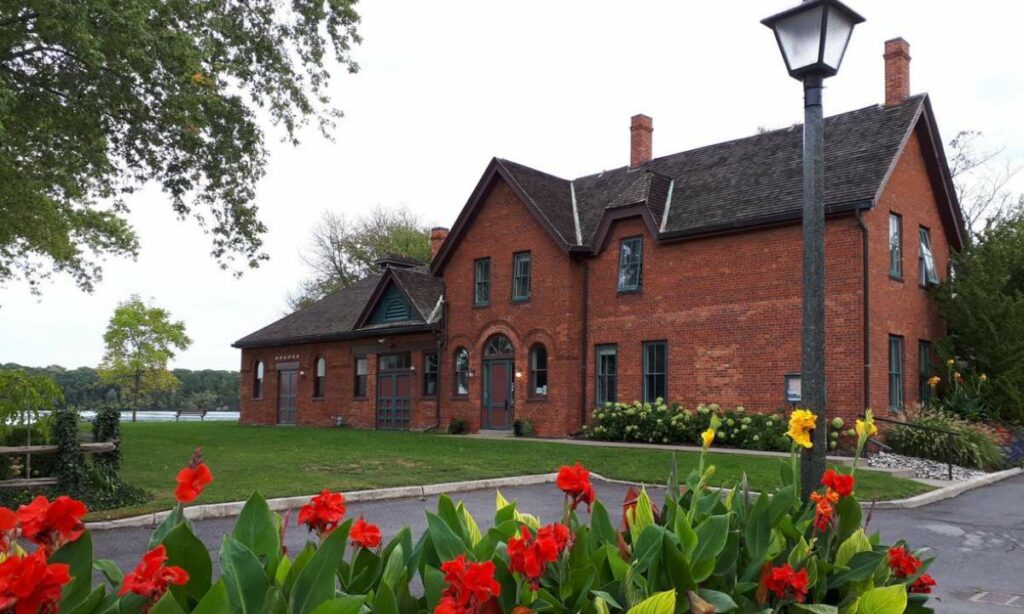 Currently, six sites, including the Niagara Pumphouse Arts Centre (pictured), are participating in the October 21 event. This year's theme centres around Ontario's culinary and agricultural heritage. Photo credit: Niagara Pumphouse Arts Centre
Late last month, the annual Doors Open Ontario campaign began its 2023 season to celebrate the architectural, cultural, and natural heritage of the province.
The collaborative program, organized by the Ontario Heritage Trust, spans 13 weekends over the course of April to October and includes 22 in-person events. 
Each event provides visitors free access to heritage buildings and spaces that are typically off-limits to the public or have an admission charge. In addition to these in-person tours, visitors also can participate in neighbourhood walking tours and special exhibitions. 
This year's Doors Open theme is the food and agricultural history of Ontario, which covers the history of Indigenous food production up to European agricultural techniques. Ontario Heritage Trust hopes to feature heritage sites like farmhouses, distilleries, breweries, factories, and urban markets to understand how the history of food in Ontario defines and connects us. 
"Discovery is at the heart of Doors Open Ontario," said John Ecker, chair of the Ontario Heritage Trust's board of directors. "We encourage everybody to make a trip to one or more of the 22 Doors Open events happening this year. You'll uncover new stories, connect with people and see outstanding places that showcase how these vibrant communities help to create that sense of belonging that brings us all together."
Locally, Niagara-on-the-Lake will serve as the second-to-last stop on the 2023 Doors Open tour. There are currently six sites participating in the October 21 event:
Grace United Church 

Niagara District Court House

Niagara Pumphouse Arts Centre 

Niagara-on-the-Lake Museum

RiverBrink Art Museum 

St. Andrew's Presbyterian Church
Niagara-on-the-Lake is known for its historical significance both provincially and nationally. The town, previously named Newark, was the capital of Upper Canada between 1792-1797. 
Niagara-on-the-Lake was also a prominent part of the War of 1812. Fort George, located in the heart of Old Town, was an important military site with battles taking place both within the town and surrounding Niagara Region. In May 1813, Americans seized the fort during the Battle of Fort George. The British regained their position in December 1813, but not without great destruction to the town, as the Americans razed the settlement upon their withdrawal.  
Knowing this history, most of the historic buildings in Niagara-on-the-Lake are dated to after the War of 1812. Still, the town has some of the oldest architecture in Ontario. Notable buildings include the oldest Anglican Church in Ontario, the oldest Catholic Church in Ontario, the oldest apothecary in Canada, and the oldest golf course still in use in North America. 
Today, Niagara-on-the-Lake is celebrated for its culinary excellence, making it a perfect place to explore the 2023 Doors Open Ontario theme of food culture and history. 
The program's in-person dates and destinations this year are as follows:
Guelph (April 29)

Hamilton (May 6-7)

Oshawa (May 6)

Richmond Hill (May 13)

Toronto (May 27-28)

Ottawa (June 3-4)

Whitchurch-Stouffville (June 3)

Loyalist Township (June 17)

Burlington (August 12)

Cornwall and SDG Counties (August 19-20)

Simcoe County (August 26-27)

Belleville (September 9)

Carleton Place (September 16-17)

London (September 16-17)

Peterborough (September 16)

Quinte West (September 16)

Waterloo Region (September 16)

Kingston (September 23-24)

St. Marys (September 23)

Woodstock (September 23)

Niagara-on-the-Lake (October 21)

Dutton Dunwich (October 22) 
For those unable to participate in-person, the Ontario Heritage Trust will also be hosting a Digital Doors Open Ontario, which includes hundreds of listings online for virtual exploration. 
Click here to learn more.