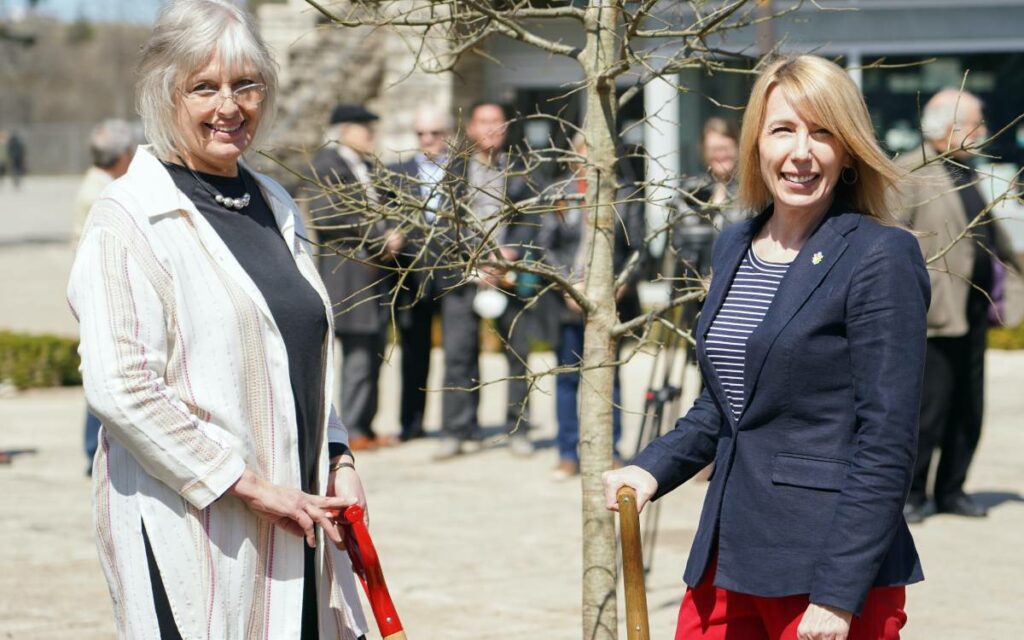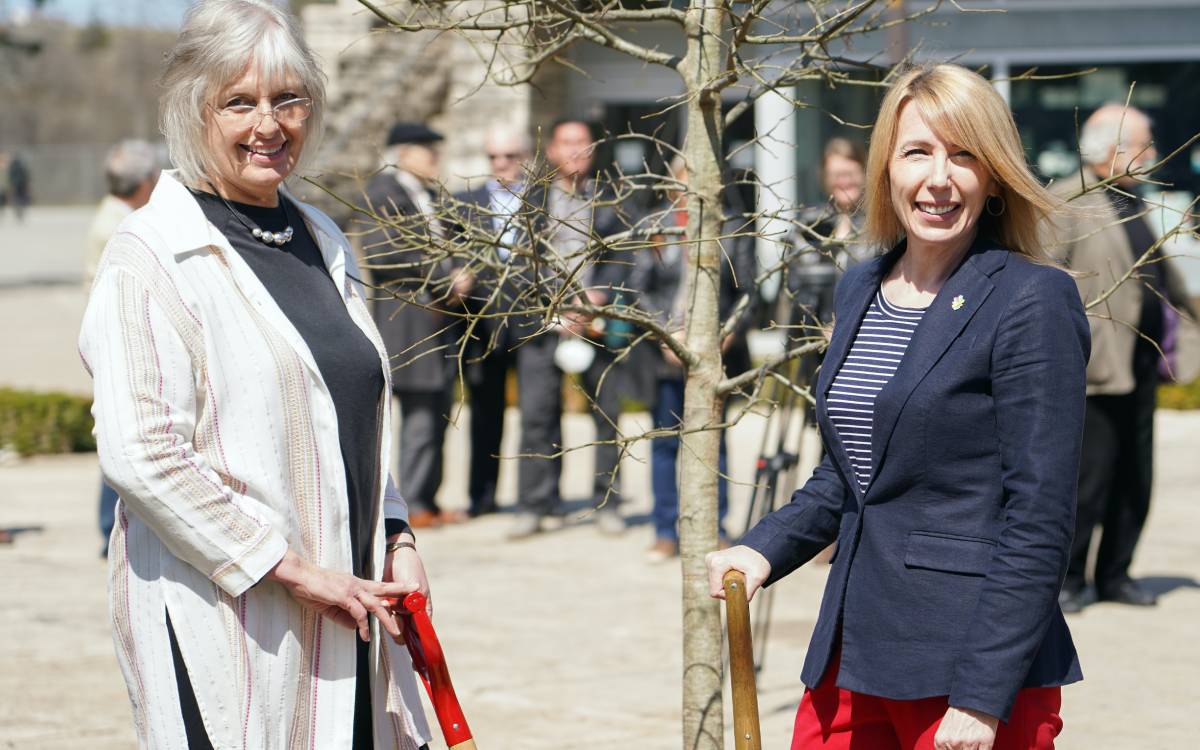 Chair of the freshly launched foundation's board of governors Debbie Whitehouse (left) and Niagara Parks Commission chair April Jeffs (right) plant a ceremonial tree at the Butterfly Conservatory on April 24, 2022. Photo credit: Niagara Parks
At an Earth Day ceremony at the Butterfly Conservatory in Niagara Falls last week, officials from the Niagara Parks Commission formally launched the agency's new fundraising organization: the Niagara Parks Foundation. 
Governed by an all-volunteer board, the not-for-profit foundation will operate as a registered charity and seek, manage, and administer donated funds to a variety of stewardship projects and initiatives across the Niagara Parks. 
While it will function as a distinct entity, the foundation will collaborate closely with the commission itself. 
"So many people from across Ontario have meaningful personal connections to Niagara Parks and a lifetime of memories created at its sites," said commission chair April Jeffs. "This new collaborative partnership between the Niagara Parks Commission and the Niagara Parks Foundation presents new opportunities for members of the public to further strengthen their connection to Niagara Parks and create legacy projects for future generations to enjoy." 
A self-financed agency of the Ontario Ministry of Heritage, Sport, Tourism and Culture Industries, Niagara Parks relies exclusively on its own revenue streams to operate and maintain its 56-kilometre ribbon of parkland and heritage sites along the Niagara River between Lake Erie and Lake Ontario. 
The agency generates revenue via attractions, retail shops, restaurants, golf courses, museums, events, as well as transportation and parking services. 
According to the Niagara Parks, though these earnings enable the organization to operate each year and maintain the parkway, there is a need to source new revenue to better preserve heritage features and advance environmental projects along the Niagara River Corridor. 
"I spent over 30 years of my career as an employee of the Niagara Parks Commission and had the pleasure of watching the organization grow important stewardship work," said first chair of the foundation's board of governors Debbie Whitehouse. "It is exciting to imagine what will be possible with the support of a passionate network of caring, generous Niagara Parks Foundation donors investing in building and preserving Niagara Parks for future generations to enjoy." 
Funds provided to the foundation will go to a variety of initiatives, including heritage restoration and preservation, environmental stewardship and conservation, accessibility enhancements, promoting active living, and more. 
Contributors can provide one-time gifts, monthly donations, legacy giving, and gifts of recognition, including dedication of trees and benches throughout the Niagara Parks' outdoor spaces.  
"We live in one of the most history-rich areas of the country," said commission vice-chair Bart Maves. "From multiple War of 1812 sites to turn-of-the-century hydroelectric facilities, the establishment of the Niagara Parks Foundation will allow the agency to best preserve the Parks' incredible array of built-heritage sites for posterity."
Individuals and businesses interested in donating to the foundation can do by going here. Tax receipts will be issued for the allowable portion of all qualifying donations.