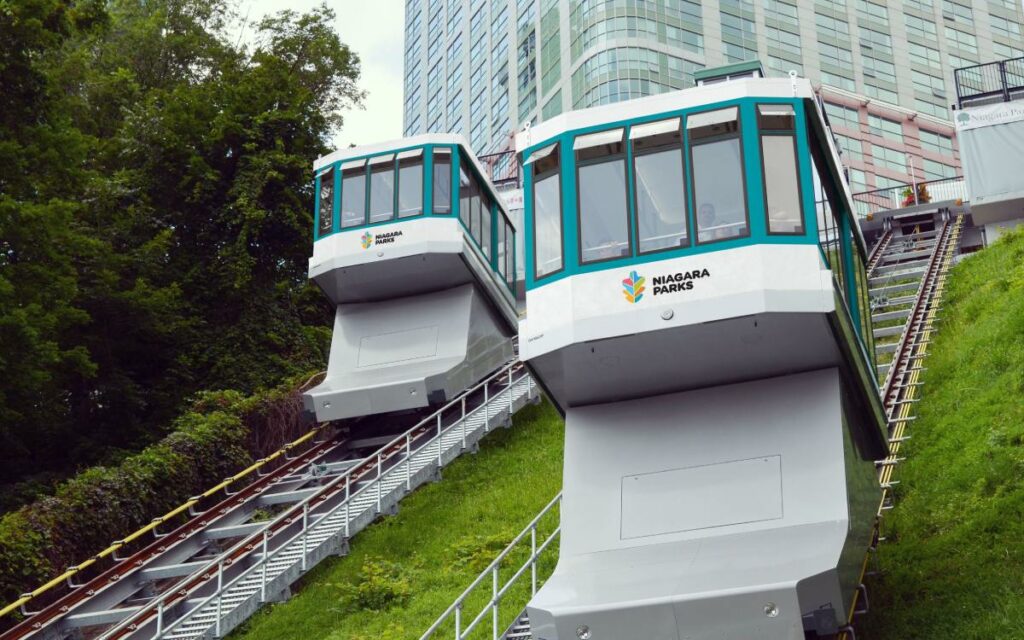 The agency's iconic incline railway cars. Photo credit: Niagara Parks
Niagara Parks is looking to revamp the way in which visitors get around its main tourist hub in Niagara Falls.
In a press release Tuesday, Niagara Parks announced that it has officially launched a call for proposals for a new visitor transportation system "that will enhance the guest experience while linking Niagara Parks sites and experiences with a focus on the core tourism area of Queen Victoria Park."
According to the Parks, the new, fully accessible transportation system will bring greater connectivity to the area, reduce traffic congestion, and create a new revenue-generating opportunity for the agency, while reducing operating expenses.
"The introduction of a new visitor transportation system at Niagara Parks has the potential to transform the guest experience within Queen Victoria Park, which welcomes millions of people each year due to its spectacular location overlooking the Falls," said Niagara Parks Chair April Jeffs. 
"Building on recent investments made at Table Rock Centre and the Niagara Parks Power Station, a new visitor transportation system will provide seamless connection for our guests, while alleviating traffic congestion within this popular tourism area." 
Queen Victoria Park encompasses the lands that hug the Niagara Gorge overlooking Niagara Falls on the Canadian side. The area includes some of the destination's top attractions like Journey Behind the Falls and the Niagara City Cruises Boat Tour.
Over the past several years, Niagara Parks has made significant investments in the area, from opening a brand-new attraction, the Niagara Parks Power Station and Tunnel, to the $22 million redevelopment of Table Rock Centre. 
In 2018, Niagara Parks established the Queen Victoria Park Master Plan to guide the future redevelopment of the area, which includes the historic Toronto Power and Ontario Power Generating Stations. Additionally, the City of Niagara Falls, with the participation of a range of tourism stakeholders including Niagara Parks, recently completed a "Connectivity Study" that examined future needs for visitor movement in the destination. 
Both documents, in addition to Niagara Parks' 10-year Strategic Plan and the Niagara Parks Act will guide the call for proposals process for a new visitor transportation system. 
The Niagara Parks' main tourist area is currently serviced by a suite of hop-on, hop-off buses, special shuttles, and its iconic incline railway system. 
For more information on the proposals process, including the link to the RFP document, click here.