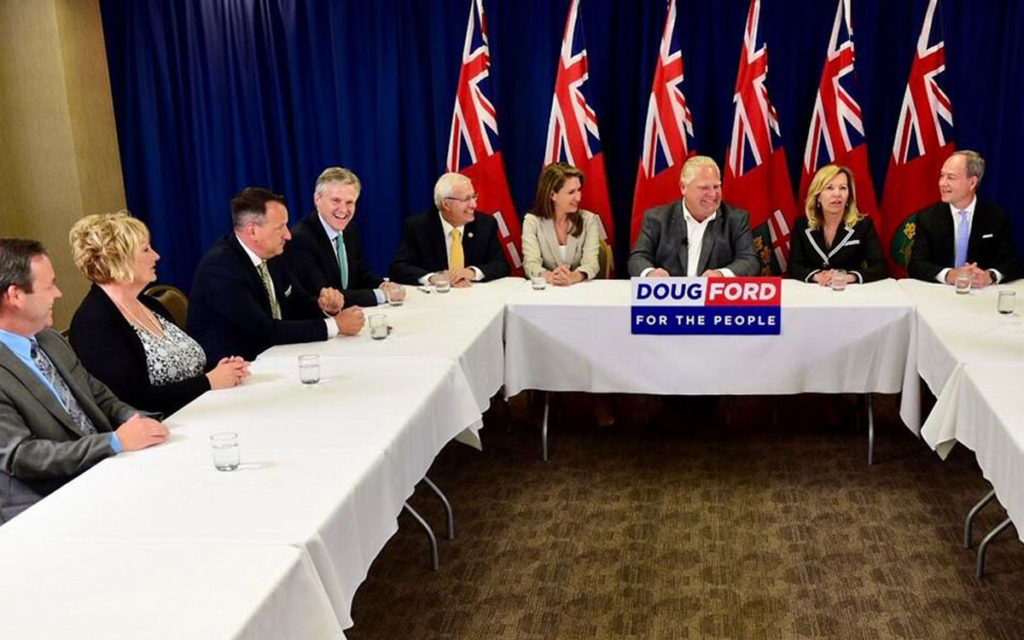 St. Catharines PC candidate Sandie Bellows, second from the left, joins Doug Ford's team at a roundtable Monday.
Three Niagara PC candidates are making a strong push to change the political colours of their respective ridings. Add the fact that PC Party Leader Doug Ford will be making yet another stop in Niagara today, his third this campaign and just 10 days after attending a rally in Niagara Falls for candidate Chuck McShane, and that tells you the party thinks they have a strong shot to turn Niagara blue.
Sandie Bellows is in a tight race in St. Catharines hoping to upset long-time MPP Jim Bradley and hold off NDP candidate Jennie Stevens. In Niagara Centre, a traditionally orange riding and one that includes Welland, Thorold, Port Colborne and parts of St. Catharines, April Jeffs is making a strong push to turn it blue. The Niagara Falls riding is also seeing a closer than expected race between McShane and NDP incumbent Wayne Gates.
In west Niagara, incumbent Sam Oosterhoff is expected to win back his seat with relative ease.
Both PC women come from the municipal political level, Jeffs as Mayor of Wainfleet and Bellows as a St. Catharines city councillor. McShane is new to the political scene. As each candidate works hard knocking on doors, attending events and participating in debates, all three say the positive feedback they're hearing is all the motivation they need to charge on.
Jeffs, who declared her candidacy more than a year ago, has been talking to constituents for months and is humbled by the support she's received. "It's motivating for sure. I'm hearing people want change in this riding. Not just a change in the provincial government but a change at the riding level too," said Jeffs.
Bellows joined Ford's All-Star team yesterday along with previous leadership candidates Christine Elliott and Caroline Mulroney, as well as long-time Nepean MPP Lisa MacLeod and PC finance critic Vic Fedeli.
The victims' rights advocate, who knows she's facing a tough challenge, one that she faced before in 2011 when she almost defeated Bradley, said she's hoping this time the outcome will go her way. "There's a lot of anger and distrust for the Liberals, that's what I am hearing consistently from the people in St. Catharines," she said. "And they are also afraid of the tax and spend policies of the NDP and what that will do to jobs and the economy."
McShane is arguably in the most heated contest. "With the actions of the NDP in this riding, it tells me that they are realizing this isn't the cake walk they thought it would be," said McShane. Gates has been accused of putting his election signs in front of homes that didn't ask for them, his former union, Unifor, has spent thousands on billboards across the riding supporting Gates. There have also been accusations of Gates and his supporters bullying and threatening candidates and their supporters (both Liberal and PC) after a debate.
McShane said despite some of the aggressive tactics by his NDP opponent he remains focused on listening to the people of the riding. "I don't have, and neither does Mr. Demizio (the riding's Liberal candidate), a massive union providing lists and throwing all kinds of money at my campaign but that's o.k. In fact I've spoken to a lot of people who belong to various unions who've told me that despite being told who to vote for they are supporting me and the PC party," explained McShane.
Jeffs has faced some similar tactics by her NDP opponent Jeff Burch and his campaign team but it doesn't faze her. "They like to sling some mud and maybe they think it will intimidate me but it doesn't faze me in the least. There are a lot of important issues to tackle in this riding and in this province. Let's talk about the issues," Jeffs said.
On the St. Catharines front, Bellows said while she disagrees with Bradley's politics he fights a fair campaign and keeps things to the issues and facts. "It's certainly a challenge in that the NDP not only use their union support to their advantage but it's also a lot of fear mongering. It's disrespectful to the voters," said Bellows. "Saying our party will close dozens of hospitals and schools is just  not right and they know it but they say it anyways. I know the people of Niagara are smart enough to see through it," Bellows added.
Ironically in an election when the NDP are surging in the polls local NDP candidates in traditionally orange ridings are in a battle to hold onto their seats. On June 7, Niagara voters will let them know if they do or not.