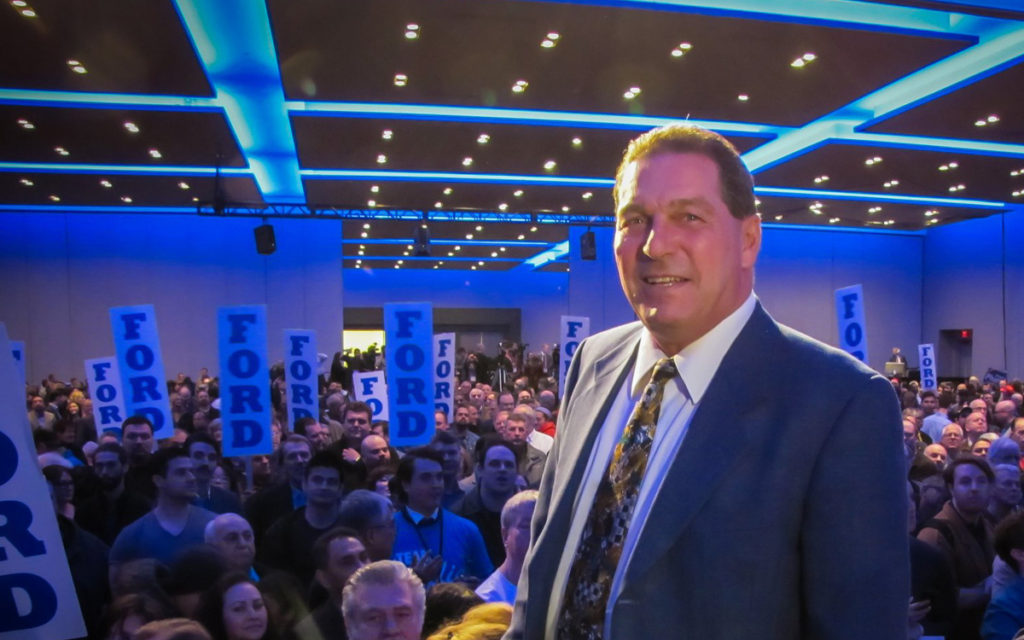 Supplied Photo
With just 48 hours until Ontario decides who will be the next leader of the province and closer to home, which Niagara candidates will be heading to Queen's Park to represent their respective constituents, Niagara Falls riding PC candidate Chuck McShane gave one last pre-election day speech to his supporters.
At a news conference held at his Niagara Falls campaign headquarters, McShane took to the podium on Tuesday afternoon to remind his supporters and those in his riding of the importance of having a seat at the table in Toronto.
McShane told the audience that while every poll, including Forum, Pollara, Ipsos (PC's +3) and Mainstreet Research (PC's +5), has the popular vote as a close race between the PCs and the NDP; those same polls unanimously have the PCs projected to win a majority government. CBC Poll Tracker, an aggregation of all polls, calculates that the polls point to an 87% chance that the Tories will form a majority.  "Our riding cannot afford another four years sitting across from the people in power. We need a seat at the table. We need a PC MPP at Queen's Park representing Fort Erie, Niagara Falls and Niagara-on-the-Lake," McShane said.
The fear amongst those in the room was that the predictions of a PC majority become a reality but Niagara elects NDP candidates in the Region. "It will be very difficult to make any progress on any file over the next four years if that scenario plays out," explained McShane. "I'm certainly not going to sit here and tell you it will absolutely be a PC majority but at some point Niagara residents need to decide if they want to be represented at Queen's Park by a local candidate whose party is in government or in opposition."
Both, St. Catharines PC candidate Sandie Bellows as well as Niagara Centre PC candidate April Jeffs, have shared similar messages with the people in their respective ridings. Jeff's riding has been NDP for decades and campaign volunteer Julia McLaren is hoping people will vote to have a voice with the governing party. "We are hearing that people are tired of having a representative who is in opposition and is relegated to just complaining about the government instead of being able to deliver services, infrastructure and jobs to Niagara that will be a benefit to all," she said.
McShane said he isn't taking anything for granted and he knows he's in an uphill battle against incumbent NDP Wayne Gates. "I'm so blessed to have all of these volunteers and the support I have received is heartwarming."
Asked if he has already voted, McShane said he hasn't but will do so on Thursday with his family. "The rest of the day I will try and relax. There's nothing more I can do."
McShane's campaign manager, Murna Dalton, said she's feeling optimistic. "It's been a tough campaign but we have a great candidate who's worked extremely hard," said Dalton. She admitted McShane had strong name recognition in the construction industry but not much outside of those circles. "It was a concern at the beginning but everyone knows Chuck now," she said.
Fort Erie resident Dean Demizio is running for the Liberals in Niagara Falls and seems resigned to finishing a distant third, despite campaigning hard in the Niagara Falls Riding.   Liberal Jim Bradley should have a strong showing in St. Catharines in a three-way race, but most pundits are predicting a first defeat for the veteran politician.  Jeffs and Jeff Burch are locked in a tight two way battle in Niagara Centre and the unions are sending all hands on deck into that riding to try to boost Burch over the top. Sam Oosterhoff is expected to win re-election in his riding of Niagara West Glanbrook handily.