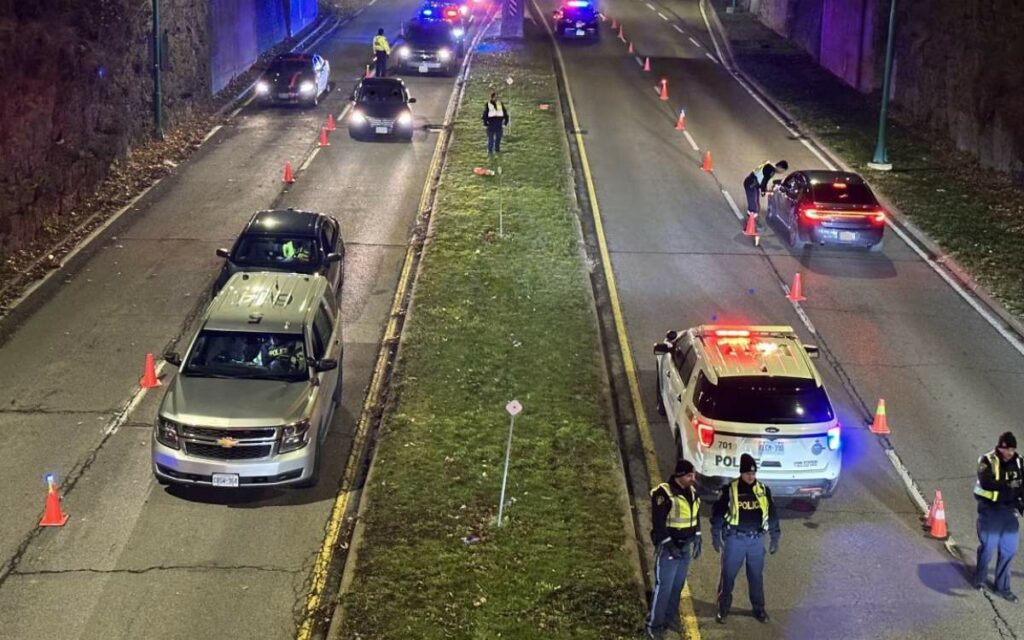 Pictured NRPS, OPP, and Niagara Parks Police officers take part in a joint spot check operation in Niagara Falls the night of December 3, 2022. In all, over 2,500 cars in six Niagara communities were stopped across four nights this past month. Only one driver was arrested for registering a Blood Alcohol Concentration above 0.08. Photo credit: NRPS
In its ongoing effort to detect and discourage people driving under the influence, the Niagara Regional Police Service (NRPS) once again held a robust 'Festive' RIDE campaign during the month of December. 
Police conducted a total of four nights of roadside spot checks in various communities across the region. 
Campaigns were held in Niagara Falls on the night of December 3, Niagara-on-the-Lake and Niagara Falls on December 15, Fort Erie and St. Catharines on December 21, and Thorold and Lincoln on December 27. 
In all, NRPS and its partners, including the OPP and Niagara Parks Police, stopped in excess of 2,500 vehicles. 
Officers asked all drivers stopped if they had consumed any alcohol or drugs before getting behind the wheel. The vast majority of motorists were cleared without incident.
Of the 120 total drivers asked by officers to submit to a breathalyser test in order to determine sobriety, only one driver – on the night of December 21 – provided a sample which resulted in a "fail". 
As a result of the failed test, which in Ontario means a motorist registered a Blood Alcohol Concentration (BAC) of 0.08 or more, the driver was arrested, their vehicle was towed and impounded for seven days, and their licence was suspended for 90 days. 
In addition to the one arrest, a novice driver had their licence suspended for three days for having a BAC above zero. In Ontario, all drivers under the age of 21, and all drivers over-21 who do not possess a full G class licence, cannot have any alcohol in their system while operating a vehicle.
Four other drivers provided breathalyser samples in the "alert" zone, or "warn range" (BACs between 0.05 – 0.079), and consequently had their licences suspended for three days. 
Several tickets were also issued to drivers across all four evenings for a variety of traffic-related offences. 
"The Niagara Regional Police Service remains committed to reducing impaired driving offences through education and the apprehension of offenders through enforcement programs like R.I.D.E.", NRPS said in a statement. 
Impaired driving is the leading criminal offence causing death in Canada.
Mothers Against Drunk Driving (MADD) estimates that every year between 1,250 and 1,500 Canadians lose their lives as a direct result of impaired driving.