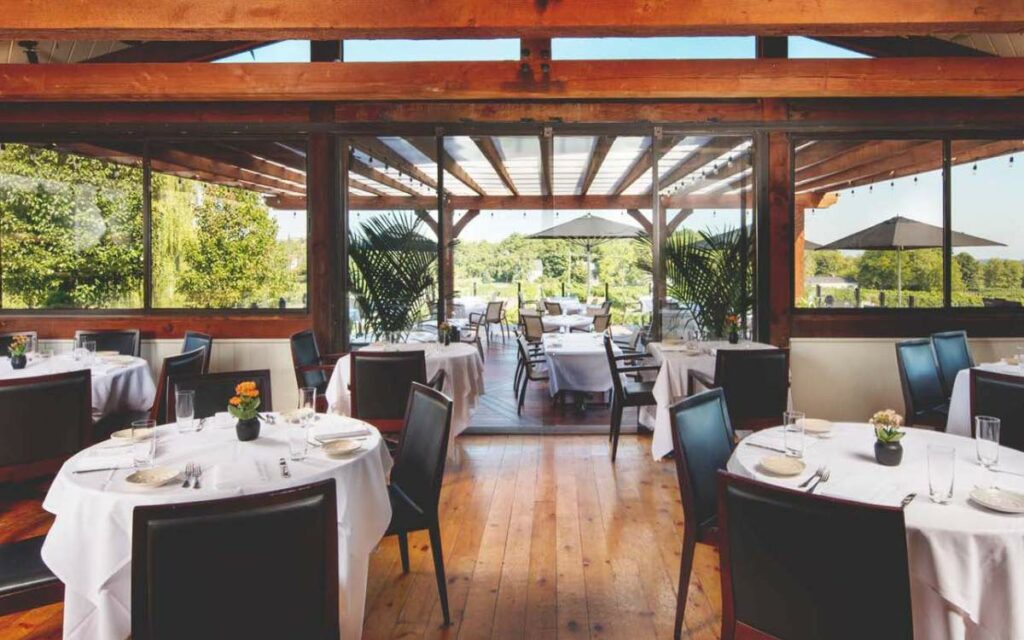 Vineland Estates Winery Restaurant (pictured) was one of four Niagara establishments named to OpenTable's top 100 list for 2022. Photo credit: Facebook/Vineland Estates Winery 
Earlier this month, online restaurant review and reservation website OpenTable released its 2022 list of Canada's 100 "most beloved" restaurants, based on more than one million ratings. 
The website analyzed reviews of restaurant-goers between October 2021 and September 2022 to develop the list. 
"We're seeing a strong interest in a variety of dining establishments and experiences this year, and strong representation from traditional continental to diverse international cuisines," director at OpenTable Canada Matt Davis said in a statement.
"This diner-generated reference guide stands apart from others because it's a reflection of diners' most beloved restaurants across the country."
Despite being home to only 1.3 per cent of Canada's population, Niagara hosts a full 4 per cent of establishments on this year's list. 
The four Niagara restaurants to make the list were Niagara-on-the-Lake's Kitchen76 at Two Sisters Vineyards and Treadwell Farm-to-Table Cuisine, and Lincoln's Vineland Estates Winery Restaurant and the Good Earth Vineyard and Winery. 
"We are so pleased to share that we have been named one of the Top 100 Most Beloved Restaurants in Canada by OpenTable diners," Two Sisters Vineyards wrote on Facebook following release of the list on Dec. 7. "It is an honour to be named amongst all of the other truly incredible restaurants. We pride ourselves in offering incredible food, wine and atmosphere to ensure our guests have a memorable experience."
"We are so excited to announce that Vineland has made it in the OpenTable Top 100 list of best restaurants in Canada," Vineland Estates Winery posted to social media last week. 
"Our Restaurant has been included on this list since it first launched in 2014, making this our eighth year in a row as a top-rated restaurant. 
Thank you so much to all of our loyal customers, supportive friends and family, and hardworking staff. We couldn't have done this without you."
In all, Ontario had a total of 49 restaurants on the list. Alberta came in second with 23, followed by British Columbia with 18, Quebec with nine, and New Brunswick with one.
All restaurants with a minimum overall rating and number of qualifying reviews were included for consideration. All qualifying restaurants were then sorted according to an overall score generated by unique data points, such as overall diner rating, user 'klout', total number of reviews, and regional overall rating. 
For the full list go to OpenTable's website here.