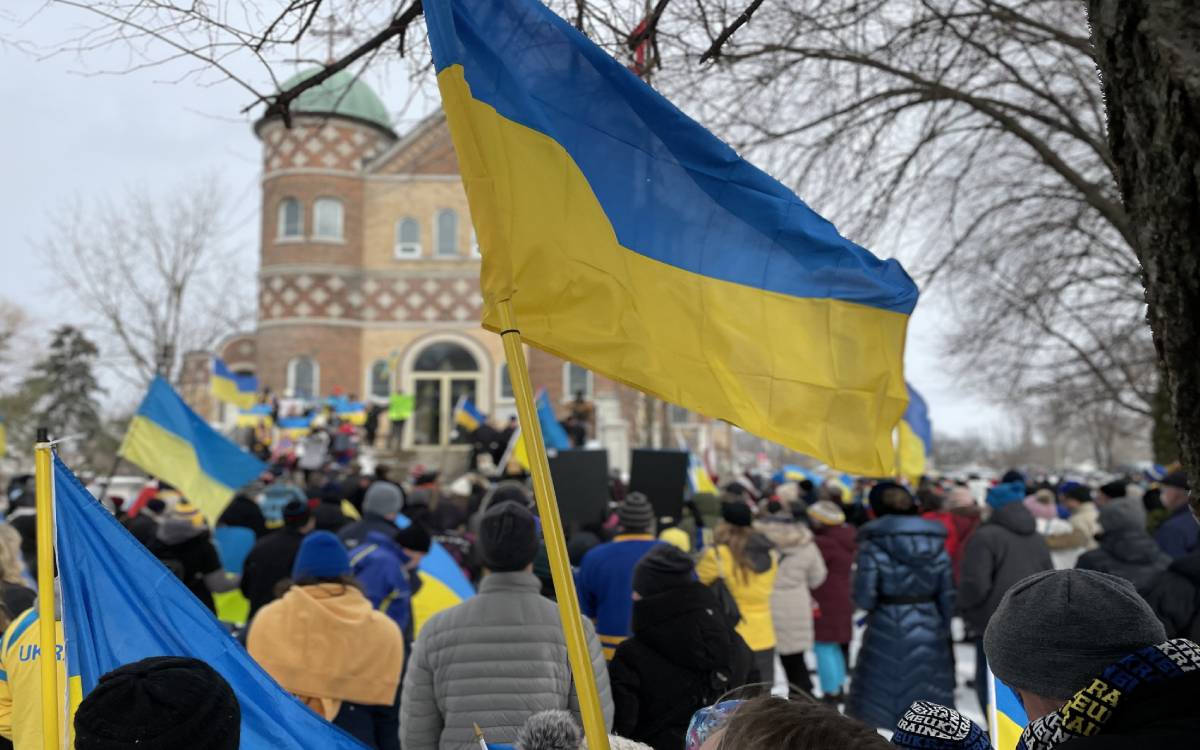 Hundreds gathered in St. Catharines on Saturday to protest Vladimir Putin's ongoing, unprovoked attack against the Ukrainian people. Photo credit: The Niagara Independent/Nicholas Tibollo
A sea of blue and yellow flags whipped in the biting winds while repeated shouts of "Slava Ukraini!" echoed across the courtyard at Saints Cyril and Methodius Church in St. Catharines on Saturday, as hundreds gathered to protest escalating Russian aggression in Ukraine. 
Rally organizer and president of the Niagara branch of the Ukrainian Canadian Congress Irene Newton told the crowd of at least 400 over the weekend that Russia's invasion of Ukraine will be Vladimir Putin's "undoing".
"The world now sees what a criminal he is."
On Thursday morning, Russian forces, along with their Belarusian and separatist allies in the east and south, launched a large-scale, three-pronged invasion into Ukraine via air and land.  
The unprovoked attack came after several weeks of military buildup along Ukraine's borders.
Though figures continue to vary widely, it appears several hundred soldiers on both sides have already been killed in action, with numerous Ukrainian citizens reportedly slain. 
Several dignitaries from every level of government were on hand Saturday for the rally, including MPs Vance Badawey, Chris Bittle, Flamborough-Glanbrook representative Dan Muys, St. Catharines MPP Jennie Stevens, Regional Chair Jim Bradley, St. Catharines city councillors Dawn Dodge and Sal Sorrento, and St. Catharines mayor Walter Sendzik.
Sendzik, whose grandmother immigrated to Canada from Ukraine, chastised Russia's president in an impassioned speech to the crowd. 
"(The Ukrainian people) are struggling under the tyranny of a monster," said Sendzik.
"This will never be over until that man is done – and that man is Putin."
More than sadness or fear, the day was marked by strength and fury aimed squarely at "war criminal" Putin. Photo: TNI/Nicholas Tibollo
At nearly 1.4 million, Canada has the largest population of Ukrainians in the world outside of Russia and Ukraine itself. 
Over 25,000 people of Ukrainian heritage call Niagara home. 
Local Ukrainian Canadian Krystina Waler, former federal Conservative candidate for St. Catharines and current director of Ukrainian Initiatives at the Temerty Foundation, said that Niagara residents demonstrated an "incredible show of support" Saturday. 
"It's not just the Ukrainian Canadian community here," said Waler in an interview at the event. "There's people from all communities here, waving their flags, showing their support, and standing up against tyranny." 
Outside of Ukrainians, there were a number of nationalities on hand: Polish, Estonian, Romanian, Lithuanian, Hungarian, Italian, and Dutch. There were even members of the local Peruvian and Filipino communities in attendance. 
Waler, who was part of John Baird's Canadian delegation to Ukraine in 2014 following the Revolution of Dignity, said that the Ukrainian people have shown their "will, resolve, and desire to live a life of freedom" in the days since Russia launched its large-scale invasion.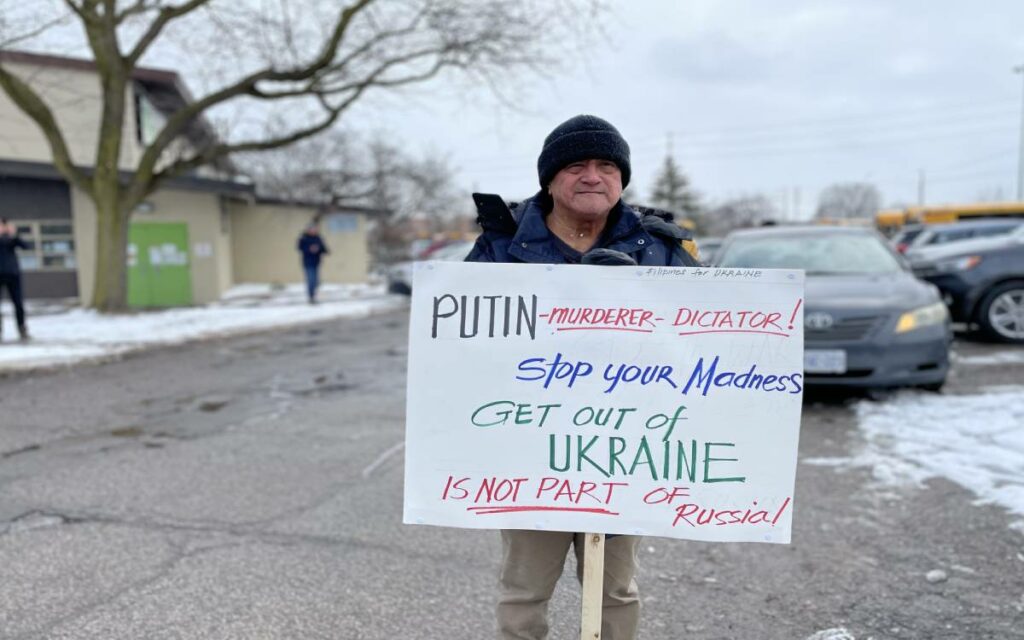 A member of the Niagara Filipino community stands in solidarity against Russian aggression. Photo: TNI/Nicholas Tibollo
Speaking amidst a chorus of supportive honks from passing cars at the corner of Niagara and Vine, Waler called Putin's unrestrained belligerence "disgusting". 
"Putin has no boundaries, no limits. They're conducting airstrikes over orphanages, over kindergarten schools. Innocent children are dying." 
Waler said that Canada needs to do much more to help the Ukrainians, given our close relationship.  
As evidence of the two countries' intimate bond, she pointed to how Ukraine selflessly helped Canada bring its interpreter allies and their families to safety when the Taliban overthrew the Afghan government in August 2021. 
"Ukrainians have always felt that Canadians are their biggest ally and their biggest friend," said Waler. "And now it's Ukraine's hour of need and where are we? When the cover of the Globe and Mail reads 'Ukraine stands alone'…it makes me so angry at the Canadian government."
"At a minimum, Ukrainians deserve to be armed with the capability to defend themselves. The Canadian government can at least give them the defences to be able to fight the fight."
Ukraine is significantly outnumbered and outgunned against Russia, which is considered to have the second most powerful military in the world. 
To date, Canada has supplied Ukraine with only $7.8 million worth of lethal weaponry, in addition to medical supplies, surveillance equipment, and several hundred million dollars in loans. 
Saturday's rally in St. Catharines was one of several held around the country over the weekend. Ukrainian supporters also gathered in Toronto, London, Thunder Bay, Montreal, and Vancouver.