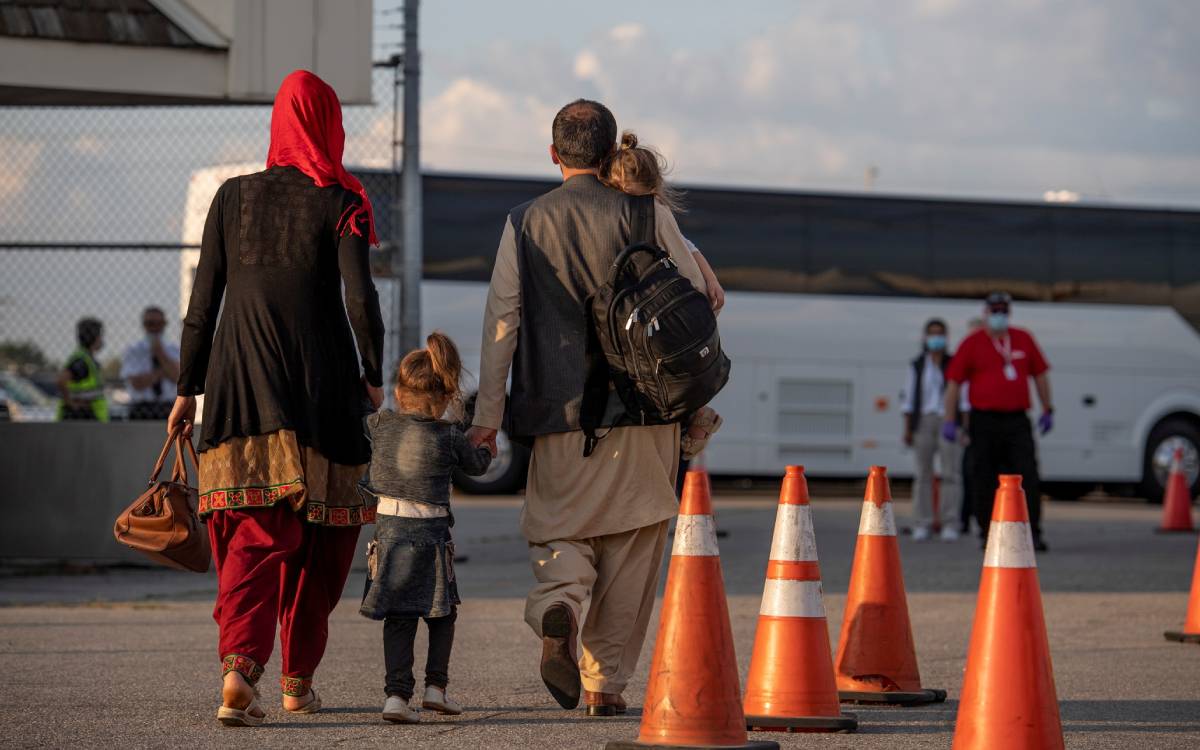 Afghan refugees who supported Canada's mission in Afghanistan prepare to board buses after arriving at Toronto Pearson International Airport, Aug. 24, 2021. Niagara will accept 24 refugee families by March 2022. Photo credit: MCpl. Genevieve Lapointe/Canadian Forces Combat Camera
While the journey has been long for so many Afghan refugees who fled the takeover of their country by the Taliban earlier this year, for 24 families, they're one big step closer to settling into their new life. 
Earlier this week, it was announced that Niagara will take in 24 families from Afghanistan by March next year. 
To help in the process, Immigration, Refugee and Citizenship Canada and Wesley Urban Ministries have come together to establish a reception centre at the Niagara Folk Arts Multicultural Centre located at 85 Church Street in St. Catharines. Over the next several months, the centre will help support the families moving into the Niagara Region.  
Speaking about the program, Niagara Folk Arts Multicultural Centre Executive Director and CEO Emily Kovacs explained how the process will work and the role that the centre will play over the coming months. 
"We are going to be receiving up to 24 families between now and of March next year. It may include more families later. We have a staff of seven who are supporting these efforts," explained Kovacs. 
"It is a four-to-six-week temporary program, solely designed for government assisted refugees…Our job is to support their settlement in the four to six weeks while they are in a temporary location, and help them find housing and settlement, and connect them to all the supports here in our building as well as all of the supports that are in Niagara."
And while creating such a program is certainly considerable work, Kovacs said that the centre is building on the framework that is already in place. 
"We hope to replicate the good work that has already been started with the Syrian influx in 2015 and we hope that we create a program that is research based, that is inclusive, and is doing with refugees and not to refugees." 
Wendy Long, a long-time advocate for Afghan interpreters and their families, spoke very highly of the program and the work Kovacs and her team are doing. 
"Niagara Folk Arts and the designated hotel have both done an amazing job welcoming [the program's] first family to Niagara Falls." 
Long, who has worked tirelessly and lobbied the government to create programs for Afghan interpreters to immigrate to Canada for several years, said that there are still struggles and challenges for those who are now in Canada. "The challenge at this time close to the holidays is finding a career for the father whose English is excellent and comes with an extensive career in security and counterterrorism," Long said about one local Afghan family. "Converting international driver's licences or any driver's licence from Afghanistan is not easy, coupled with the lengthy wait times for appointments that leave these immigrants at a disadvantage when it comes to well paying jobs."
Beyond the technical issues advocates like Long and Kovacs deal with on a daily basis, the public can help in the resettlement process by donating to the centre.
"We do have a wish list, and we would like to ask individuals to come and take a look at our socials and website," said Kovacs. 
Some of the items in particular need are new hygiene products, new winter and cold weather gear, and new school supplies. A full list of items needed, information about the program, and a link to their donation page can be found on their website at www.folk-arts.ca.
"It's great to be part of something greater than ourselves," concluded Kovacs. "To be part of a solution where we're helping Afghan newcomers to become wonderful parts of Canada."