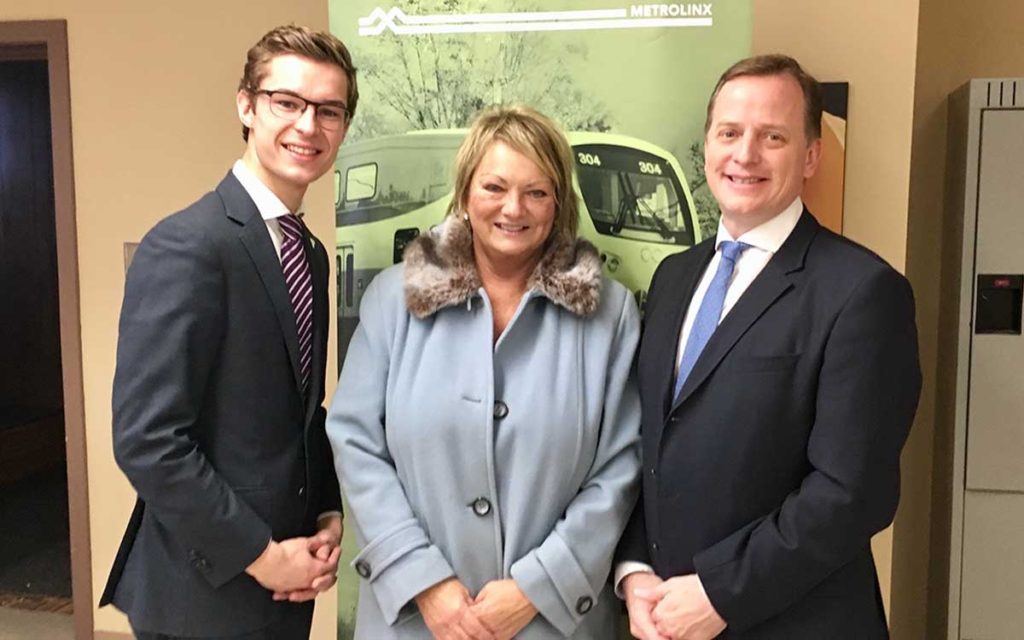 MPP Sam Oosterhoff, St. Catharines Regional Councillor Sandie Bellows, and Minister Yurek.
Standing before an audience of some 30 anxious onlookers inside the St. Catharines VIA Rail Station, the Minister of Transportation Jeff Yurek announced that regular weekday GO train service would soon be coming to Niagara Falls and St. Catharines.
Flanked by his parliamentary assistant Kinga Surma and Niagara West PC MPP Sam Oosterhoff, Minister Yurek said that local residents can expect the first train to depart January 7, 2019.
"We are working with our railway partner, CN, to use the existing rail infrastructure to expand GO Transit service for people in Niagara Falls and St. Catharines four years sooner than promised," said Yurek.
The new route will leave Niagara Falls every weekday morning at 5:19am, stop in St. Catharines, and then continue on to Toronto. Evening return trips to Niagara will leave Union Station at 5:15pm.
The region's lone provincial representative in power, Sam Oosterhoff, thanked Premier Ford and Minister Yurek for delivering such a crucial service to an area in desperate need of transportation alternatives.
"This is great news for the region and exactly what commuters needed," said Oosterhoff.
A number of other MPPs and local politicians were on hand for the special announcement, including: NDP MPP for St. Catharines Jennie Stevens, NDP MPP for Niagara Falls Wayne Gates, Ontario PC candidate-of-record for St. Catharines Sandie Bellows, newly-elected Regional Chair Jim Bradley, Mayor of St. Catharines Walter Sendzik, and Mayor of Niagara Falls Jim Diodati.
"Christmas has come early for Niagara," said Mayor Diodati. "This is much more than just a train, it's a ticket to prosperity for the region as we connect to the GTHA. I love the aggressive timeline to make this a reality. The key is to start. This will now act as a catalyst for everything else."
Mayor Sendzik echoed the optimistic sentiment from his counterpart in Niagara Falls.
"There has been a lot of promises over the years that have never turned into reality. I applaud Premier Ford and the PC government for finally turning promises into concrete actions. We're GO-ready [here in Niagara]."
"I welcome today's announcement from the Ontario government," said Sandie Bellows, local regional councillor and Ontario PC candidate-of-record for St. Catharines. "These are the types of results that can be achieved with all levels of government working together."
"We make every decision with the customer — the Ontario taxpayer — in mind. Our Government for the People looks forward to continuing to provide better transportation across the province," concluded Minister Yurek.
The addition of regular weekday GO train service to Niagara Falls and St. Catharines will not affect the government's recently revealed plan to find third party investments for Grimsby's impending GO station (expected by 2021).