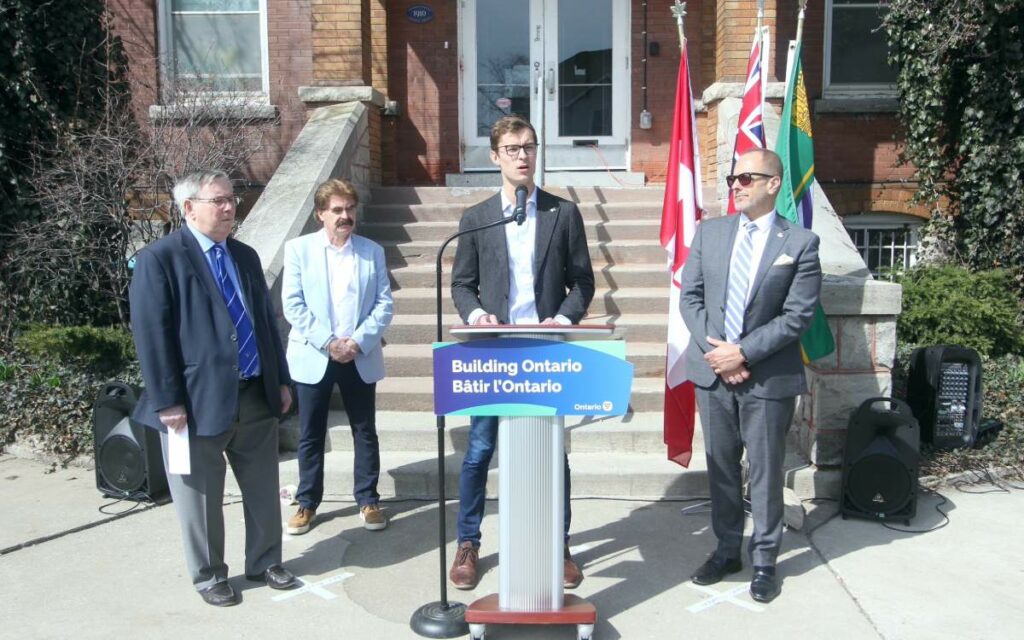 The increased funding from the Ford government amounts to $62,314,200 over three years. Niagara West MPP Sam Oosterhoff (pictured, centre) made the announcement alongside Mayor of Niagara Falls Jim Diodati (right) and Niagara Regional Chair Jim Bradley (front-left) earlier this week. Photo credit: Sam Oosterhoff
The Niagara Region will receive an additional yearly $20,771,400 to prevent homelessness, the Ontario government shared on Tuesday, April 11.
The announcement was made by Niagara West MPP Sam Oosterhoff and Regional Chair Jim Bradley outside Bridge Housing on Victoria Ave. in Niagara Falls. Niagara Falls Mayor Jim Diodati was also in attendance. 
"Our government is working hard to ensure every person in Ontario has access to safe and affordable housing," Oosterhoff said on Tuesday. "This significant increase, almost doubling provincial funding for supportive housing in Niagara is part of our plan to address the housing crisis across the province."
Chair Bradley welcomed the funding increase as essential means for meeting the far-reaching needs of the various regional districts. 
"It is clear there is a significant need for homeless program funding across the community and these new monies will go a long way in supporting vulnerable residents in all 12 of our communities," he shared while speaking at the event. 
The funding increase is part of a broader commitment made in Budget 2023 by Ontario Premier Doug Ford's government to invest $202 million in preventing homelessness and maintaining supportive housing initiatives. 
In disbursement, $190.5 million of the funds will be allotted to the Ontario Homelessness Prevention Program. While $11.5 million will be given to the Indigenous Supportive Housing Program. 
"Our government met with partners and stakeholders across the province this past fall," said Nina Tangri, Associate Minister for Housing. "We heard their concerns and are addressing their valuable feedback to improve Ontario's supportive housing system."
This updated strategy reflects the recommendation of the value-for-money audit on homelessness, completed by the Auditor General in 2021, that stressed the need for a targeted approach to homelessness funding programs. 
"During a time of economic challenges and change, our government is supporting those who have fallen on hard times and are experiencing, or are at risk of experiencing, homelessness," said Ontario Minister of Finance Peter Bethlenfalvy.
Following the increase in funding of $202 million, the Ontario government will invest a total of nearly $700 million in supporting housing and homelessness prevention annually.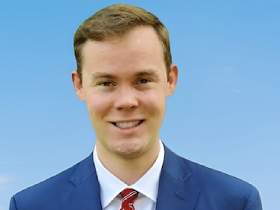 Nick Redekop completed his Honours Bachelor of Arts Degree in Labour Studies at Brock University. He has previously served in municipal and federal politics. In his free time, Nick enjoys following sports, taking part in outdoor activities, and reading biographies. Nick resides in Niagara Falls