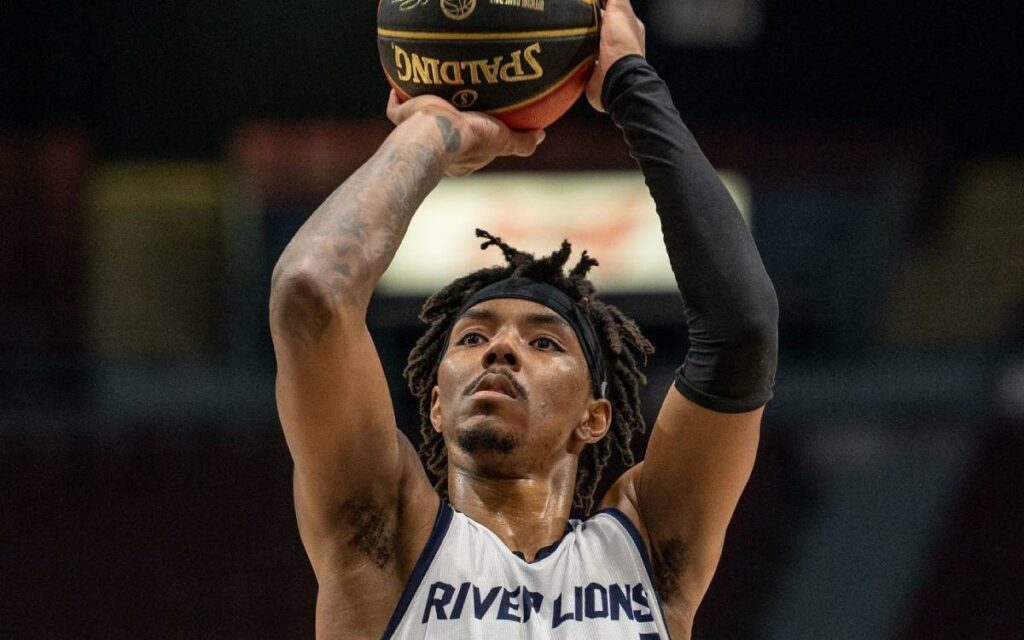 Starting point-guard for the River Lions and reigning CEBL Most Valuable Player Khalil Ahmad. Photo credit: CEBL
Perhaps CEBL analyst and former Niagara River Lions head coach Joe Raso said it best minutes after the River Lions hammered the Saskatchewan Rattlers 116-74 in their 2023 home opener.
"You know what that was? That was when the conductor returned to the choir," Raso said. 
Raso was referring to Niagara starting point-guard Khalil Ahmad, and reigning CEBL Most Valuable Player, who made his 2023 debut for the River Lions. 
Ahmad was two assists away from recording a triple-double after returning to Niagara after playing professionally in Israel. 
The 6'4″ guard drained 17 points, dished out 10 assists and pulled down eight rebounds as the River Lions recorded their first win of the season after starting (0-3).
"Khalil is a phenomenal lead guard who can create for himself and others constantly," said Head Coach and General Manager, Victor Raso, son of the aforementioned Joe. 
"Khalil is also a fantastic young man and a great teammate. We are excited to have him back with us!"
In 2022, Ahmad averaged a CEBL high 20.7 points, River Lions high 4.5 assists and 1.9 steals (fourth best in the league), while shooting 45 per cent from the field during the regular season. He was also fourth for Niagara in rebounds per game (4.0) and helped lead the team to a second-place regular season finish before earning MVP honours. 
Ahmad earned a reputation as one of the top closers in the league, adding Clutch Player of the Year to his resume after scoring a league record 10 of the 13 target score enders during the 2022 campaign.
Ahmad spent four years at Cal State Fullerton, where he became one of the most prolific scorers in school history, tallying 1,768 points in 117 games, the third-highest total in program history. He was named the 2015 Big West Freshman of the Year and was one of just five athletes in school history to earn All-Conference honours three or more times. 
Ahmad had five 30-point games and 27 20-point games as a Titan, while also holding the school record for most points as a freshman with 429. Early in his senior season, Ahmad scored a career high-40 points, tied for the third-highest single game total in program history.
After a remarkable collegiate career, Ahmad competed in the 2019 Drew Summer League in Los Angeles, an invite-only league that recruits elite NBA and overseas talent during the off-season.
Ahmad had no problem fitting in, as he put up a 20-point game playing alongside the likes of Nick Young, DeMar DeRozan and Stanley Johnson.
Following an impressive showing in the Drew League, Ahmad signed his first professional contract with Keflavik Basketball Club in the Domino's Deildin League in Iceland where he averaged 19 points, 4.6 rebounds, 3 assists and 2 steals per game. Ahmad spent his second professional season in Denmark where he averaged 19.7 points, 4.7 rebounds and 4.5 assists per game.
Before returning to the River Lions Ahmad played for Hapoel Beer Sheva in Israel where he averaged 12.9 points, 3.2 assists and 2.7 rebounds per game.
"I'm very excited to be returning to the River Lions organization and to the Niagara Region," Ahmad said. "I know we have some unfinished business from last summer and I can't wait to contribute to the success of the team both on and off the court."
Ahmad was honoured before Saturday's game as former River Lion Logan Stutz returned to hand him the MVP CEBL trophy and ring. 
Over 3,500 fans showed up for the home opener, as Niagara began a four-game homestand which continues this Thursday night against the Scarborough Shooting Stars. Tip is set for 7pm. 
For more information and tickets visit riverlions.ca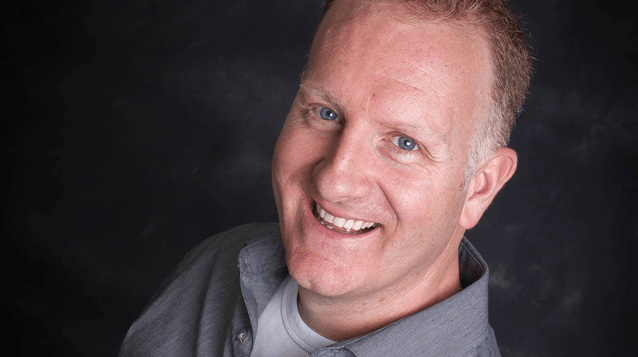 Rod Mawhood is a lifelong Niagara native who has had the pleasure of working in all three mediums – Radio, Print and TV – for over 20 years. His first announcing gig was with the then St. Catharines Stompers. Since then he's worked in radio and TV in Toronto, and currently is the announcer for the Niagara IceDogs and Niagara River Lions.
Rod also covers the Buffalo Bills for FOX Sports and the Buffalo Sabres for NBC Sports.