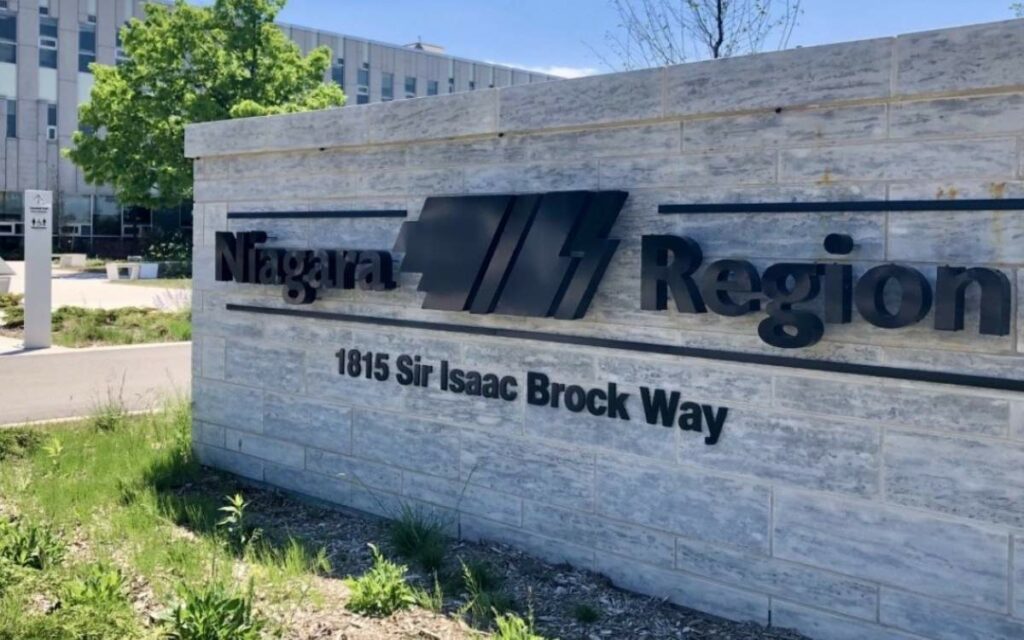 Niagara's regional government finished tied for 20 out of 32 municipalities assessed by the C.D. Howe Institute. Photo credit: The Niagara Independent
When it comes to fiscal accountability, the Niagara Region is one of the country's poorest performing municipalities, new analysis from leading think tank C.D. Howe Institute suggests.
In its annual study on the clarity, completeness, and transparency of municipal budget-making and financial reporting, C.D. Howe gave Niagara's regional authority a C-plus, bad enough for the bottom half of its 2022 list. 
"All governments should present financial information that meets high standards of transparency, usefulness and timeliness," reads the report, released earlier this spring. "As this report card on the budgets and annual reports of 32 major Canadian municipalities reveals, however, many cities do not."
In all, 17 of the 32 ranked municipalities earned grades higher than Niagara – two others earned the same grade.
C.D. Howe analyzed the budget presented at the start of the 2022 fiscal year as well as the financial statements released at the end of the fiscal year for every municipality, measuring a dozen factors to determine scores. 
In terms of timeliness of budget approval, Niagara was mid-tier. While the municipality released its budget prior to the start of the 2022 fiscal year (Dec. 16, 2021), it did so less than 30 days before 'deadline'. 
Establishing a budget well in advance of the fiscal year beginning January 1, per the study's authors, is essential, both practically and ethically speaking. 
"Spending without authorization by elected representatives violates a core principle of democracy, and formal passage of a budget is a major event not only for taxpayers, but also for departments and municipally funded organizations that cannot make commitments if they do not know what resources they will have," reads the report. 
"Councillors, then, should consider their budget well before the fiscal year starts, and vote on it before the year starts." 
In regard to presenting headline numbers consistent with public sector accounting standards (PSAS) in its 2022 budget, Niagara only properly displayed one of the three figures expected (surplus), failing to exhibit revenues and expenses promptly and prominently.
As C.D. Howe explains, "The starting point for engaged users of a government's budget or financial statements is the headline figures for revenues and expenses and for the surplus or deficit. The concerned citizen, councillor or journalist will want to know how much the government plans to raise and spend in the coming year, or how much it actually raised and spent in the year just past."
And while Niagara's budget provided reconciliation between PSAS-consistent numbers and budget totals, it did so way down in an appendix at the bottom of the document. 
In terms of the Region's year-end financial statements, Niagara restated the budget figures, but did not explain the variance. 
There were also issues related to the date of the auditor's signature and position of headline figures in the financial statements.
"These problems matter," according to C.D. Howe. "Opaque budgets foster citizens' disengagement and discourage informed input."
Municipalities that also received a grade in the C range included Gatineau, Halton Region, Longueuil, Montreal, Oakville, Toronto, Waterloo Region, and Windsor. 
The top grade (A) went to Richmond, BC. Markham, Quebec City, Surrey, and Vancouver all earned an A-minus. 
The B range included Brampton, Burnaby, Calgary, Edmonton, Laval, Mississauga, Ottawa, Peel Region, Saskatoon, Vaughan, Winnipeg, and York Region. 
Among the bottom scorers in the D range were Durham Region, Hamilton, Kitchener, London, and Regina. Halifax finished last on the 2022 list with a D-minus. 
Niagara's C-plus showing was actually one of its better scores in recent years. In 2019 the Region earned a D, 2020 a B, and 2021 a D-plus (using the 2022 scheme). 
It should be noted, regional council approved its 2023 budget at the end of February, well over two months later than 2022. So, at least for timeliness, Niagara can expect an even worse score on next year's report card.
To read C.D. Howe's full report, click here.