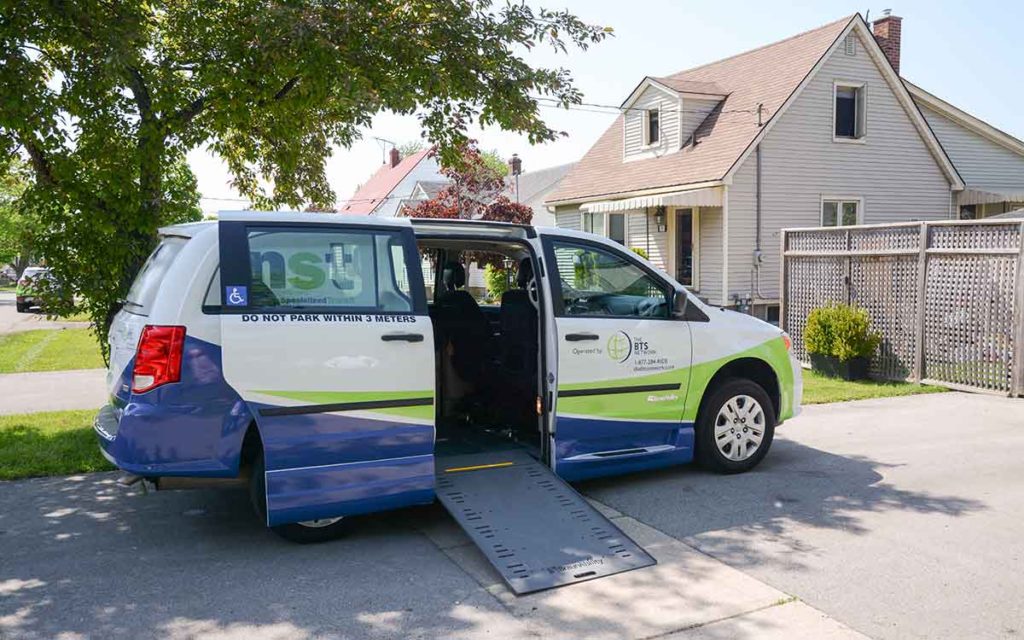 Those in charge of running Niagara's transit options have found themselves stuck in a good-news bad-news situation. It came to the attention of regional Council this week that the Niagara Specialized Transit (NST) program continues to be very popular and the demand from users has continued to grow, largely since the enhanced service reduced its fares to $6 roundtrip anywhere in Niagara. Increased utilization is the good news. The skyrocketing budget is the bad news.
To deal with the issue, the Region explored some service delivery changes to NST in an effort to address serious funding shortfalls in the budget.  These changes, although heavily communicated by staff in a variety of ways, including directly to every individual user, caused some confusion and concern.
Since the Region lowered the fare for NST to be equal to the fares offered by Niagara Region Transit (provincial legislation requires specialized transit to be the same fare as conventional transit), along with convenient door-to-door service, the demand for Niagara Specialized Transit service has dramatically increased.
Staff reported that from 2016 to 2017, NST ridership grew by a staggering 58 per cent from approximately 17,000 trips to approximately 27,000 trips. By the end of August of 2018, NST had already provided nearly 21,000 rides. At that rate the budget would be drained well before year's end.  An extra $450,000 has been pumped into NST to ensure demands are met.
The Region also launched a pilot project in late August to assist those clients living in Niagara who require specialized transit to get to Hamilton for things like medical services and procedures that are not offered in Niagara.
The pilot project with Hamilton was initiated with DARTS (Hamilton's specialized transit service) to seamlessly and efficiently transfer clients between DARTS and NST at a hub just inside the border of Stoney Creek. Staff from both service providers are assisting the clients in setting up the connecting trips to ensure that both services have the capacity necessary to deliver the trips at the times requested.
The pilot project hopes to deliver multiple benefits including: a less expensive fare for riders; facilitating trips between Niagara and Hamilton; reducing the operational strain of taking vehicles out of service in Niagara; cost mitigation due to the lower billing rate; and an opportunity to examine the use of transfer hubs as a mechanism for improving the efficiency of connecting with the local specialized transit services in Niagara.
Should the NST-DARTS transfer pilot be successful, staff will seek approval in early 2019 from Council to extend the pilot project indefinitely.
While the enhanced, highly taxpayer subsidized pilot project has many obvious benefits to clients, and was applauded by most councillors, especially Grimsby Mayor Bentley who has advocated for it for years, Pelham Mayor Dave Augustyn complained to Council and staff at last week's council meeting that it wasn't good enough.  He felt that having riders step off one bus and onto another at the transfer point was "inhumane". He said, "I know it's expensive but we are talking about dignity here." Augustyn argued that instead of using the NST buses for everyone, staff should think outside of the box.  He suggested that blind people could be "dealt with" in a taxi and people who aren't as ambulatory could use a "larger taxi".
St. Catharines Councillor Brian Heit said he was grateful that the Region's CAO Carmen D'Angelo and Commissioner Ron Tripp found the money to move forward and "bring the system back up to where we want it".  In what appeared to be a response to Augustyn's earlier comments about the "inhumane" pilot project, Heit did caution council to be mindful of the taxpayers of Niagara. "We don't want to leave anyone behind, we want to be compassionate, but there are limits to the taxpayers of Niagara and we just can't have it open-ended," he stressed.
Currently, Niagara residents who have accessibility issues, have two transit options – Niagara Region Transit and Niagara Specialized Transit. The difference being that Niagara Region Transit provides conventional transit service for those individuals seeking to travel between Niagara Falls, St. Catharines and Welland with feeder services to Fort Erie, Port Colborne and Niagara-on-the-Lake. Niagara Specialized Transit is designed for those individuals who are looking for transportation from one municipality to another municipality and require enhanced accessibility accommodations above what is provided on conventional transit services.
The Region's transit buses have multiple accessibility features to accommodate a range of needs. These include low floor/kneeling vehicles, wheelchair ramps, both priority and courtesy seating for seniors and riders with accessibility needs, as well as a stop announcement system. A paid Niagara Region Transit fare also permits free transfers onto Niagara Falls Transit, Welland Transit and St. Catharines Transit.
Niagara Specialized Transit is a door to door service, by scheduled appointment only. Rides must be booked a minimum of two business days and up to 14 days before your trip.
The Region pointed out that a rider may be accompanied by a companion, support person or personal care attendant and /or service animal on both Niagara Region Transit and Niagara Specialized Transit.
There was some confusion and concern about how NST selects which clients they pick up and when. In a statement the Region said; "Niagara Specialized Transit is a part of the public transit system and does not prioritize one trip purpose over any other in accordance with Provincial legislation. Each request is given equal consideration and is awarded on a first come, first serve basis. Much like conventional transit, there is a maximum amount of space available on a daily basis."
The Region also decided that beginning in the fall of 2018 those individuals requiring the assistance of a support person will now only have to pay a single fare when riding on Niagara Region Transit. A free support person pass will be required and can be obtained from Niagara Region Transit staff.