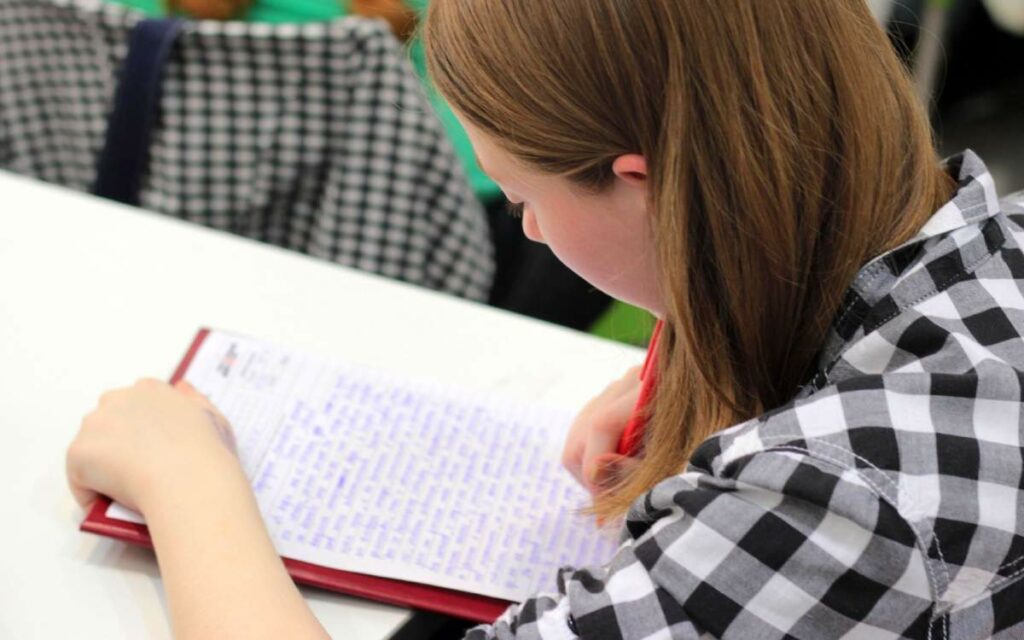 Grade 3 and 6 DSBN students did particularly well in math, posting double-digit scores above the provincial standard at both levels. Photo credit: Pexels/Pixabay
It's been a few years since Niagara students took the EQAO (Education Quality and Accountability Office) test – which was paused following the 2018-2019 academic year due to the pandemic – but it appears local students haven't skipped a beat. 
In results released earlier this month, Grade 3 and 6 elementary school students across the District School Board of Niagara (DSBN) fared better than the provincial standard in every testing category: math, reading, and writing. Niagara Catholic District School Board elementary students also had a good showing, exceeding or matching provincial levels in every category outside of Grade 6 math.  
According to newly reappointed DSBN trustees chair Sue Barnett, it's been the board-funded increased training for Niagara public school educators that has helped make the difference.
"As a Board of Trustees, we always make our decisions based on what's best for students," said Barnett. "We have funded Additional Qualification (AQ) courses for educators in many areas including math for many years. Investing in the professional development of DSBN educators has resulted in such positive outcomes for DSBN students."
At the Grade 3 level, DSBN students surpassed the provincial standards in math, reading, and writing by 11, 9, and 10 points, respectively. At the Grade 6 level, public board students exceeded the provincial standard in math by 10 points, and reading and writing by 5 and 6 points, respectively. 
DSBN Grade 9 students scored a point above the provincial standard in math, while Grade 10 students scored 2 points above the average on the Ontario Secondary School Literary Test (OSSLT).  
"Students exceeding the provincial averages are a direct result of what educators are doing in their classrooms, said DSBN Director of Education Warren Hoshizaki in a press release. "It's clear that their hard work to individually support each student and the strategies they are using every day are working."
The region's Catholic elementary school students also exceeded or matched provincial standards in most categories. 
In Grade 3 reading and writing, they topped the Ontario average by 2 and 5 points, respectively. In Grade 3 math and Grade 6 reading and writing Niagara Catholic students did slightly better than or matched established standards. Only in Grade 6 math did local Catholic students dip below the provincial level, underscoring by three and a half points. 
At the Grade 9 math level Niagara Catholic students exceeded the Ontario average by nearly 6 points, while first-time eligible Catholic Grade 10 students scored a point and a half above the provincial standard on the OSSLT. 
Niagara Catholic Director of Education Camillo Cipriano described the test results as a "new baseline" following two years of disruptions and cancelled EQAO testing. 
"These results represent a new baseline for us to build upon this year and beyond, and we are committed to turning these challenges into opportunities." said Cipriano. 
"We are moving forward and finding creative ways to support our classroom teachers. By deploying our elementary chaplains into schools, teachers have more time to work with our literacy and numeracy coaches on our Program and Innovation team to design programs for students."
"We have invested heavily in new literacy and numeracy resources and are putting them in place in our schools. And we are seeing results."
Typically taken every year by Grade 3 and 6 students in Ontario, the primary and junior EQAO tests provide learners and educators an opportunity to measure and ensure the province's schools are meeting minimum standards in math, reading, and writing. 
In less comprehensive assessments, Grade 9 students are typically tested for math each year, Grade 10 students for literary. 
The province's standardized testing regime was paused due to COVID in 2019-20 and 2020-21. This past year's test was the first-time students were assessed digitally. It was also the first-time students were tested on the new math curriculum. 
On the whole, Ontario students did worse in 2021-22 than prior to the pandemic.