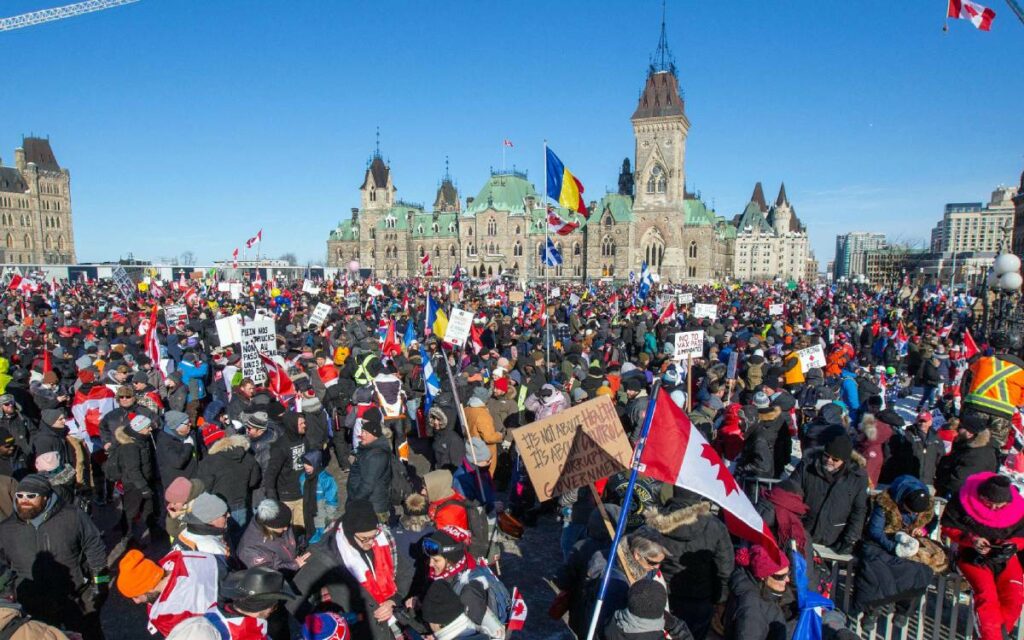 Local operator John Doppenberg and his wife Anita have been in the nation's capital since the convoy arrived on Saturday. Photo credit: AFP/Lars Lagberg
Nearly a week after helping lead the region's trucker convoy out of Niagara, local big rig owner and operator John Doppenberg and wife Anita are still in the nation's capital protesting the federal government's vaccination mandate and other public health restrictions. 
According to the St. David's couple, the vast majority of those gathered have been and continue to be nothing but good-natured and well-behaved. 
"I've heard directly from Ottawa police that they've never seen anything bigger than this, and never seen anything as peaceful," John told The Niagara Independent from the cab of his truck parked on Metcalfe St. near Parliament Hill Monday.
"We've had so much support. It's been incredible."
The movement and its motivations 
Several thousand truck drivers and their supporters descended on downtown Ottawa on Saturday as part of the 'Freedom Convoy' that's swept the country, and indeed the world, in recent weeks.
Initiated as a protest of the federal government's vaccination mandate for cross-border truck drivers, the movement has turned into a general pushback against government "overreach" during the pandemic. 
"This is not just about a truckers vaccine mandate," said John. "This is much bigger."
As John and Anita pointed out, the mainstream media has tried to spin the protest as a myopic movement driven solely by anti-vaccination sentiment, despite the fact that many in attendance are, in fact, vaccinated against COVID-19. 
"There are many vaccinated truck drivers helping us [with the demonstration]," said Anita. "This isn't about division. It's not unvaccinated vs. vaccinated. It's about the government mandating vaccination."
Both John and Anita explained that they are not 'anti-vaxx', they are simply pro-choice. 
"I would never tell someone they shouldn't get vaccinated," said Anita. "But I would like that same respect back. It's a two-way street." 
Misinformation
When asked about sensational reports from legacy media outlets of unlawful behaviour, such as statues being "defaced", the Doppenbergs warned people not to believe everything they read.
"We actually walked down to check on the Terry Fox memorial – to see how it was 'defaced' – it wasn't at all," said Anita. "Anything we see in the mainstream media we check. We actually get eyes on the ground, go and look at it, take pictures, take video to try and get the truth out there."
In a now-changed headline from the Toronto Star on Saturday, the paper claimed a statue of Terry Fox was "defaced" by protestors, when in reality it was accessorized with a Canadian flag, hat, and sign. 
What's next?
"We're not going anywhere," said John. "We're setting up a fortress here. We can feed ourselves, get diesel fuel when we need it. Nobody is going anywhere."
John said that the several dozen truckers he has spoken to personally are in it for the long-haul.
"We're here until the mandates get revoked."
Despite Prime Minister Trudeau claiming on Monday that protestors "have expressed hateful rhetoric and violence towards their fellow citizens", there were no incidents of physical violence reported in the opening days of the protest. In fact, not a single arrest was made over the Freedom Convoy's first weekend on Parliament Hill. 
To date, a crowdsourced GoFundMe campaign set up to support the truckers has garnered nearly $10 million.