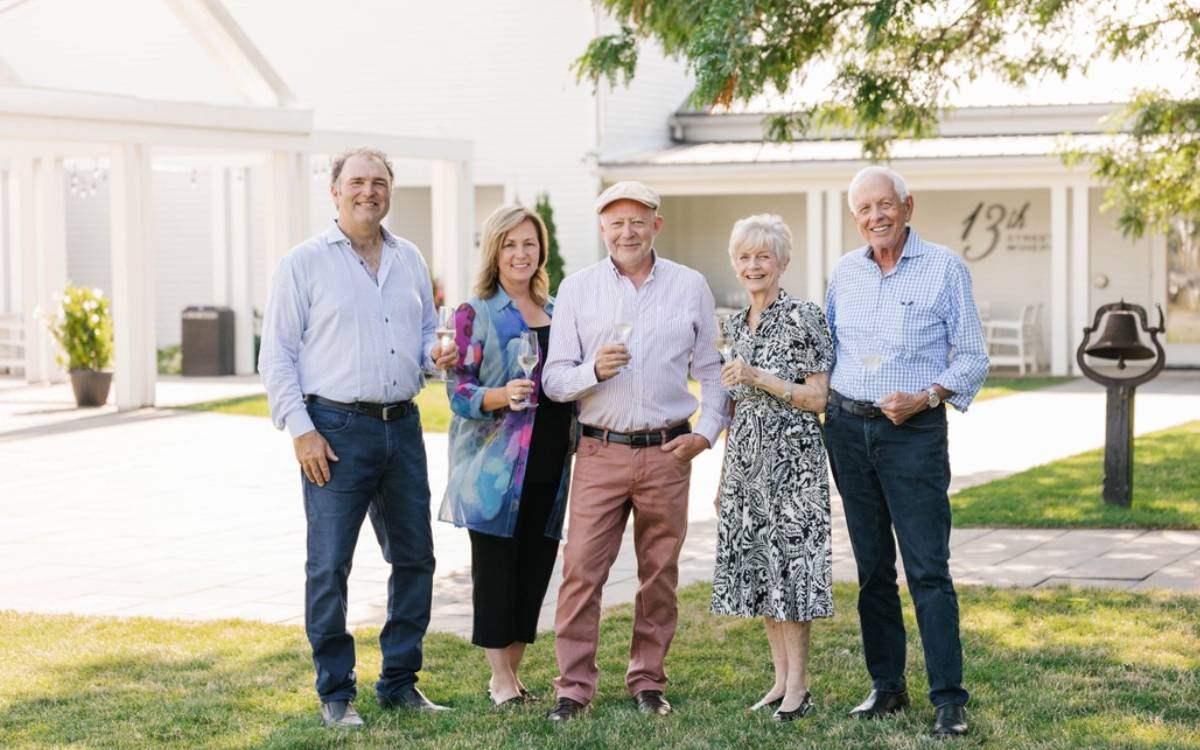 St. Catharines' 13th Street Winery earned the distinction of Ontario's best wine producer and finished second in all of Canada. Pictured left to right: winery co-owners Doug and Karen Whitty, head winemaker Jean Pierre Colas, and June and John Mann, 13th Street's other co-owners. Photo credit: Facebook/13th Street Winery
If one needed any more convincing that Niagara is indeed the premier site for wine production in Ontario, the outcome of this year's national wine competition should do the trick. 
Last Friday, July 29, the National Wine Awards of Canada – the "largest and most-respected" wine competition in the country – released the final results from its 2022 championship, which took place in Niagara Falls at the end of June. 
Niagara producers accounted for no fewer than 10 of the top 10 wineries in Ontario this year, and nine of the top 25 wineries in all of Canada, including three of the top 10 at the national level. 
St. Catharines' 13th Street Winery earned the top spot in Ontario, and the honour of Canada's second-best winery. 
A total of 20 of the local winery's individual selections won awards at the competition, with two platinum wins for its 2015 Premier Cuvee and 2020 Reserve Syrah. Only one other winery (CedarCreek from British Columbia, the contest's top-rated winemaker) earned two platinum medals, which are reserved for the competition's top 24 wines across all categories. 
In 2022, 24 judges tasted 1,890 entries from more than 250 Canadian wineries. The wines were all served blind – with producer, origin, and price kept secret – but were identified and organized into flights by grape variety or style. The top medalists were tasted in multiple rounds by several different judges. 
According to organizers, judges only tasted a limited quantity of wines each day "so their palates could stay fresh and focused." The wines were served in high-quality glasses at the correct temperatures for their respective styles.
Niagara's (and Ontario's) second most successful winery at the 2022 competition was Vieni Estates. 
The Lincoln-based winemaker won a total of 16 individual medals, including a platinum for its 2020 Riesling, and finished sixth overall in Canada. 
Located less than 10 minutes up the road from Vieni Estates, Thirty Bench Wine Makers rounded out the top three wineries in Ontario and took the number 10 spot nationally.  
Thirty Bench won a total of 14 medals, six gold, seven silver, and one bronze. 
The remaining Niagara wineries to finish in the top 10 in Ontario, in order of ranking with national rank in brackets, were: Two Sisters Vineyards (12), Peller Estates Winery (14), Malivoire Wine Company (15), Tawse Winery (16), Hidden Bench Vineyards and Winery (17), Redstone Winery (18), and Fielding Estate Winery (NR). 
Of the abovementioned, Hidden Bench won a platinum medal for its 2019 Pinot Noir Felseck Vineyard and Redstone won a platinum for its 2019 Bistro Riesling. 
Flat Rock Cellars also earned one of the competition's 24 coveted platinum medals for its 2020 Nadja's Vineyard Riesling.
To view the full results from the 2022 National Wine Awards of Canada, visit WineAlign's website here.