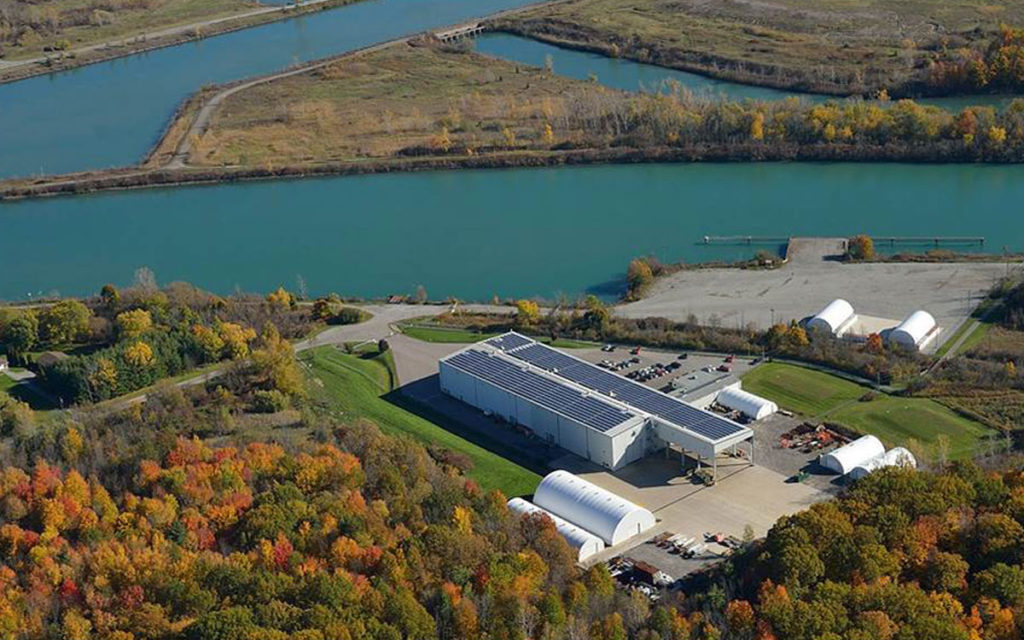 Two things may surprise a lot of people in Niagara. One is that sixty per cent of Ontario's power is nuclear. The second is that one of the biggest players in helping to provide that power is a Niagara company that started out as a small plumbing and heating shop more than eight decades ago.
E.S. Fox Ltd., the Niagara based contracting company and one of the largest third generation companies in Canada, is playing an important role in the refurbishment of this province's nuclear generating stations.  In fact, the company has being doing nuclear work for over 40 years. Currently nearly half of the company's tradespeople are working in nuclear.
E.S. Fox invited local politicians, media and industry partners to its Port Robinson facility to provide an update on the work the company has been doing in the nuclear energy sector. "We pride ourselves on quality and safety and I believe that's why we have been successful in our nuclear work," said E.S. Fox President, Spencer Fox. "We make everything here in Niagara and Ontario and there is a lot of spinoff work locally including sub-contractors, electrical component suppliers as well as tool and equipment suppliers," Fox added.   He pointed out that they are good paying union jobs with good benefits and that the employees live in Niagara and spend their money in Niagara.
The company was recognized for their quality of work on Friday by both the Organization of Canadian Nuclear Industries and Ontario Power Generation.
Director of Business Development, Frank Pepers was quick to acknowledge it's not just E.S. Fox doing good work in the nuclear space in Ontario. "A lot of great companies are doing great work here in Ontario and across Canada," said Pepers.
Pepers said there is a misconception about nuclear energy. "It's extremely clean and carbon friendly and people don't realize that," he explained. The Darlington Nuclear Plant refurbishment project, which began on October 15 of 2016, is Canada's largest clean energy project. "It takes years of planning and engineering before you even start the work on a nuclear power plant job," said Pepers.  The $12.8 billion Darlington Refurbishment project is scheduled to be completed by 2026 and provide well over 20 years of operations.
The Bruce Power project, which began Jan. 1, 2016, is a $13 billion investment of private dollars that will allow the site to operate up to 2064, supplying 30 per cent of Ontario's electricity for decades, while generating zero carbon emissions and providing low-cost power to families and businesses.
E.S. Fox Ltd. not only does work in nuclear facilities but also in the mining, commercial, institutional and industrial sectors. In fact, the Niagara based company played a major role in the construction of the Ripley's Aquarium in Toronto.
Fox said he is committed to keeping the company headquartered in Niagara. Given the number of good paying jobs and the companies successful track record, that's good news for Niagara.