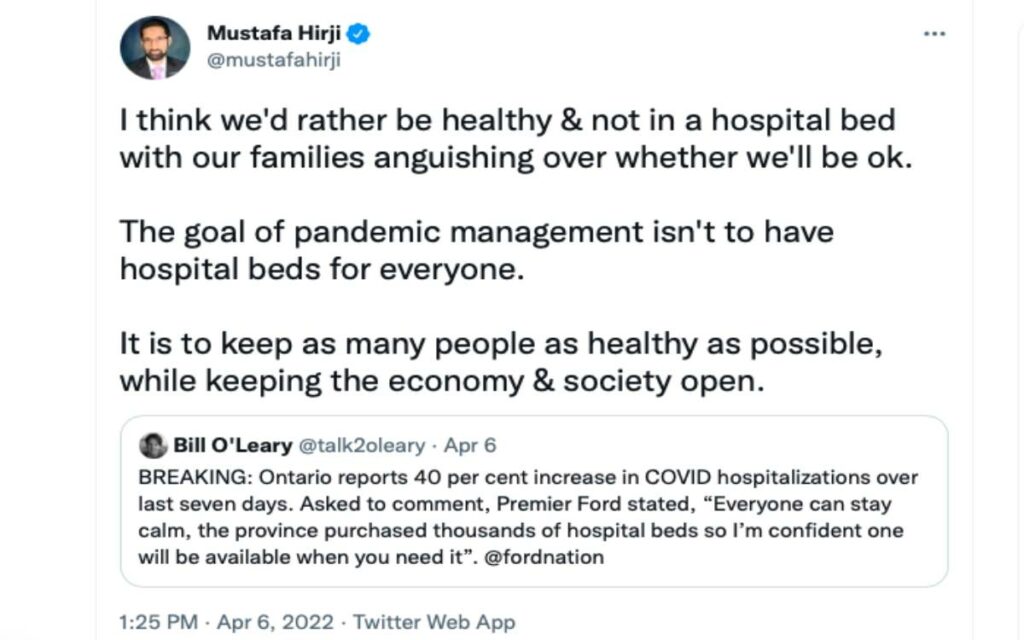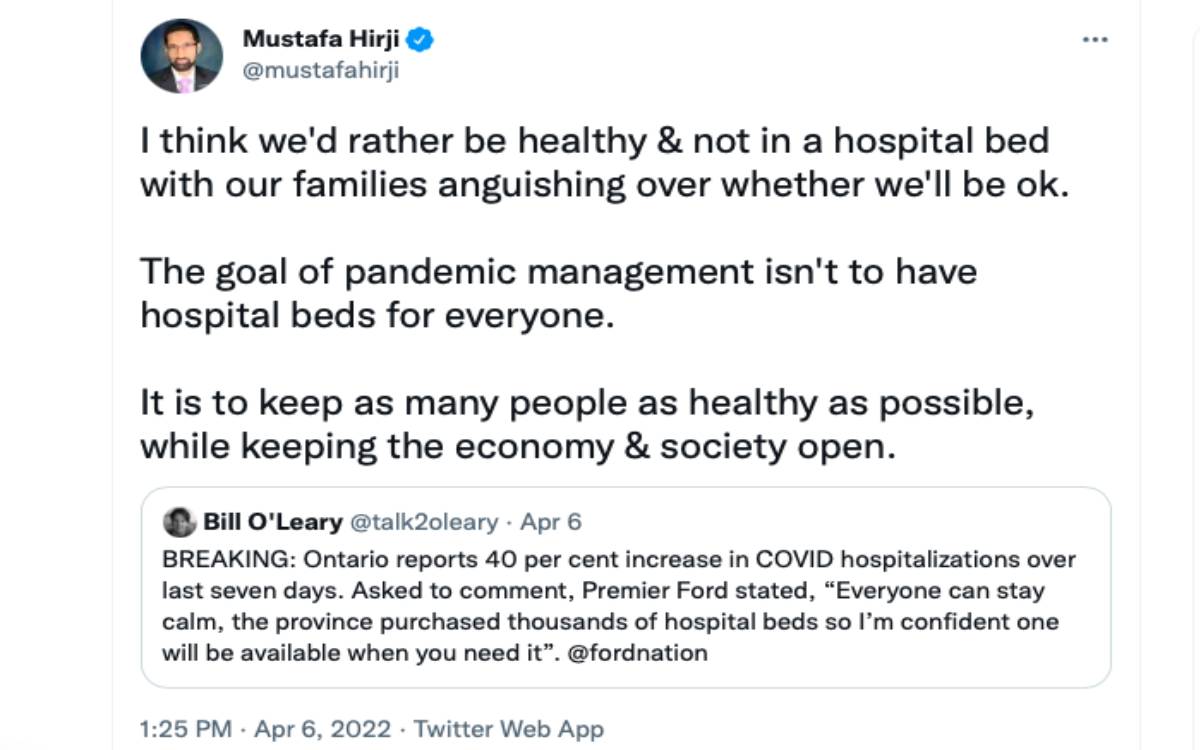 The region's acting medical of health responded to and reposted a fake comment purported to be from the premier last Wednesday. Nearly one week (and over 1,000 likes) later, Hirji still hasn't deleted the erroneous tweet.
Throughout the pandemic, Niagara's acting medical of health Dr. Mustafa Hirji has warned and worried about the spread of misinformation regarding the efficacy of vaccines, enforced inoculation, mask wearing and the like. 
Way back in May 2020, Hirji tweeted "In the #COVID-19 #pandemic, the @WHO has highlighted that misinformation—the #Infodemic—carries potentially as much risk as the virus. Recognition of reliable #PublicHealth authorities helps combat the infodemic."
He's gone to great lengths as the region's face of public health to rebut alleged 'fake news' and provide residents with what he perceives to be the most accurate, up-to-date information available. 
And yet, despite these efforts, Hirji himself recently circulated misinformation related to the pandemic, and when confronted by his mistake decided to effectively double down instead of deleting the error. 
On April 6, a Twitter account attributed to a 'Bill O'Leary' posted: "BREAKING: Ontario reports 40 per cent increase in COVID hospitalizations over last seven days. Asked to comment, Premier Ford stated, 'Everyone can stay calm, the province purchased thousands of hospital beds so I'm confident one will be available when you need it'. @fordnation". 
Oblivious to the patently fake comment's satirical nature – notwithstanding its creator's Twitter bio: 'BREAKING news is best served with a dash of satire!' – Hirji reposted the tweet, stating: "I think we'd rather be healthy & not in a hospital bed with our families anguishing over whether we'll be ok. The goal of pandemic management isn't to have hospital beds for everyone. It is to keep as many people as healthy as possible, while keeping the economy & society open."
In response to Hirji's retort, Premier Doug Ford's executive director of media relations Ivana Yelich informed the doctor that: "That's a fake quote from the premier." 
It took Niagara's head of public health a full three hours to acknowledge his mistake.
But instead of deleting the disinformed tweet, Hirji simply buried a feeble mea culpa in thread format below his original post: "I am advised this is a satire account. Apologies for being duped. Don't believe the quote. I stand by the principles in my response." 
One week later, the error is still posted to Hirji's personal Twitter. It has nearly 300 retweets and over 1,000 likes from users.