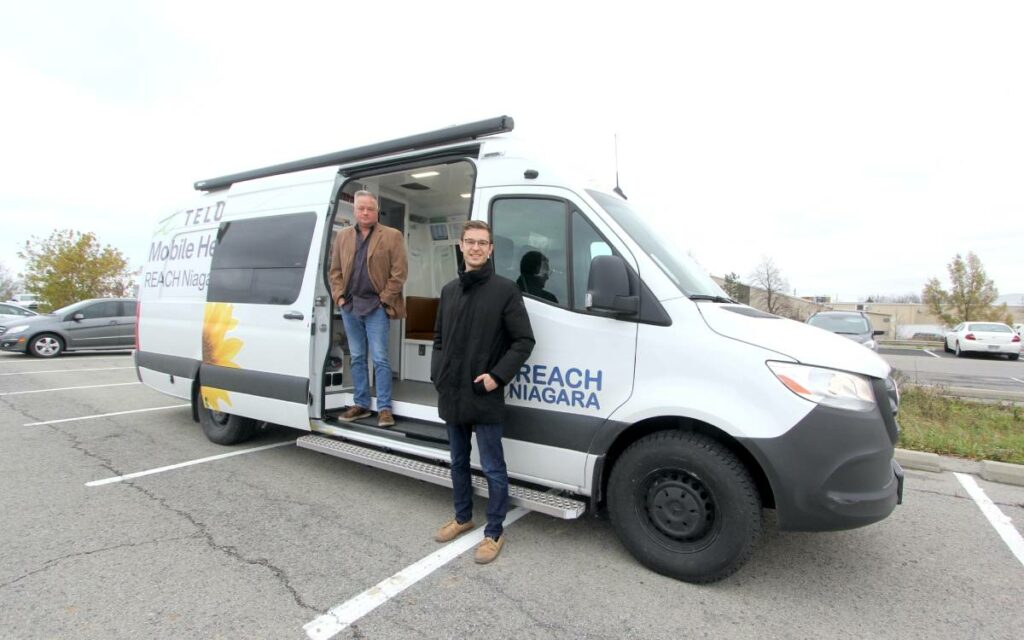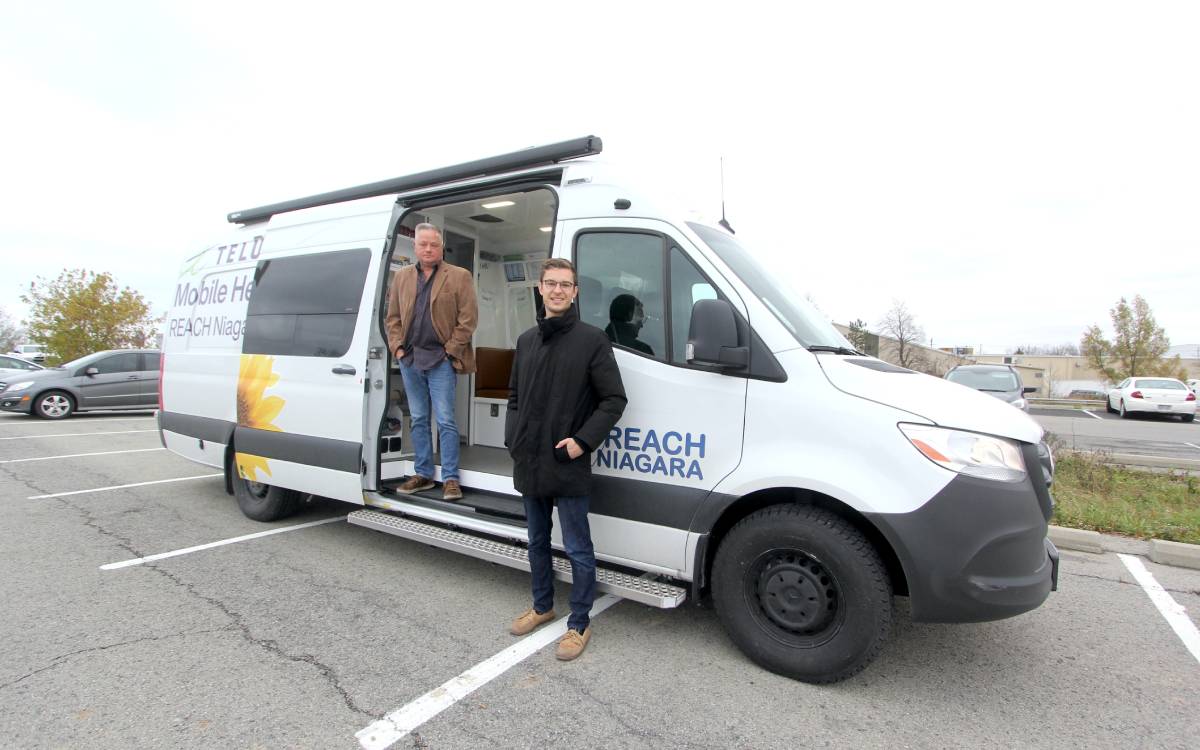 Executive director of REACH Niagara David van Velzen (left) and MPP for Niagara West Sam Oosterhoff pose with REACH's mobile health clinic. Supplied photo. 
The Ontario government is providing increased funding to community service providers who help the local homeless population access high-quality primary health care where and when they need it.
Working in partnership with the Shelter Health Network, REACH Niagara will see its annual base funding increased to $935,000 for 2021/22, which will allow the organization to care for 1,500 patients and open eight to 10 new service sites in St. Catharines, Welland, and Niagara Falls.
"Our government is proud to support the Niagara Region with this targeted investment to ensure its most vulnerable residents have access to better, connected, primary health care services," said Deputy Premier and Minister of Health Christine Elliott.
"This funding will help to provide comprehensive primary health care to individuals and communities, especially those at highest risk for illness, and protect our progress against COVID-19."
The commitment from the province includes an additional $425,000 in 2022/23 for an added two to three service sites, which will support another 500 unique patients.
"This new funding extends care to marginalized and homeless members of our community who do not have a doctor," said MPP Oosterhoff. "The provincial support affirms the important work of Dr. Karl Stobbe, Medical Director, and David van Velzen, Executive Director, and their frontline team at REACH Niagara in bringing primary care to individuals in need, meeting more patients in more places."
A collaborative effort to increase access to primary care, REACH Niagara partners with local physicians and nurses, community health clinics, family health teams, as well as Niagara Public Health, Niagara EMS, and local shelters, to treat marginalized communities and individuals experiencing homelessness with dignity, kindness, and respect.
Often times, community members experiencing homelessness forgo necessary medical treatment because they don't have identification, don't know how to make an appointment, or feel stigmatized entering a facility. REACH Niagara overcomes those barriers by offering a non-judgemental environment in which people can gain information about and access to the care they need. 
"REACH Niagara is thrilled with this announcement and our partnership," said Dr. Karl Stobbe, medical director of REACH Niagara.
"We have been in discussions with Shelter Health, Dr. Beal and the Minister of Health's office for quite some time. To see this come to fruition is fantastic. Our goal is to improve the lives of those we serve, and this funding will improve access to family doctors and specialists and is a game changer for REACH; more importantly for the people in Niagara who are poor and marginalized. We could not be happier with this outcome."
At present, REACH administers four brick-and-mortar clinics in the region, three in St. Catharines and one in Welland. In addition, the organization operates a mobile health clinic via a specially equipped van, providing trauma-informed, primary medical treatments, mental health services, addiction support and COVID-19 screening directly to those who need it. 
"This is wonderful news for our organization," said executive director David van Velzen. 
"We have experienced great support for this funding plan from our regional politicians, city leaders, our partners in the community health centres, family health teams, Niagara Health, Niagara Region and our MPPs in the region, with MPP Oosterhoff assuming the lead for REACH. Everyone recognizes the importance of this work and this funding plan will only improve and increase the healthcare we can provide to this community."
Established in 2018, REACH represents a new and growing collaboration between primary care, key stakeholders across the health and social care sectors, people with lived experience, and several academic institutions, including McMaster University, Brock University, University of Waterloo, and Niagara College.