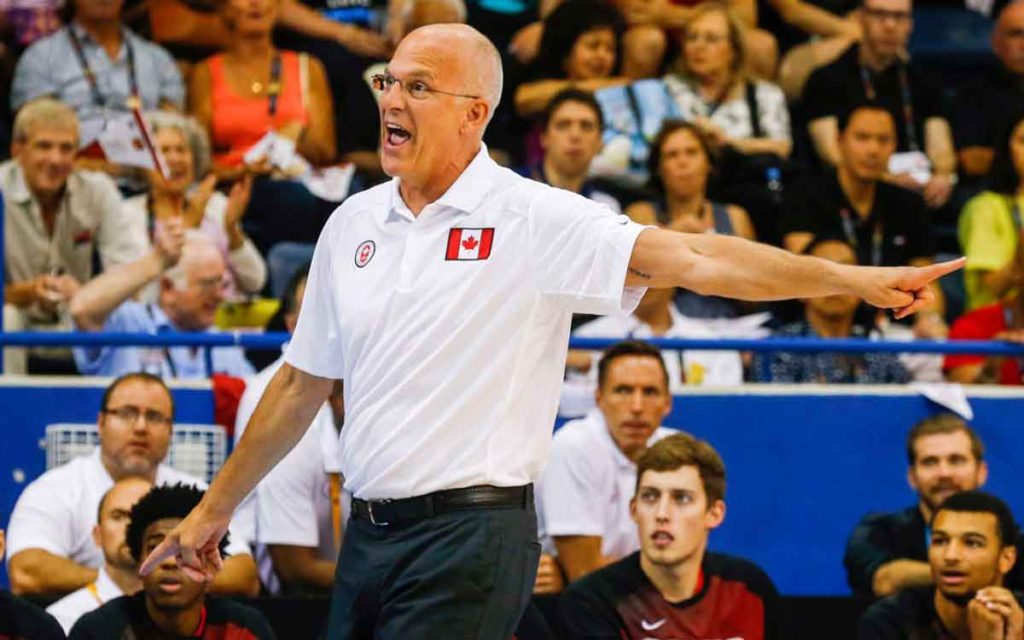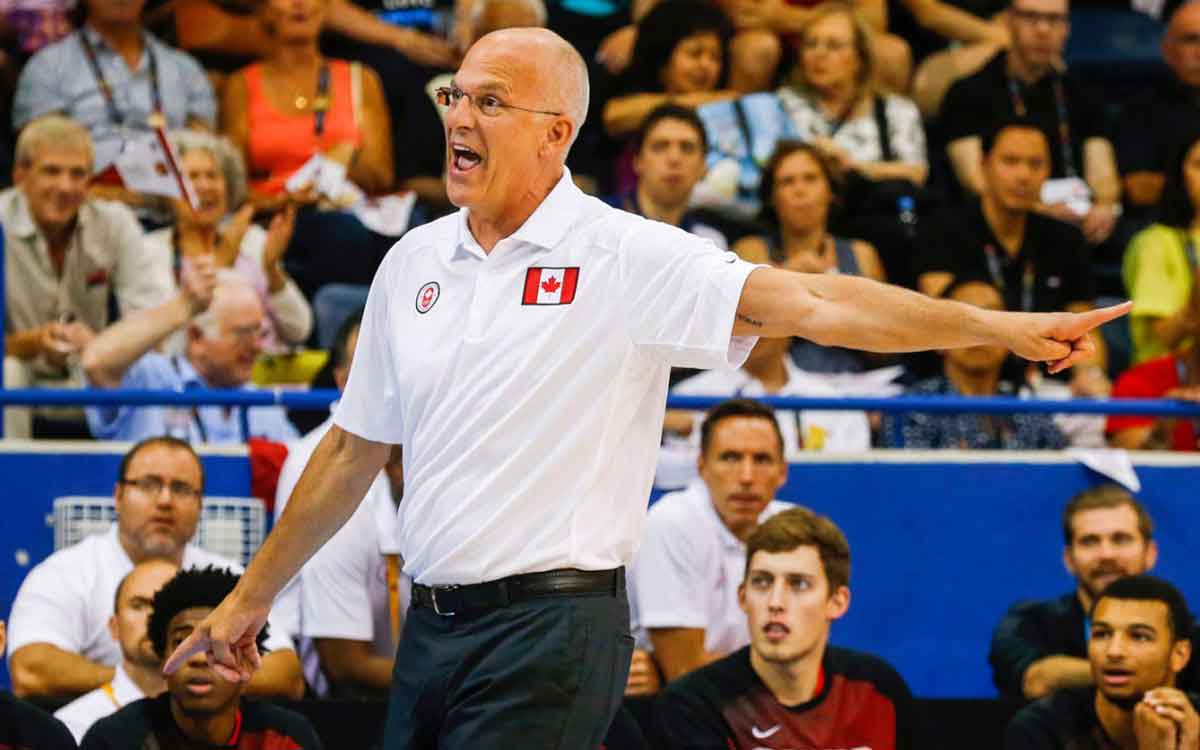 Niagara Falls native Jay Triano coaching Canada's national basketball team. Photo: Canadian Olympic Committee
There's no question basketball in this country has taken off like Michael Jordan launching from the free-throw line. Many Canadians would attribute that rise in popularity to the competitiveness of the Toronto Raptors and the influence of individual players in the past decade like Vince Carter, Steve Nash and the crop of young kids now playing in the NBA. But the foundation for basketball in Canada was laid by a select few, including Niagara Falls native and current lead Assistant Coach with the Charlotte Hornets, Jay Triano.
Triano recently released a book titled 'Open Look' in which he takes the reader on a highly entertaining and inspirational journey throughout his career. The stories he shares reveal an intimate behind the scenes look at what it was like to be one of the best basketball players in the country at a time when very few people paid much attention to a game invented by a Canadian. Triano spoke recently with The Niagara Independent about writing 'Open Look' and his time growing up in Niagara.
"I was approached by Simon & Schuster (the publishing company) about the idea of writing this book and sharing my stories given how basketball has taken off in Canada and how we have more players than ever in the NBA," said Triano when asked where the idea of writing a book came from.
Triano said he was interested but wanted to have further discussions. Once he met with representatives from Simon & Schuster and starting sharing stories from his playing and coaching days they said, "You have to do this".
So Triano teamed up with Michael Grange, writer and commentator for Sportsnet. "Michael and the publishers got excited and then I got excited. It was a fun process," explained Triano. As often is the case, Triano said now that the book is out he recalls even more stories he wished he had shared.
Basketball fans across the country will find the book fascinating and depending on their age will definitely recall some of the key moments Triano references in this nation's quest to gain respect on the hardwood. But Niagara hoops junkies will particularly enjoy the references to Triano's tales of growing up in Niagara Falls where he excelled at both basketball and baseball including his time on the court with A.N. Myer high school and winning a national midget baseball championship with Niagara Falls minor baseball.
Triano and Grange take the reader on a journey through Triano's career from the first organized basketball Triano played (it was in a league run out of Lundy's Lane United Church) to stops at Simon Fraser University, Canada's national team, and his rise to becoming the head coach of the Toronto Raptors in 2008. Triano became the first Canadian born and non-American to become a head coach in the NBA.
Many people, even in Niagara, probably don't realize that Triano was drafted in the eighth round by the Los Angeles Lakers in 1981. While he enjoyed being around a storied franchise like the Lakers, Triano's passion was with the Canadian national team and he decided to head home to once again wear the red and white. Plus, the Lakers line up was a tough one to crack in the early 80s. In fact, just two years before they drafted Triano, the Lakers selected a kid named Johnson – first name Magic.
The book is filled with humour, great storytelling and inspiration. One of the more inspiring tales is Triano's first meeting with a fellow student athlete at Simon Fraser. "I was homesick because I'd never really been away from Niagara Falls and so I went to talk to our coach (Stan Steward) to tell him I'm not sure I can do this," said Triano. As Triano entered his coach's office, a young man in a wheelchair was just leaving. His one leg was amputated. As Triano tells it in the book, "Before I could open my mouth, Stan said, 'Hey, Jay, I'd like you to meet Terry Fox'." Triano said he could never imagine he was about to strike up a friendship with a young man who would soon become a Canadian icon and a source of inspiration to Triano to this very day.
Triano finished his university basketball career at SFU with 11 school records on his resume, including 2,616 career points, 771 points in a single season, 45 points in a single game and 22.9 points per game. Those impressive numbers earned him the honour of being the first SFU basketball player to have his jersey retired.
It is clear that another major influence on Triano was his national team coach, the legendary, Jack Donahue. The New York native turned Canadian basketball guru pushed Triano to become a better player and person. Making the national team is a story of hard work paying off. Triano admits he wasn't the most talented of the group trying out for a spot on Canada's basketball team but he worked harder than anyone else during selection camp and persevered through a badly sprained ankle that he didn't once complain about even though it affected his game greatly during tryouts. For a long time he carried a clipboard as the twelfth man on the roster but he eventually got his chance to play and took full advantage. Triano went on to become one of the best players the Canadian men's basketball team has ever had and was eventually named the team's captain.
The competitive nature and toughness can be traced back to his time at A.N. Myer. "The gymnasium was being built so we had basketball practice in the parking lot in the early morning and it was cold," recalls Triano. "There were no nets so we did a lot of dribbling and working on the fundamentals."
While Triano has travelled the world as a player and a coach and has one of the most impressive basketball resumes anywhere, it is clear he's never forgotten his roots.
"Niagara Falls shaped who I was and who I became."
'Open Look' can be bought on-line or at major book retailers across the country.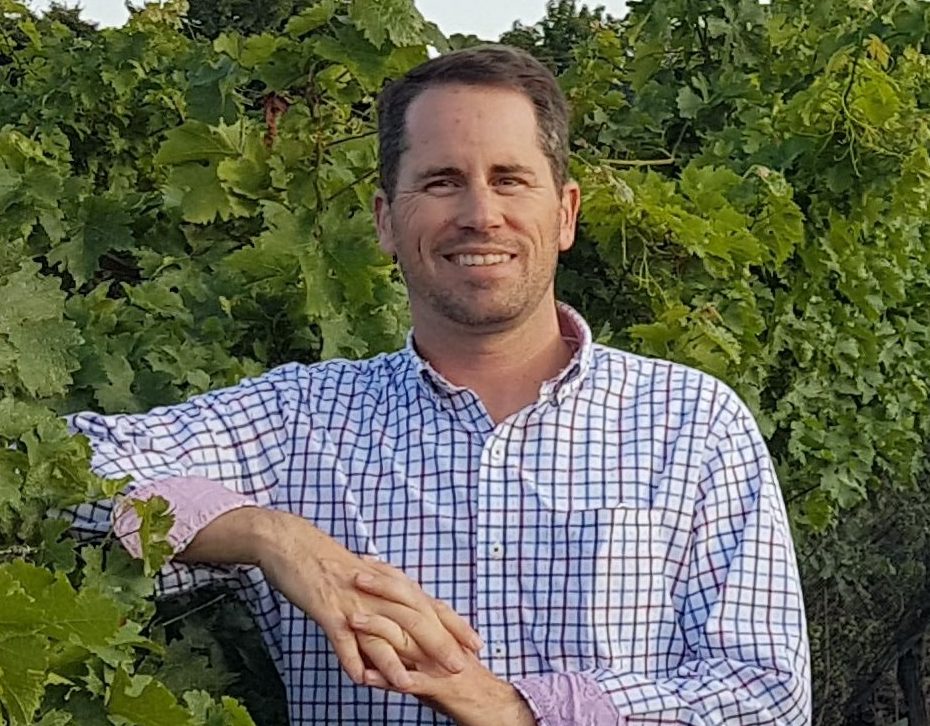 Kevin has spent over two decades as a public relations professional in a variety of sectors including professional sports, the arts, industry and healthcare.  After tiring of the daily commute to Toronto he returned to Niagara and launched The Niagara Independent, an on-line news sources published twice weekly.
He is a graduate of Brock University, Niagara College and the Richard Ivey School of Business. He was named one of Niagara's 40 Under Forty in 2005.
Kevin is most proud of his twin daughters. He is also a triathlete and four-time Ironman finisher.