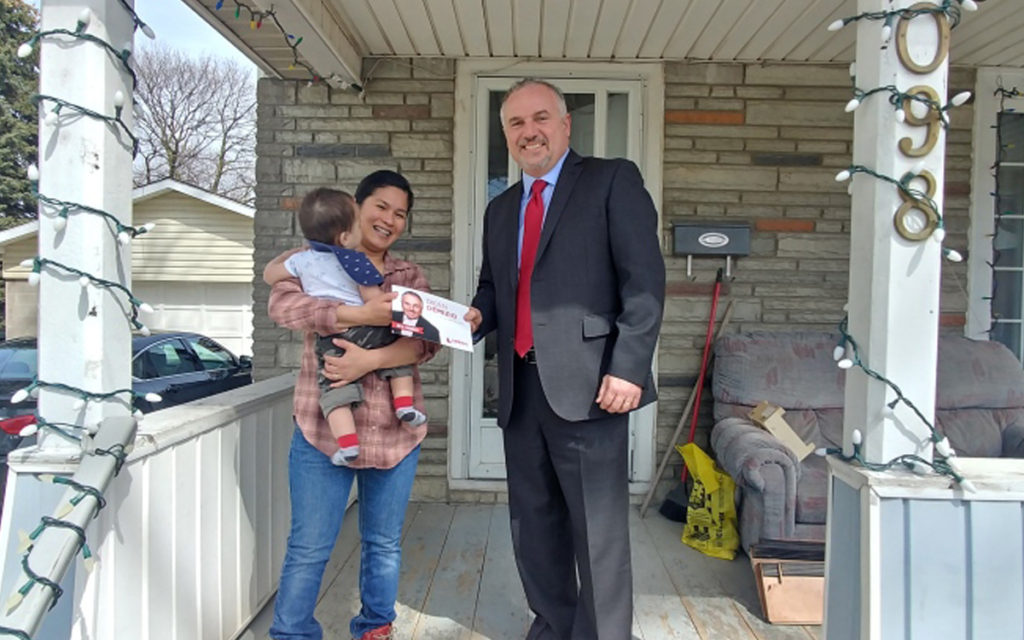 It's a tough election year to be carrying the Liberal party flag but that hasn't stopped Niagara Liberal candidates from working hard on the campaign trail.
In St. Catharines veteran MPP Jim Bradley, first elected in 1977, attempts to extend his distinguished career while on the other end of the spectrum retired teacher Benoit Mercier takes another run at it in the usual Liberal wasteland riding of Niagara Centre.
Meanwhile, in the Niagara Falls Riding, Liberal candidate Dean Demizio continues to knock on doors trying his best to secure votes. "It's different now than it was during the pre-writ days," said Demizio. "People were more vocal back then. I remember knocking on doors with my campaign manager and one of the first doors we knocked on the lady ripped up my flyer right in front of me," he said with a laugh. But Demizio says it's not that bad now that the election has officially begun.
While provincewide the Liberals are struggling in the polls and their Leader Kathleen Wynne's popularity is reflective of someone who has been in the Premier's office far too long, Liberal candidates continue to pound the pavement and make their case as to why they should be elected.
In his particular riding, which includes Niagara Falls, Fort Erie and Niagara-on-the-Lake, Demizio makes the case that those constituents have had no representation under NDP MPP Wayne Gates.  "Let's look at the representation over the past four years, we haven't had any," said Demizio.
The Liberal candidate gets frustrated when Gates continually criticizes the Liberal government on the one hand but then tries to claim credit for things like GO train service, a new hospital announcement and other initiatives that have been promised or advanced by the Liberal government over the course of the last decade.  It treats the electorate like they are naive, "How can one person take credit for getting all of that in just four years?"
"If I was doing a job review I would say to him, you failed your review," said Demizio.
Former provincial Liberal candidate and current Niagara Falls City Councillor Joyce Morocco who ran in the 2014 election said she understands the type of campaign Demizio is going through. In February 2014 it was a by-election, the end of Dalton McGuinty's run and very cold. "It was brutal and I had someone chase me off their driveway with a snow shovel," laughed Morocco. "We are loyal to our party and I didn't jump ship. I respect the programs and the policies they've put in place over the years," she explained.
Morocco pointed out that at any given time an election can change dramatically. "An entire campaign can come crashing down. Something can come out of the woodwork and take any party out of the race or two candidates can be very strong and split the vote and the third candidate can come up the middle," Morocco said.
The world of politics certainly is filled with ups and downs.  For a noble candidate of a party in the down years, her advice is to simply not give up and work hard every day during the campaign.
To Bradley, Mercier and Dean Demizio's credit, they are doing just that.