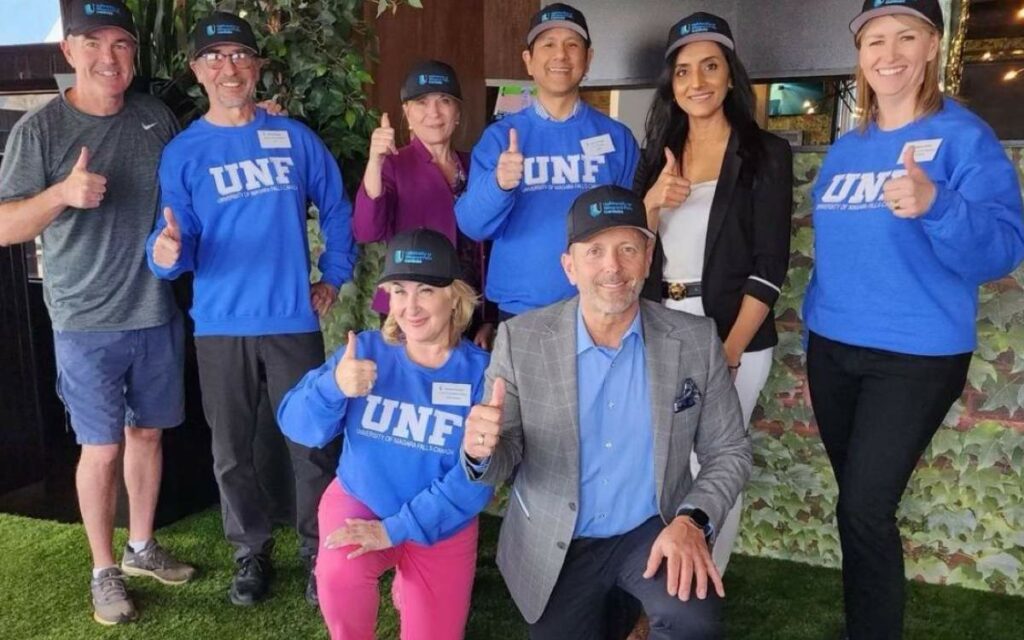 The University of Niagara Falls Canada (UNFC) is set to launch its first two programs in data analytics and management in January 2024. Pictured are Mayor of Niagara Falls Jim Diodati (front-right), city councillors, and representatives from UNFC (including Cyndi McLeod, front-left) at a community social event hosted by WeinLokal this past Saturday, April 15, 2023. Photo credit: LinkedIn/Jim Diodati
A key component of the multi-year, multi-million-dollar revitalization plan for downtown Niagara Falls is one step closer to reality.
At a community social this past Saturday, representatives from the future University of Niagara Falls Canada (UNFC) met with residents at WeinLokal off Montrose Road to preview curriculum, advertise positions, and confirm that come January 2024, the region's newest institute of higher learning will be open for enrollment. 
The university held a similar drop-in social at the Royal York hotel in Toronto and launched its official website over the weekend as well. 
To be located at a yet to-be-announced site somewhere near the VIA/GO station in Niagara Falls, UNFC will be administered by well-regarded private-sector operator Global University Systems (GUS). According to the university's mission statement, it will be "committed to preparing graduates for leadership in a digital world."
As announced on Saturday, the school's first two programs to be offered in January will be graduate degrees in Data Analytics and Management.
The university will then launch its Master of Arts in Digital Media and Global Communications and Honours Bachelor of Business Administration in fall next year, before introducing its Honours Bachelor of Science – Biomedical Sciences at a later date. 
In a previous press release, CEO of GUS Canada Cyndi McLeod, who was on hand for the community social this past weekend, said the university's program offerings were made with both Niagara's labour conditions and the broader digital world in mind.
"We know Ontarians, whether they are just finishing high school or looking for the skills they need for a second career, want to attend a university that offers the digital mindset employers have come to expect from new employees," McLeod said.
"Business and industry leaders helped shape curriculum, program and degree offerings with local labour market needs in mind and based on extensive consultations in the community."
Referred to as a "massive windfall" for Niagara Falls by Mayor Jim Diodati, the direct and indirect economic impact of the new institute will be substantial.
According to early analysis, on an annual basis UNFC is expected to generate $291 million in Gross Domestic Product (GDP), $194 million in labour income, and $23 million in government tax revenue. 
GUS hopes the university will eventually sustain a student population of up to 10,000 domestic and international learners, with hundreds of staff and faculty helping support operations. 
"If there was one thing on my bucket list that we had still yet to do in a big way in our community, it was this," Mayor Diodati said in a statement late last year. 
"It has been a long road behind the scenes, with many challenges, but today makes it all worthwhile. This downtown and our community will be bustling with students, new technology education and all of the economic off-spin that will come with it."
In terms of staff recruitment, the university is actively looking for a wide range of administrators and faculty, including a university librarian and registrar. 
Students will be able to start enrolling for January courses this fall.