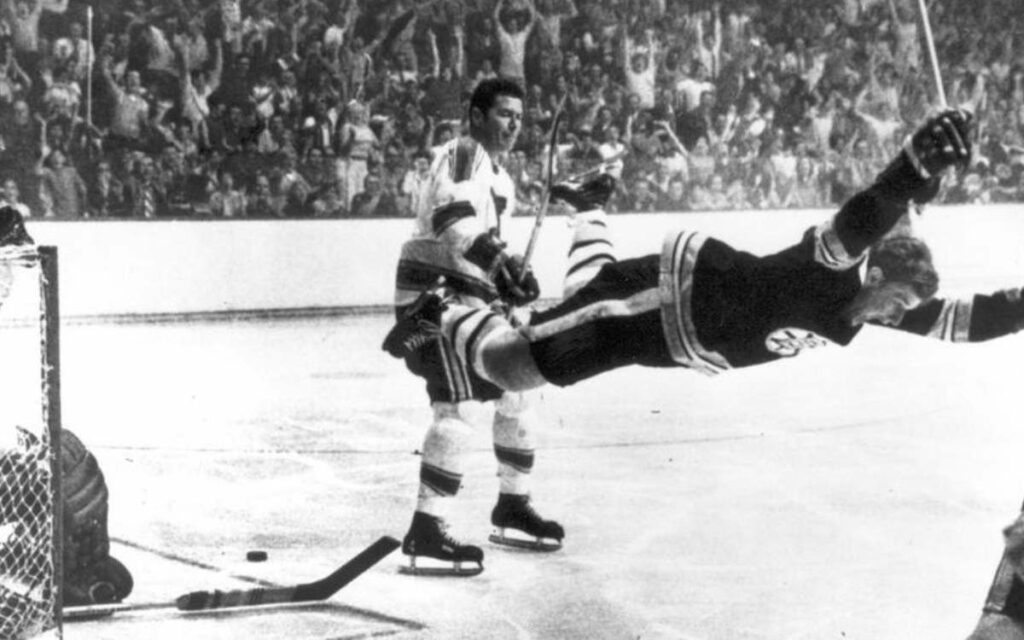 Legendary Boston Bruin Bobby Orr, who turned 75 on Monday, revolutionized the defenceman position, and in turn forever changed the game of hockey. Photo credit: NHL
Like a comet streaking through the sky, for a few short seasons in the late 1960s to the mid-1970s, Robert Gordon Orr, Parry Sound hockey prodigy, ruled the hockey world and left behind a Canadian legacy rarely touched in any field of endeavour. 
Orr, born on March 20, 1948, turned 75 years old Monday. For those who are 60 or older, our memories of this superstar remain etched in our minds, if not distant. The painfully shy boy from a small town located near Georgian Bay, about 225 km north of Toronto, ended up playing much of his career in Boston, a city he has called home since he retired in 1979. 
Orr turning 75 should be of some concern to those of us who recall his playing days. For those younger, names like Gretzky, Lemieux, Crosby, Ovechkin, and McDavid may mean more, but they only add to the lore that Orr built on the shoulders of Morenz, Richard, Howe, Hull, and others. Why should we look back and recall the importance of the famous number four? 
Orr changed the role of defenceman in the game of hockey. Until he joined the Bruins in 1966, the job of a defender demanded their attention to detail on their end of the rink. Defenceman were stay-at-home players who ensured the puck exited their end quickly, but who also bore the responsibility of covering opposing players and clearing them out from the front of the net. 
The idea that a defenceman would carry the puck into the neutral zone, much less the offensive zone seemed preposterous. Yet, Orr bucked the conventions and would race from one end of the rink to the other, faking and deking, passing, sometimes shooting, causing great havoc, and often successfully ensuring the Bruins' offensive success. When Orr arrived, the Bruins had missed the playoffs throughout the 1960s, but that was all about to change. Add Phil Esposito in a trade in 1967 and soon the ingredients for a long-sought-after championship existed. Having brought change to his position, he was about to revolutionize the game. 
Orr changed hockey forever. Obviously, the Bruins and their success led other teams to imitate what Boston had consolidated on both sides of the puck. Once Orr had established himself as a champion who could play the game fast, rough, tough, or with finesse, every team sought someone like him. The New York Rangers had Brad Park, and the Montreal Canadiens were in the process of developing a handful of defencemen who would eventually backstop their club to a dynasty. Both teams played in Boston's division and figured that the next couple of decades would involve going through the Bruins to win a Cup. 
As the expansion teams built their rosters and started to move toward serious contention they also knew that an imperative demand included a puck-moving defenceman. Interestingly, the most successful of those expansion franchises, the Philadelphia Flyers, took a different route, choosing a physical brand of hockey that emphasized a smothering defensive game that stood in stark contrast to Orr's Bruins. When the two teams met in the 1974 final, the Flyers won in six games on the back of Bernie Parent's outstanding play in goal and what Orr later called in a 2013 interview with Peter Mansbridge, the undisciplined nature of the Bruin's play. 
Nonetheless, as teams constructed rosters in the years to come, offensive defenceman became a priority, from the Canadiens to the New York Islanders and Denis Potvin, the Oilers and Paul Coffey, the Red Wings, and Nick Lidstrom to today's present Cup Champions Colorado Avalanche who boast who many call today's Bobby Orr in the form of Cale Makar. 
Finally, Orr's superstardom, combined with the global reach of technology demanded international exposure and competition. Hockey's success in North America and a few European countries, the old USSR, and some of its satellites remained isolated, and only publicized every four years at the Winter Olympics, or in Canada when a World Championship tournament took place. Once the Soviets began to win those regularly in the 1960s, interest in North America dropped. With Orr, the league, hockey promoters, and TV executives saw dollar signs if international tournaments could include professional stars. 
Beginning in 1972 this came to fruition when Canada and the Soviet Union played an unforgettable eight-game series that Orr ironically ended up missing because of his wonky knees. Following this was a series of Canada Cups, World Cups, the return of Canada to international competitions after a long absence from 1968 to 1977, and then in 1998 NHL players made the first of many appearances in the Olympics, though that has now been paused since 2014. 
Without Orr revolutionizing the game in the television era, bringing the NHL to American homes first with CBS and then NBC contracts, it is doubtful that the game's popularity would have left the cozy shores of North America until at least Wayne Gretzky arrived in the late 1970s. Gretzky grew the game in North America and an article could probably be written tracing his influence upon its rising popularity throughout America's south and west, leading many to predict America's inevitable conquest of hockey supremacy in the next decade or two. 
It all began with Orr, a young man who avoided the camera but never turned away a fan. Orr's willingness to sign autographs, visit hospitals, or spend extra time with young fans remains an impressive legacy. As he has aged his inclination toward privacy remains intact. He does few interviews, rarely seeks publicity, and prefers to participate quietly or anonymously in events, though his 2020 endorsement of Donald Trump upset many left-wing hockey journalists who even suggested Orr helped create the January 6 insurrection with his support of Trump. Politics always makes people a little unhinged, but blaming Trump voters for the actions of a politician seems odd, especially in the case of the unassuming Orr. 
Splitting his time between Boston and Jupiter, Florida, Orr will celebrate 50 years married to his wife this year, enjoys being a grandfather, and loves playing golf. 
For those of us in a certain vintage, we will always think of Orr like the comet streaking across the sky or of him flying through the air as he scored one of the most memorable goals in hockey history to bring Boston their first Stanley Cup in 29 years on May 10, 1970. 
Happy birthday, Mr. Orr, a hockey legend 4ever.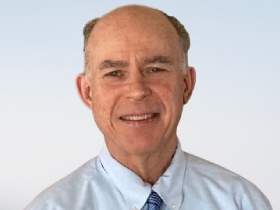 Dave Redekop is a retired elementary resource teacher who now works part-time at the St. Catharines Courthouse as a Registrar. He has worked on political campaigns since high school and attended university in South Carolina for five years, where he earned a Master's in American History with a specialization in Civil Rights. Dave loves reading biographies.