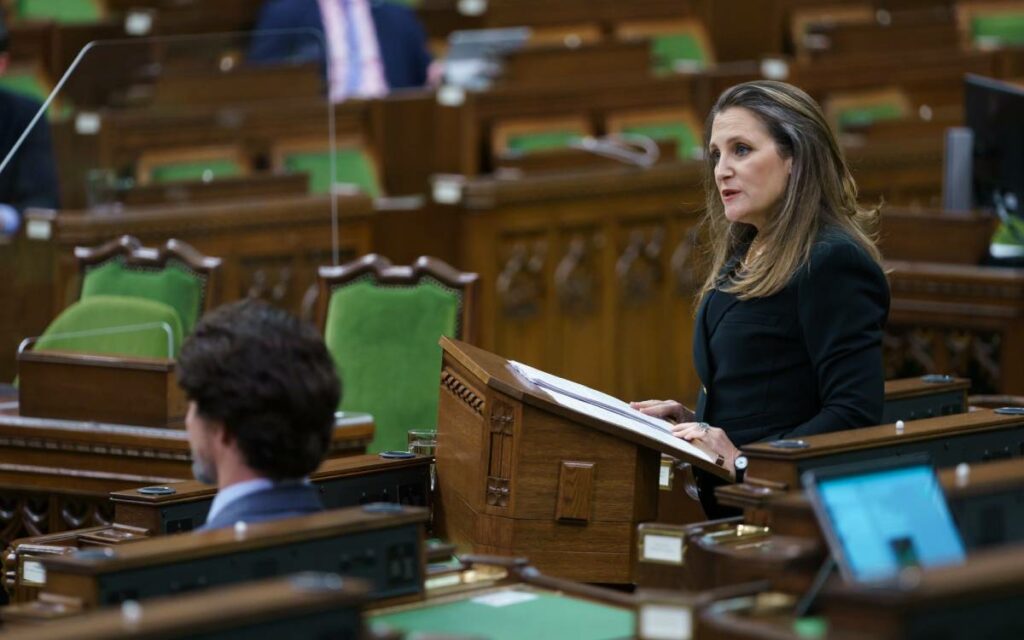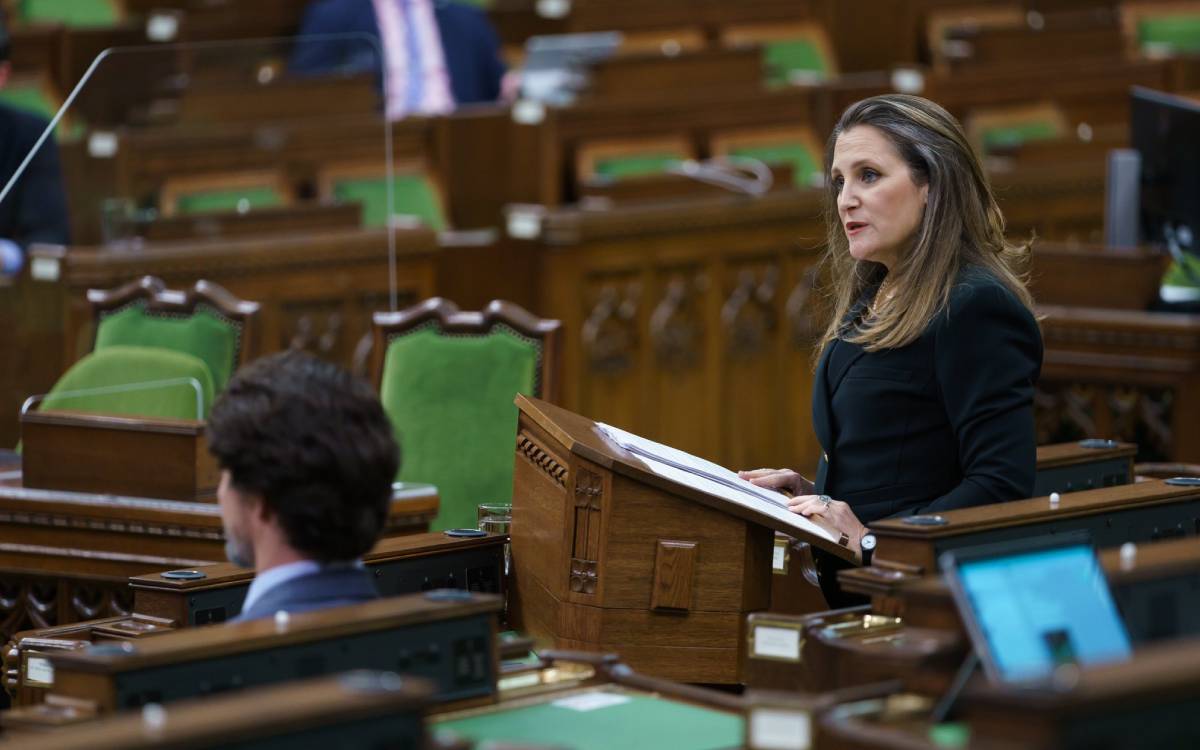 Canada's Minister of Finance and Deputy Prime Minister Chrystia Freeland presents the Liberal government's 2021 budget before the House of Commons, Monday, April 19. Photo credit: Twitter/Chrystia Freeland
This week's federal budget has been characterized as "the calling card for "spendoholics" – a political document that has money for everybody and everything – except for what Canadians desperately need, a long-term federal commitment to improving our country's public health care system.
In this week's budget address, Finance Minister Chrystia Freeland proudly announced more than $100 billion for the Government's new green agenda, an additional $17.6 billion for Canada to exceed its 2030 carbon emissions targets, and an additional $18 billion going to Indigenous communities to "improve the quality of life." The centrepiece of the spending announcements was the $30 billion expenditure over the next five years to create a nationwide childcare system (with a string attached that it is to be a 50-50 split with cash-strapped provincial governments).
With respect to the country's ledger, Freeland told us the federal deficit for the past fiscal year (ending March 31, 2021) is $354.2 billion and for the 2021-22 fiscal year it will be $154.7 billion. The budget numbers reveal a federal debt that will top $1.4 trillion by 2026, effectively doubling since the start of the 2020 pandemic. The budget also reveals that this Liberal Government has no plan to return to a balanced budget, ever.
So, this federal budget introduced a historic amount of government spending – pronouncements of billions and billions of dollars – and not a word of its commitment to the country's health care system.
 When Tommy Douglas first introduced Canadian medicare it was understood that the federal government was to cover 50 per cent of health care costs. Through the decades that number has been whittled down to 35 per cent. However, the federal government currently covers only 22 per cent of the total cost of health care.
The COVID-19 pandemic exposed that our beloved public health care system has been bending under the strain of federal government under-investment for some time.
Today, Canada's provinces spend $188 billion on health care and, in some cases, health care costs account for nearly half of a province's budget. The provinces have repeatedly asked the federal government to honour its previously held promise of 35 percent of health care costs.
The total federal investment to the country's health care should be $70 billion per year. But, at present, the federal government only transfers $42 billion for health care to the provinces each year – a $28 billion per year shortfall.
In pre-budget consultations, the premiers held a media conference to call on the federal government to announce an immediate long-term funding commitment for the Canada Health Transfer (CHT). The premiers were pleading for financial support to address the structural costs of the health care system and ensure Canadians have timely access to quality services.
Quebec Premier François Legault, speaking on behalf of all premiers, stated: "We can't afford to wait until after the pandemic to address this issue. We can't continue to manage the pandemic, while addressing the future sustainability of our health care systems. The next federal budget must reflect the federal government's commitment to long-term, sustainable funding for health care through the CHT."
Remarkably, with the country seized by the largest health crisis Canada has ever experienced, this federal budget said nothing about the CHT. Why were there no new health care dollars announced amid a global health crisis!?
On a related matter, the pandemic has sadly illustrated the decades of neglect by governments of all stripes toward the country's long-term care system. The budget did mention long-term care. The federal government stated that starting next year (2022-23) there would be $3 billion spent over five years "to improve long-term care." In looking at the details, this money will go to Ottawa bureaucrats in Health Canada and Statistics Canada. As for actual dollars to the provinces for supporting staff or better infrastructure, there is nada. This money will not be assisting the strapped provinces with their immediate long-term care COVID-19 issues.
Provincial leaders were quick to voice their concerns on the Trudeau government's lack of commitment to the country's health care system. New Brunswick Premier Blaine Higgs was frank in his reaction: "We're asking for a stability in a health-care system that is in crisis now because it's clearly demonstrated its weaknesses throughout this pandemic and there's not one mention. So it's like, here's a budget, clearly an election budget designed to appease everyone in some way, but in the main way it's an election budget that has missed everyone because everyone's impacted by a health-care system. We'll look back on this and we'll say we knew health care was in crisis. We knew, every territory leader and provincial leader knew this, and yet it was completely ignored in the most expensive budget in the history of our country."
In the House of Commons, when questioned by Conservative Leader Erin O'Toole on the failure to address the CHT, Prime Minister Trudeau said his government will increase health transfers – in the future. PM Trudeau said, "…the decision about how much, and how to exactly do that, we have decided needed to wait until we're through the worst of this crisis… Over the long-term, yes we will increase health transfers." There has been no further elaboration on the PM's comments.
Andre Picard, Globe and Mail health reporter, made the following observation about this government's "we'll-wait-until-later" attitude regarding health care: "The federal government made a strategic decision that it will get more political bang for the political and economic buck by investing in child care than spending more on the seemingly bottomless pit of sickness care. That's probably a good short-term bet. But, eventually, the backlog of neglected care over the past year, and the swelling desire for better elder care in the future, is going to catch up with governments, and that debt will have to be paid – in full."
While, President of the Canadian Medical Association Dr. Ann Collins said: "[The association is] disappointed that this budget did nothing to address the problems faced by the nearly five million Canadians who must navigate medical issues without consistent access to a family doctor or primary care provider… As provinces and territories continue to struggle with the ever-increasing cost of providing care, the federal government must follow through on its own promise to work with premiers on revisiting the CHT."
"This has been an enormously difficult year for patients and healthcare providers alike as they have been trapped in a system that has been neglected for too long," added Dr. Collins. "Small cracks have become gaping holes. Building resiliency for the future must include real commitments to health care. If anything, this pandemic has shown us where the problems are, but we must address them before it's too late."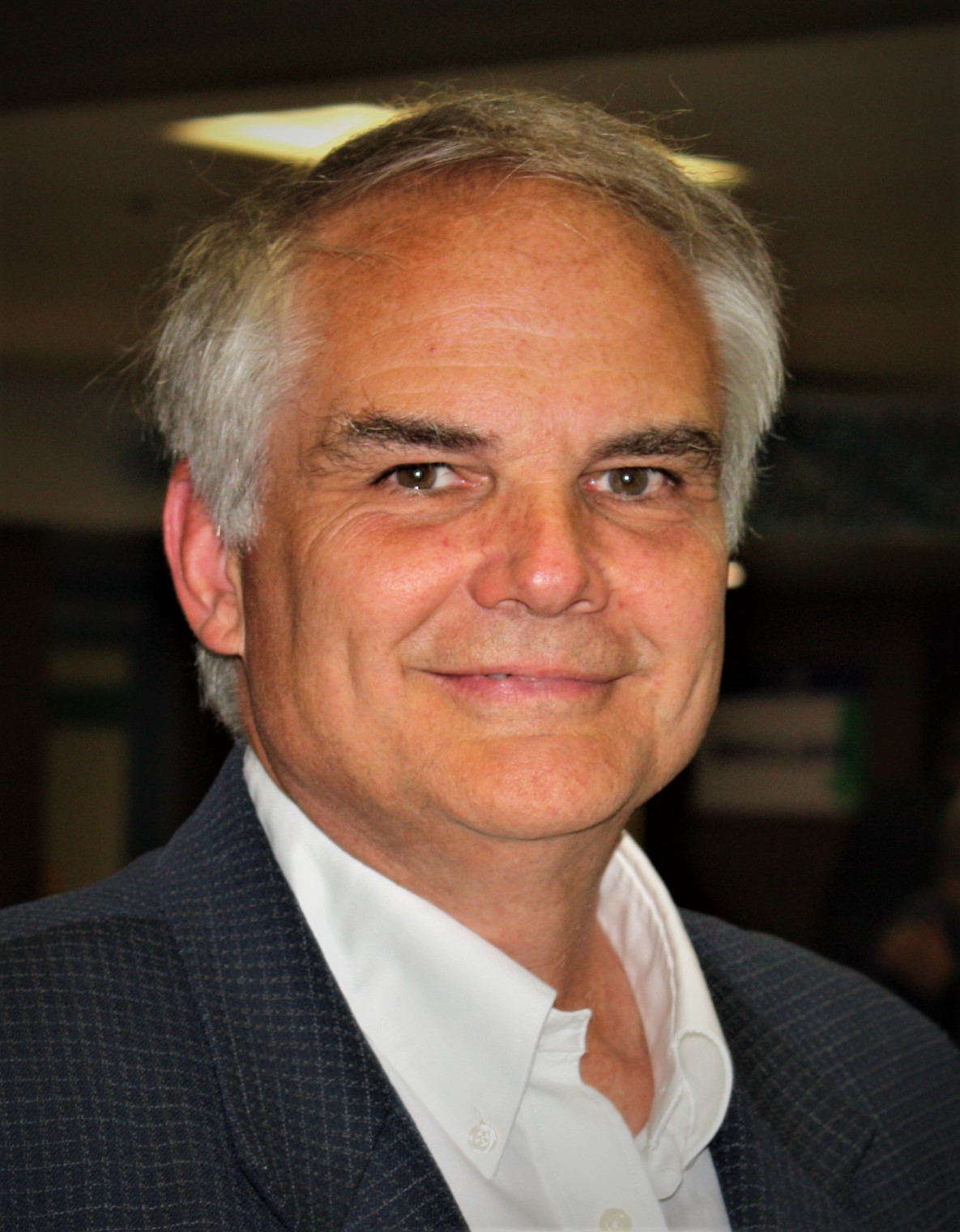 Chris George is an advocate, government relations advisor, and writer/copy editor. As president of a public relations firm established in 1994, Chris provides discreet counsel, tactical advice and management skills to CEOs/Presidents, Boards of Directors and senior executive teams in executing public and government relations campaigns and managing issues. Prior to this PR/GR career, Chris spent seven years on Parliament Hill on staffs of Cabinet Ministers and MPs. He has served in senior campaign positions for electoral and advocacy campaigns at every level of government. Today, Chris resides in Almonte, Ontario where he and his wife manage www.cgacommunications.com. Contact Chris at chrisg.george@gmail.com.