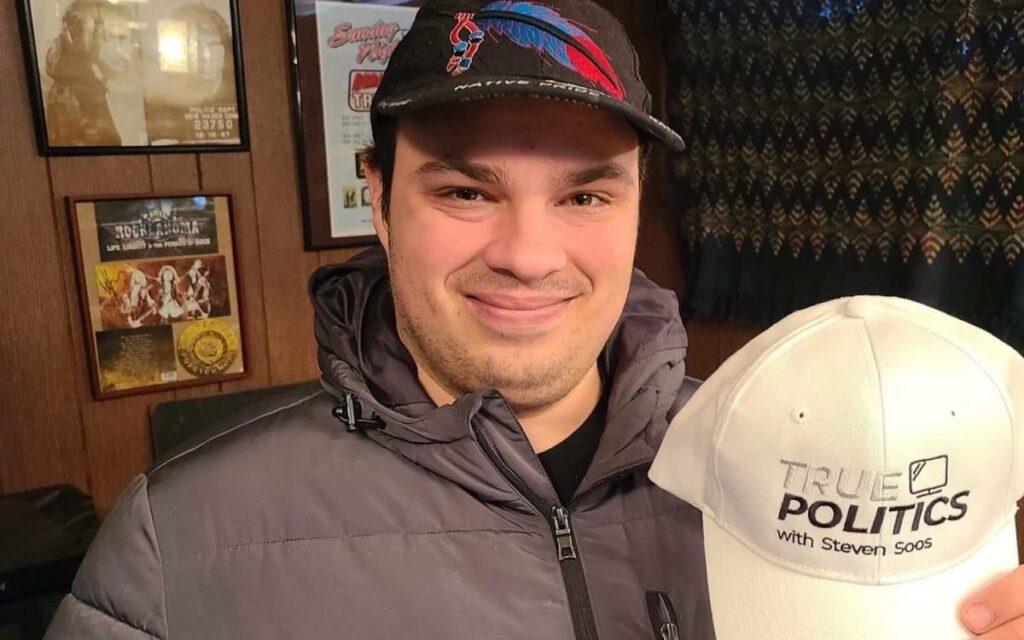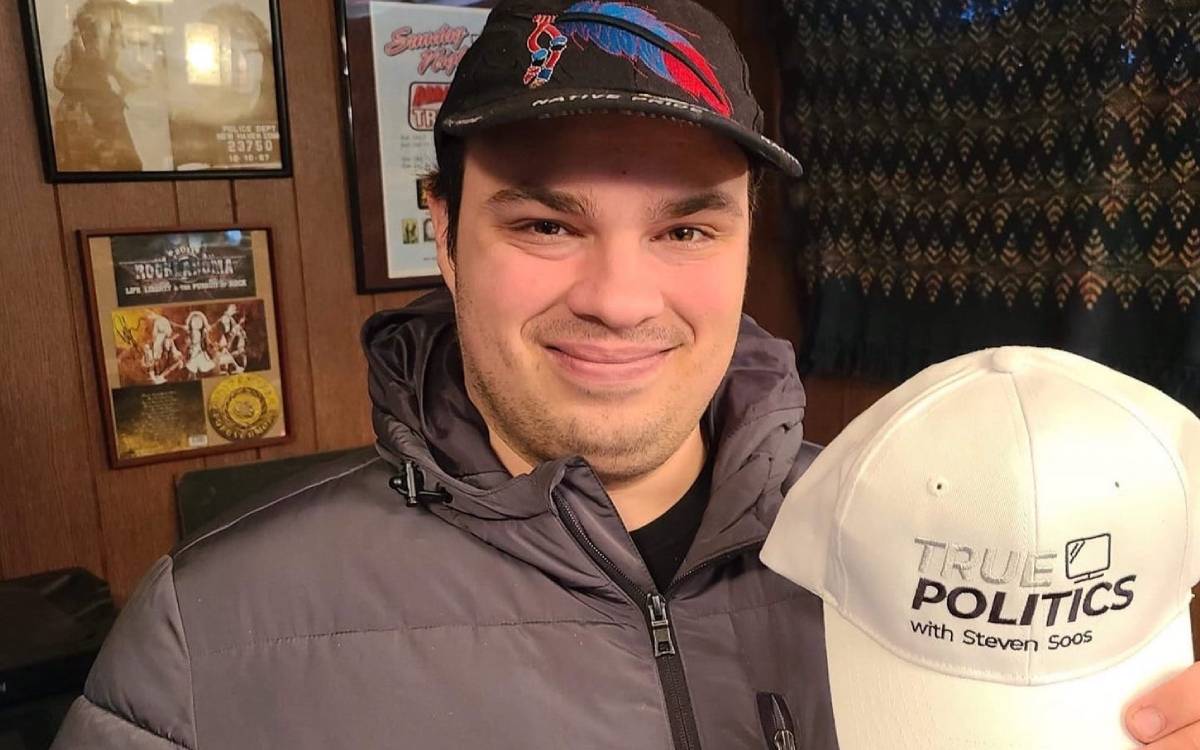 True Politics host Steven Soos holds up a branded hat. Photo credit: Facebook/Steven Soos
Even though only three of the five registered candidates showed up, the first debate of the 2021 federal campaign for the riding of Niagara Falls was, according to its host and organizer, a successful event that represented another "big win for independent media locally." 
Held Tuesday evening, the debate was put on by True Politics, an "award winning web-show committed to intriguing political dialogue." 
The show's host, local activist and budding politico Steven Soos, said that the debates – four in all, one for each of Niagara's federal ridings – are being held more for the community, rather than the candidates themselves. 
"If you ask me the reason why I put the debates on, it's to do a service for the community," Soos told The Niagara Independent. "It's so that people can learn about the candidates running and why they should be a member of parliament – that's a big duty."
That's why, according to Soos, it's disappointing when candidates refuse to show up or are otherwise unable to make it. 
"When candidates don't show up it's the constituents that suffer."
The Niagara Falls debate was attended via Zoom by incumbent Conservative Party candidate Tony Baldinelli, Green Party candidate Melanie Holm, and People's Party of Canada candidate Peter Taras.
Not in attendance were Liberal Party candidate Andrea Kaiser and NDP candidate Brian Barker. 
According to Soos, Kaiser and Barker missed out on the opportunity to discuss a wide variety of topics, including mental health, jobs, the economy, energy, and immigration. 
But pointing out the positive, Soos said that at least the lesser talked about candidates had the chance to discuss their ideas and directly engage with the incumbent. 
"The PPC and the Green candidates got to debate [Conservative candidate] Tony Baldinelli, that's a huge victory. It was great."
As Soos relayed in the context of his previous Niagara Centre debate, it's always important to have the incumbent in attendance to attract the most challengers to the discussion table; that, and good planning.
Soos said that he is "vigorous" with his follow-up and always gives guests plenty of notice. For example, for the Niagara Falls debate held on August 31, the True Politics host sent out an initial invitation on August 22. He then followed that up with another two emails in the intervening time. 
NDP candidate Brian Barker simply did not respond to any of the messages. Whereas Liberal candidate Andrea Kaiser responded the night before the debate was scheduled to take place, saying she had a previous personal commitment.
The next candidate debate for the riding of St. Catharines is scheduled to take place the evening of September 3. The fourth and final debate featuring candidates from Niagara West is slated for September 6.
Anyone interested in viewing the debates live or watching recordings of the previous discussions can do so by going to True Politics' Facebook page here. 
While there, viewers can also watch past discussions with a number of prominent individuals from Canadian politics, including current leader of the Ontario Green Party Mike Schreiner and former Ontario Premier David Peterson.