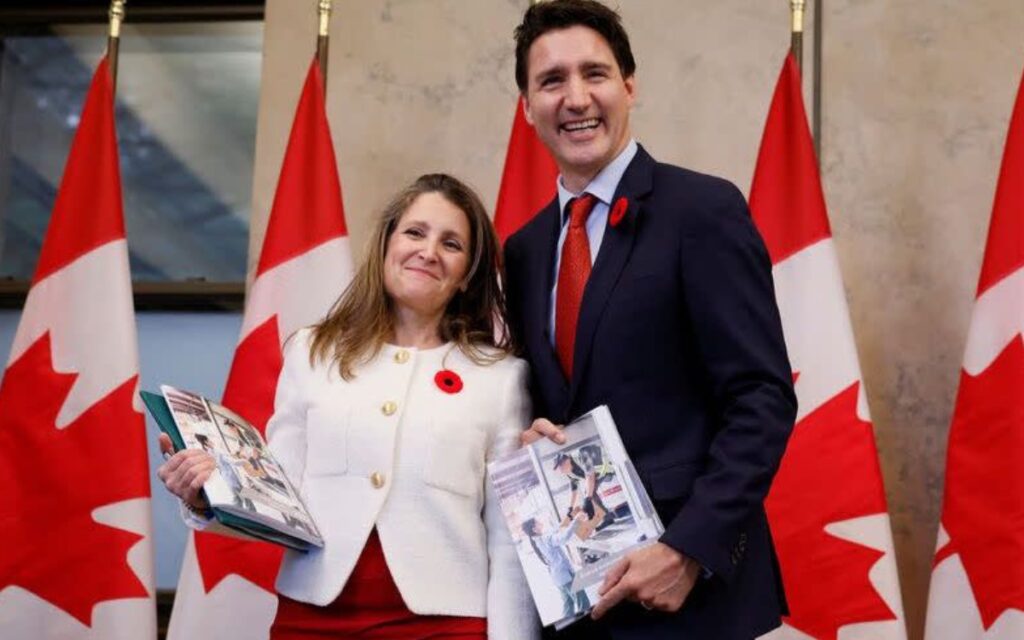 The Trudeau government released its 2022 'mini budget' last week. In the process, Finance Minister Chrystia Freeland managed to upset both sides of the aisle, with the left saying she's not doing enough, and the right saying the appropriate budgetary adjustments for increased spending were not made. Photo credit: Reuters
As Canadians are sitting around the kitchen table worrying about a possible recession, the government spent last Thursday setting out the cutlery and other tools they will use to prevent economic collapse. 
At the heart of the Fall Economic Statement unveiled last week, Finance Minister Chrystia Freeland outlined new supports for workers, students and businesses. The government pitched their plan to tackle inflation and the looming economic challenges as a solution for all Canadians. But is it? 
If you are a student, congratulations, the federal portion of your student loans will now be interest-free. For workers, the government is committed to cracking down on labour code violations and improving working conditions through a 5-year, $26-million-dollar investment. If you're in the green tech business, you are the real winner this time around. The government announced tax credits and billions in funding for projects. 
Minister Freeland touted proudly that this document shows how the government is being fiscally prudent in hard economic times. She promised to balance the budget by 2027 and by then the government will have a surplus of $4.5 billion. 
It is easy to look financially responsible when you're only spending $30.6 billion compared to $200 billion in previous years. Admittedly, there are some solid policy ideas that will help Canadians, but it broadly seems to miss the mark, and it has seemed to anger both sides of the House of Commons. 
On the left, the NDP believes there should have been more in the update to support Canadians. They have spent months asking for a larger windfall tax on big businesses, such as energy and grocery stores that have seen their profits rocket during the COVID-19 pandemic. But at the end of the day, the NDP will continue to prop up the stalling government as they are in no shape to enter an election and have some influence.
Whereas on the right, the Conservatives blasted the Liberals for failing to make comparable budgetary adjustments to match their increased spending. The Conservatives were clear that they will not be supporting the government's new expanding plans. This should come as a shock to no one, as the only way the Tories would support a government bill around spending is if it includes the resignation of Justin Trudeau and his entire cabinet.
Though, there is a fine line between doing what is right for the economy and what is right for Canadian families. Yes, raising interest rates should in theory help lower inflation and move Canada's economy back on track. While at the same time, doing that will force millions of Canadians to struggle further with their mortgages increasing beyond their means and other prices of essential goods, like groceries or gas, to continue to rise. 
When evaluating this mini budget, it seems like the Liberals fail to understand how to balance the economy while protecting Canadians. Canada is at a crossroad. In order to try to dodge a likely recession, the government needs to invest and be there to support Canadians who can't make ends meet. While at the same time, the government has been doing this since early 2022 and the bill for this support needs to be paid sooner than later. If not, Canadians and future Canadians are going to be stuck between a rock and a hard place. 
In the coming weeks, Liberals will travel across Canada to sell Canadians on this document and preach about all the good their government is doing. Maybe instead of talking the entire time, this Liberal government should put on their listening ears and hear about the concerns that people actually have, instead of prescribing problems with patchwork solutions. 
Daniel Perry is a consultant with Summa Strategies Canada, one of the country's leading public affairs firms. During the most recent federal election, he was a regular panelist on CBC's Power and Politics and CTV Morning Ottawa.