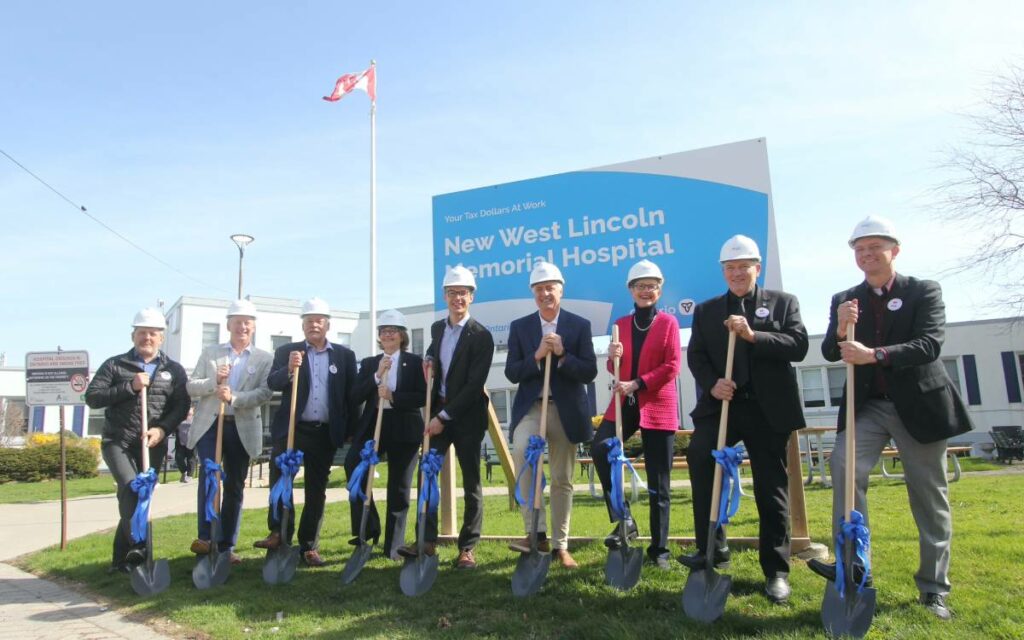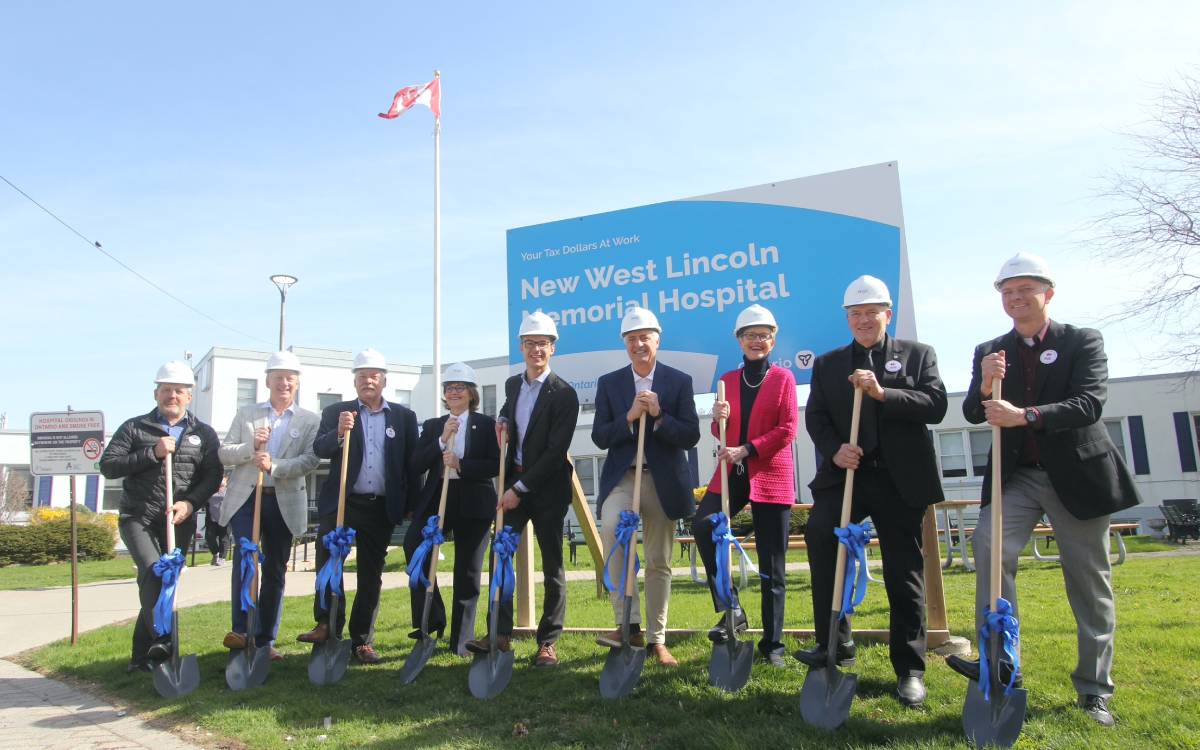 Pictured left to right: Andrew Smith, Chair, Take It To The Finish Campaign; Kevin Antonides, Chair, West Lincoln Memorial Hospital Foundation; Tony Joosse, Co-Chair, Save and Rebuild Campaign; Sandra Easton, Mayor, Town of Lincoln; Sam Oosterhoff, MPP Niagara West; Rob MacIsaac, President and CEO, Hamilton Health Sciences; Mary Volk, Board Member, Hamilton Health Sciences; Jeff Jordan, Mayor, Town of Grimsby; Dave Bylsma, Mayor, Township of West Lincoln. 
After several years of grassroots activism, government promises, and necessary preparation, on Friday, April 29, ground finally broke on the new West Lincoln Memorial Hospital (WLMH) project in Grimsby.
The provincial government gave the green light for construction to begin following financial close between Infrastructure Ontario, Hamilton Health Sciences, and EllisDon Infrastructure Healthcare, with the latter awarded a $224 million fixed-priced contract to design, build, and finance the entire project. 
MPP for Niagara West Sam Oosterhoff made the announcement alongside local dignitaries at an on-site sod turning ceremony last week. 
"Promise made, promise kept – shovels are in the ground for our new West Lincoln Memorial Hospital," said the Ontario PC MPP. 
Oosterhoff, who was first elected in 2016, has been a tireless advocate alongside local activists for the long-promised, oft-delayed new medical centre, both while in opposition and whilst in government. 
In late 2018, Oosterhoff got Premier Doug Ford's guarantee to redevelop the site.
"This financial close and the ground-breaking of our new West Niagara hospital is historic news for the people and patients of Niagara," said Oosterhoff. "I am thankful to have been able to work with many to get the shovels in the ground for this new hospital, and I am excited to see the project unfold over the coming months, as a modern world-class hospital comes to Niagara West."
The new facility will be located directly behind the existing West Lincoln Memorial Hospital, which will remain operational until the project is complete. Once the new hospital opens, the old facility will be demolished. 
EllisDon will start construction in the coming weeks. 
The project is expected to be complete by winter 2025.
"This is a very exciting day for the entire Niagara West community!", said Tony Joosse, co-chair of the community action campaign Save and Rebuild WLMH. 
"I'd like to thank the entire community for being totally engaged in seeing this project through. Special thanks to our great staff at our beloved West Lincoln Memorial Hospital, Premier Doug Ford, Minister Christine Elliott, Minister Surma and our great MPP Sam Oosterhoff for committing to rebuilding the hospital and delivering on that promise."
As it does now, the redeveloped facility will provide both inpatient services and outpatient services, including emergency services, complex and palliative care, surgery, and maternal and newborn care. 
The new WLMH will have twice the operating room capacity as its predecessor, boast 100-per-cent single-patient rooms, and be home to a robust ambulatory care program with access to specialists from across the Hamilton Health Sciences network specializing in cardiac, cancer and seniors' care, as well as a birthing program.
"On behalf of the Town of Lincoln, we are very pleased to see the construction of a new hospital that will benefit the residents of our local communities," said Mayor of Lincoln Sandra Easton, who was joined at the ceremony by her Grimsby and West Lincoln counterparts Jeff Jordan and Dave Bylsma. 
"Each municipality is pleased to contribute to this very important project as timely access to critical care and clinical services is an important component to creating a complete community."
Ontario's Ministry of Health is funding 90 per cent of the new hospital construction costs. The remaining 10 per cent, as well as 100 per cent of furniture, fixtures, and equipment costs, are covered by the local share campaign, which is set at $50 million.
The ongoing fundraising campaign is being led by the West Lincoln Memorial Hospital Foundation, with generous support from the municipalities of Grimsby, Lincoln and West Lincoln, and the Niagara Region. The recent diagnostic imaging investments, including the new Computed Tomography (CT) scanner, will all transfer to the new building when it opens.