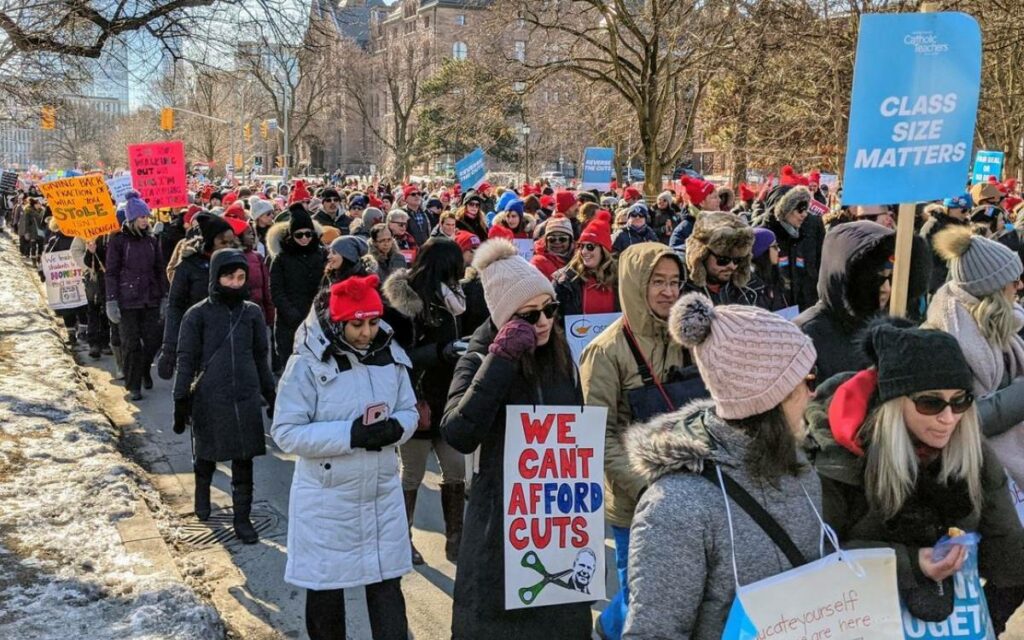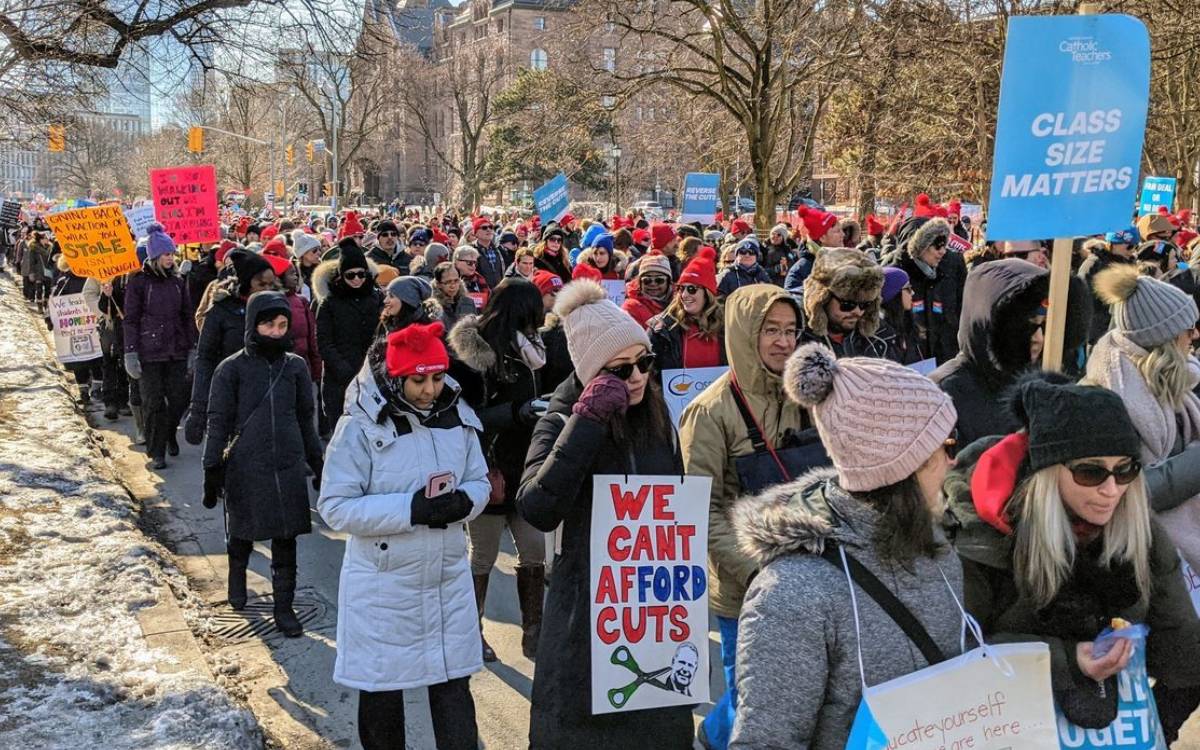 Ontario teachers marched on the Ontario Legislature during a one-day province-wide strike last February.
Last week the Ontario Labour Relations Board (OLRB) rejected an appeal from the province's teachers' unions that claimed health and safety measures taken by the Ontario government were insufficient and that teachers were being put at risk.
All four major teachers' unions were involved in putting the case to the OLRB – elementary school (EFTO), secondary school (OSSTF), Catholic school (OETCA) and francophone school (AEFO).
The union complaints dealt with a number of issues, including class sizes, student and teacher cohort sizes, ventilation, masking and busing.  In addition to asking for smaller class sizes, more physical distancing and some other more stringent measures, the unions also asked that measures taken in the schools be reviewed monthly by the Ministry of Labour.
In its rejection of the unions' appeal, the OLRB noted that it was being done on jurisdictional grounds, and said that the unions needed to make their cases individually, not jointly.  The Board noted that any complaints should pertain to situations faced by individual teachers and any specific health and safety concerns they may have.
It remains to be seen whether any individual teachers or their unions will file complaints of this nature in the weeks and months ahead, and whether or not they will be successful with the OLRB.
For its part, the Ontario government continues to contend that the health and safety measures it has put in place in schools are sufficient.  Experience with public school reopenings to date would appear to back up the government's position as there have been few significant outbreaks of COVID-19 in schools and those that did occur have been dealt with quickly and effectively.
Looking across all of the provinces, a number of teachers' unions in various provinces have complained about safety issues regarding the reopening of schools, but the Ontario teachers' unions have as usual been the most vocal and militant.  When comparing the school reopening plans of the provinces, Ontario's precautions are among the most stringent in the country, so the unions' accusations that the Ontario government is being irresponsible don't hold water.  In fact, some parents in other jurisdictions have commented that they view Ontario's plan as one to be emulated, not constantly criticized.
No one should be surprised to hear the teachers' unions respond to the OLRB's action by saying they will continue their actions against the government, and a press conference is apparently planned for this week to outline the unions' next steps.
History has shown that the Ontario teachers' unions like to fight with governments of all political stripes, even those who bend over backwards to appease them as the McGuinty/Wynne Liberals did at immense cost to taxpayers accompanied by deteriorating education quality despite all the additional money spent.
Even though the unions fought with the Liberals, they will always save their most potent vitriol for a Conservative government.  In light of the immense amount of money the unions have to play with, receiving forced dues from every teacher in the province funded by tax dollars, one can only imagine what a positive impact they could have for teachers, students and public education in general if they chose to be constructive instead of constantly confrontational.
It doesn't look like that will be happening anytime soon.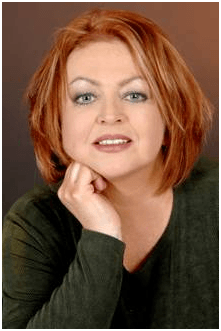 Catherine Swift is President of the Coalition of Concerned Manufacturers & Businesses of Canada (CCMBC). She was previously President of Working Canadians from 2015-2021 & President & CEO of the Canadian Federation of Independent Business (CFIB) from 1995-2014. She was Chief Economist of the CFIB from 1987-1995, Senior Economist with TD Bank from 1983-1987 & held several positions with the federal government from 1976-1983.
She has published numerous articles in journals, magazines & other media on issues such as free trade, finance, entrepreneurship & women business owners. Ms. Swift is a past President of the Empire Club of Canada, a former Director of the CD Howe Institute, the Canadian Youth Business Foundation, SOS Children's Villages, past President of the International Small Business Congress and current Director of the Fraser Institute. She was cited in 2003 & 2012 as one of the most powerful women in Canada by the Women's Executive Network & is a recipient of the Queen's Silver & Gold Jubilee medals.
She has an Honours BA and MA in Economics.