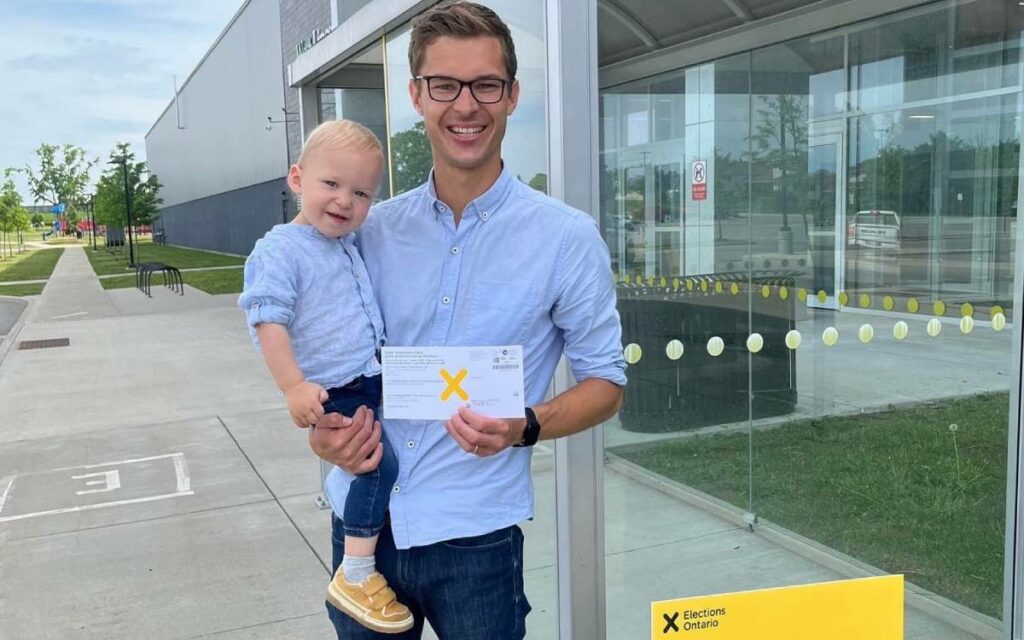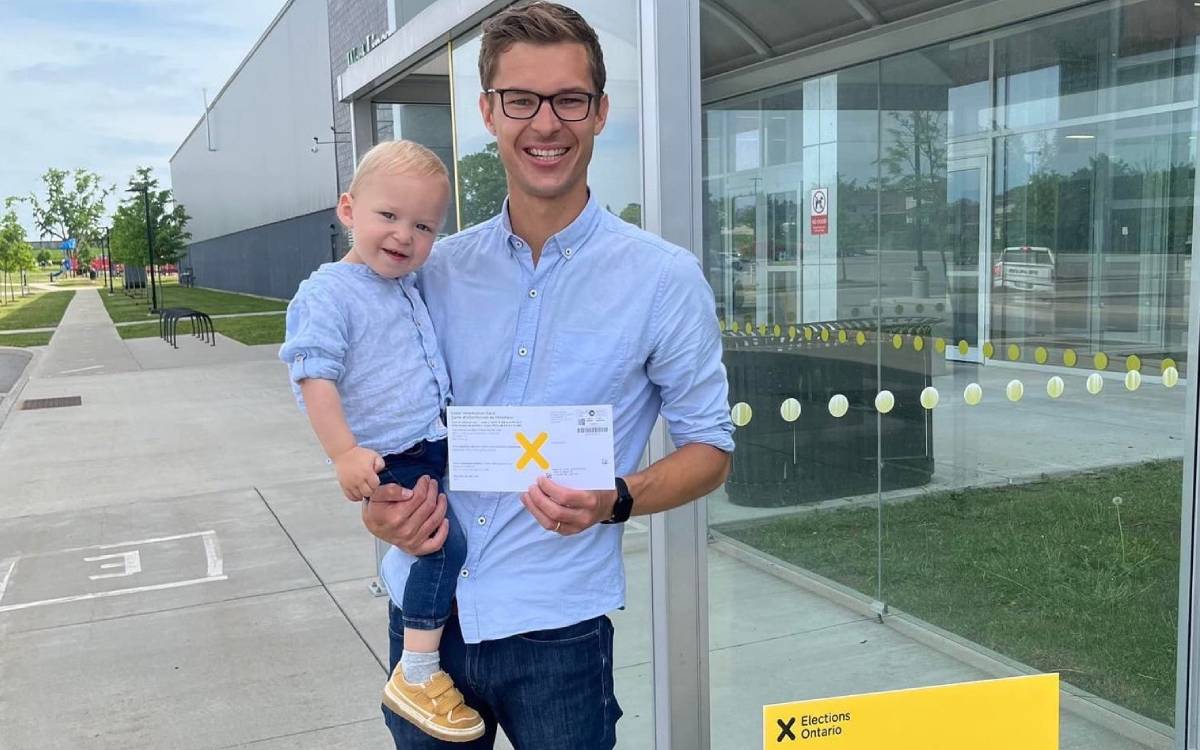 Despite the Progressive Conservative Party securing another majority mandate last week, three of Niagara's four provincial ridings voted in members of the non-governing NDP. Sam Oosterhoff (pictured voting with son on election day) will thus once again be the region's lone PC representative at Queen's Park. Photo credit: Facebook/Sam Oosterhoff
Ontario PC candidate Sam Oosterhoff had a large enough lead over his Liberal and NDP rivals early Thursday night that 610 CKTB declared the riding's incumbent candidate the winner in Niagara West with only one-third of polls reporting.
For context, the local radio broadcaster didn't declare Niagara Falls for NDP incumbent Wayne Gates until 62 per cent of polling stations were finished counting. St. Catharines and Niagara Centre, for their part, were left undecided until 93 and a full 100 per cent of the votes were tabulated in their respective ridings. 
But in the end, CKTB was correct. When the dust settled, Oosterhoff had captured 45 per cent of all ballots cast. His 24 per cent margin of victory – the largest in the region, by far – saw the returning MPP score 10,121 more votes than his nearest competitor from the NDP.
And in a provincial contest dubbed the "apathy election" for registering the lowest voter turnout in Ontario since Confederation (43 per cent), Niagara West constituents came out in a big way to support Oosterhoff, as 53 per cent of eligible electors exercised their democratic right to vote. In fact, in terms of population percentage, more people in Niagara West voted in the 2022 provincial election than anywhere in Ontario outside of Parry Sound-Muskoka and Huron-Bruce: something Oosterhoff spoke proudly of.
"Ten points above the provincial average, one of the highest voter turnouts in the province…that's a testament to our community's engagement on important issues and the value they (residents) place on knowing where the parties stand and having their voices heard," Niagara West's MPP-elect said in an interview with The Niagara Independent Monday. 
Oosterhoff, who first came to office in 2016, beat out two high-profile candidates to win his third consecutive election last week, more than doubling up on both former mayor of Pelham Dave Augustyn, who ran for the NDP, and former mayor of West Lincoln Doug Joyner, who ran for the Liberals. 
"I've had a number of worthy opponents over the years," Oosterhoff explained, "but it always comes down to hard work, discipline, and going directly to the people." 
"We went out and spread a positive message of economic opportunity, respect for families, respect for taxpayers – all things that resonate with people across Niagara West. We knocked on over 28,000 doors and put literally thousands of kilometres on our running shoes over the course of the campaign. We didn't let the noise or negativity from other quarters bring us down."
Unfortunately, the PC message didn't translate as well in Niagara Falls, Niagara Centre, and St. Catharines as it did in Niagara West, which collectively re-elected three NDP incumbents. 
Oosterhoff will thus once again be Niagara's lone representative in government at Queen's Park when provincial parliament reconvenes in the coming weeks, something the MPP-elect is not fazed by, but called "disappointing". 
"I know my colleagues who ran for the PCs in Niagara's three other ridings put a lot on the line and worked hard. It's definitely unfortunate that voters in those areas chose not to send to them to Queen's Park. But I'm willing to work with anyone who has a good idea, regardless of political stripe, to get things done for the people of Niagara," said Oosterhoff.
When asked if he'll continue to advocate for the region as a whole, just as he did as Niagara's only member of the governing PC caucus from 2018 onward, Oosterhoff was unequivocal. 
"That's a responsibility that I take quite seriously…I'm always keeping in touch with our local mayors, non-for-profits, and chambers of commerce across the region, not just in Niagara West. I want to make sure Niagara's voice is heard. One thing I hope to continue doing over the next four years is bringing cabinet ministers to Niagara to show them what we need – to highlight investments and opportunities."
According to Oosterhoff, barring the arrival of another unpredictable circumstance, the next four years under Premier Doug Ford will see the realization of the PCs' main message throughout the campaign. 
"We're not going to be driven by the millions of excuses it sometimes seems governments create to not get things done. We're going to be driven by a relentless desire to ensure that Ontario is again the economic engine of Canada."
"We're going to be driven by a relentless desire to get things done."