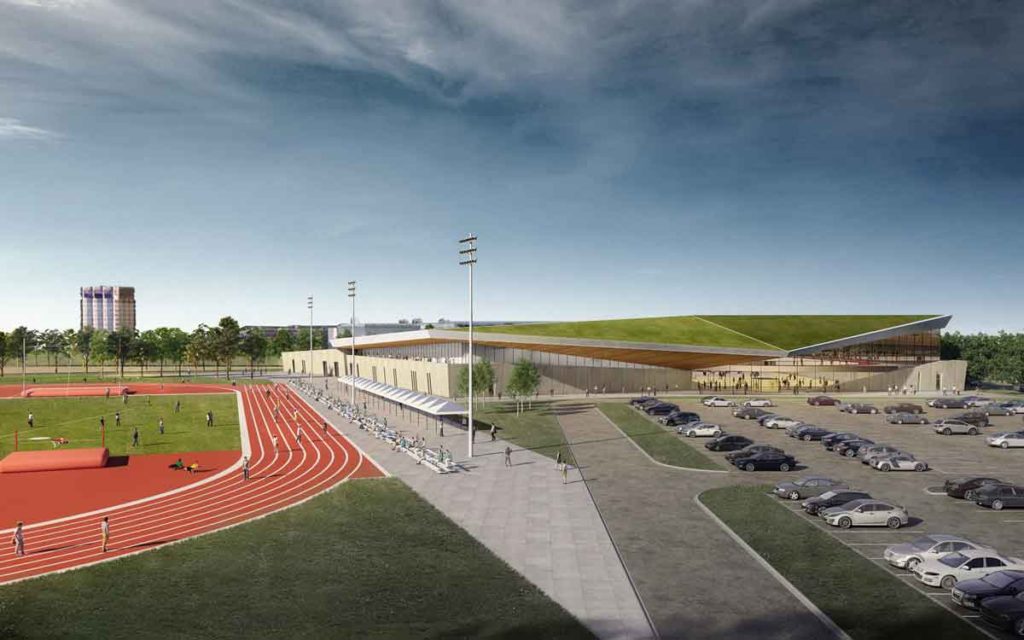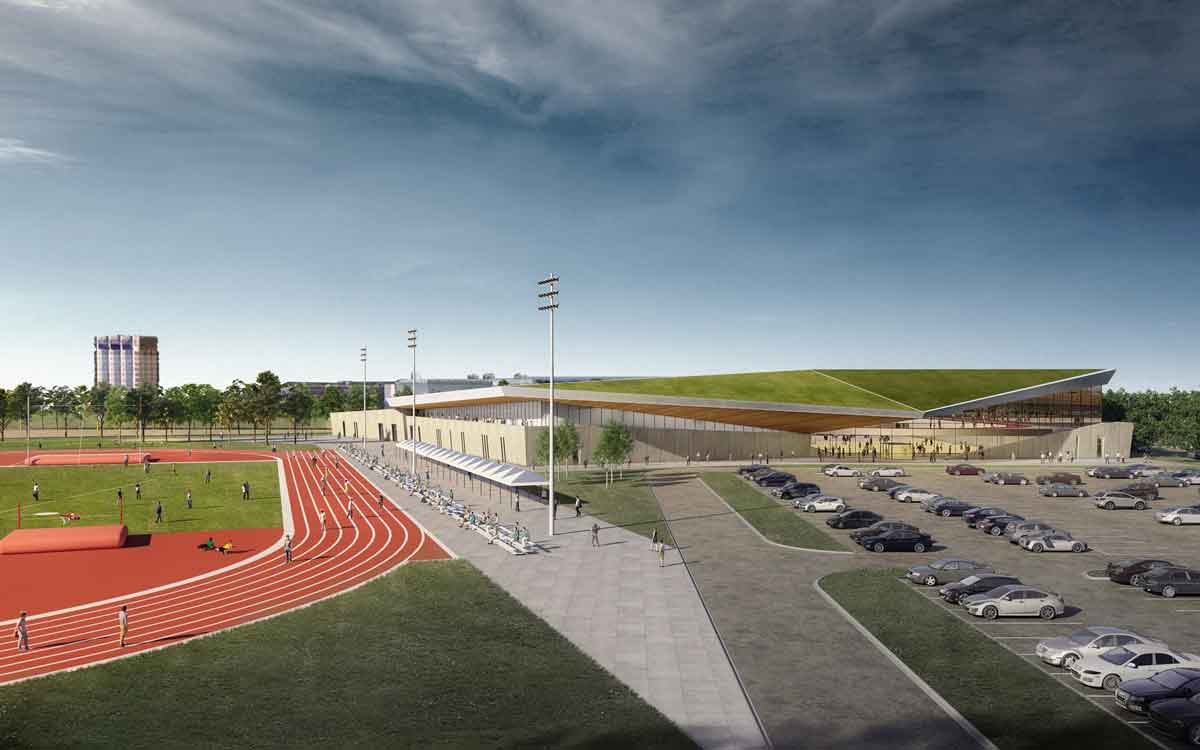 An artist's rendering of Canada Games Park to be built at Brock University.
Regional Chair Jim Bradley along with 2021 Canada Summer Games Host Society Chair Doug Hamilton provided an update to about 100 people including elected officials and key stakeholders on the status of the Games Niagara will host in two years.
The message was clear – work is well underway and there's a lot to be done but everyone must work together.
While the Host Society anxiously awaits funding announcements from provincial and federal governments, Games' organizers continue to make headway on a number of fronts including infrastructure opportunities, legacy venues, the massive volunteer program, the brand, advocacy, cultural events and opening and closing ceremonies.
Chair Bradley reinforced to those in attendance that Niagara needs to work together and support the organizers and volunteers in order to make the national sporting event a success. "This is a major opportunity for all our communities and we need to build enthusiasm," he told the crowd. "The Canada Summer Games is something we can all rally behind."
The 2021 Canada Summer Games Host Society Chief Revenue and Marketing Officer Steve Katzman unveiled the tag line that will be used leading up to and during the Games. "Once, and for all" will appear on anything and everything to do with the Games.
Hamilton reinforced to those in attendance that hosting Canada's summer games is truly a once-n-a-lifetime opportunity. He told the audience the games won't be returning to Ontario for 24 years and that they "won't be coming back to Niagara no matter how well we do."
That reality is what lead to the development of "once, and for all" being selected as the tag line, explained Katzman. "These games, this great opportunity, is only going to happen once and these games are for all of Niagara to embrace, support and enjoy," he said.
It was also announced that with the recent addition of lacrosse, bringing the number of athletic events to 18, and the expected 5,000 athletes, the 2021 games will be the largest ever held. "These games in Niagara will be larger than the winter Olympics," explained Hamilton.
Those in attendance saw a glimpse of the new facilities that will play host to some of the events. They include a new building on Henley Island for rowing as well as the largest project, what is being called Canada Games Park, to be built on Brock University property. In addition, new baseball fields and training facility is slated to be built in Niagara Falls. This new construction is in addition to the $98 million worth of infrastructure improvements to existing sports facilities around Niagara. "These legacy facilities will be for everyone one in Niagara to use and enjoy long after the games are over," said Hamilton.
It was revealed that Brock University's Board of Trustees has approved contributing a parcel of land at its main campus so it can be the site of a community and athletics complex that would be the central site for the 2021 Canada Summer Games. "The 2021 Canada Summer Games has the potential to be a transformative moment in Niagara's history, and Brock University is on board," said Gary Comerford, Chair of the Brock University Board of Trustees.
In addition to the land for Canada Games Park, which Brock will provide on a long-term lease for a nominal-fee, the University will contribute $3.5 million in-kind through the use of Brock's facilities during the Games, as well as a $500,000 financial contribution.
Host Society CEO Barry Wright talked about the human resource aspect to the Games. Wright, who, along with other members of Niagara's team, was in Red Deer to witness the operation of the recent Canada Winter Games. He talked about the 4,000 volunteers needed to make the games a success stating that 20 to 30 volunteers will be on board by this fall followed by another 900 by early spring of next year. Wright told the audience that he and his team of staff and eventually the thousands of volunteers won't just be on task, "we will be on purpose"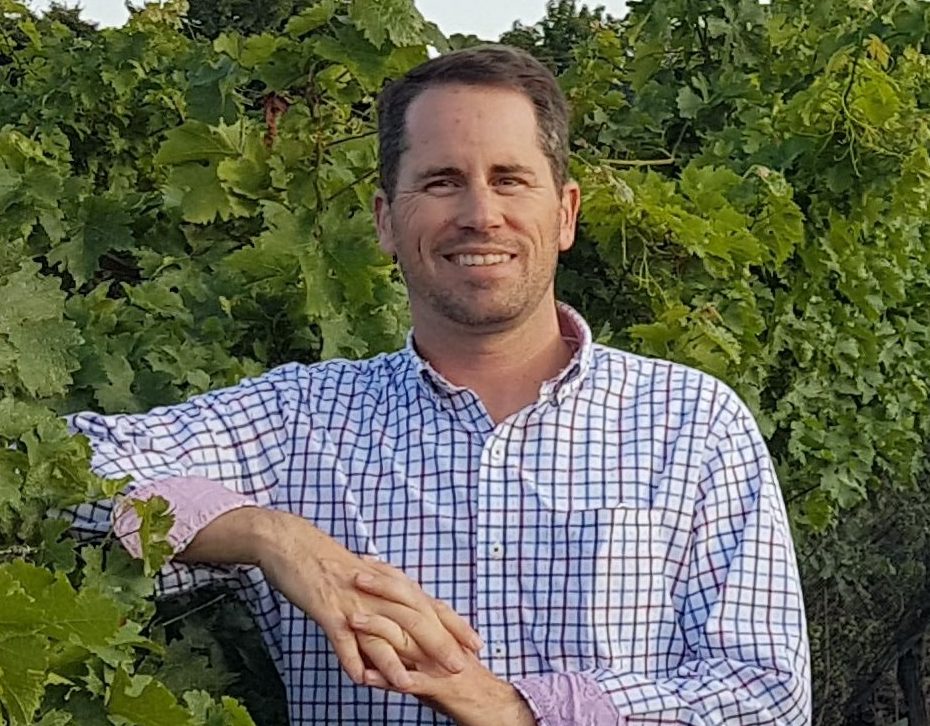 Kevin has spent over two decades as a public relations professional in a variety of sectors including professional sports, the arts, industry and healthcare.  After tiring of the daily commute to Toronto he returned to Niagara and launched The Niagara Independent, an on-line news sources published twice weekly.
He is a graduate of Brock University, Niagara College and the Richard Ivey School of Business. He was named one of Niagara's 40 Under Forty in 2005.
Kevin is most proud of his twin daughters. He is also a triathlete and four-time Ironman finisher.