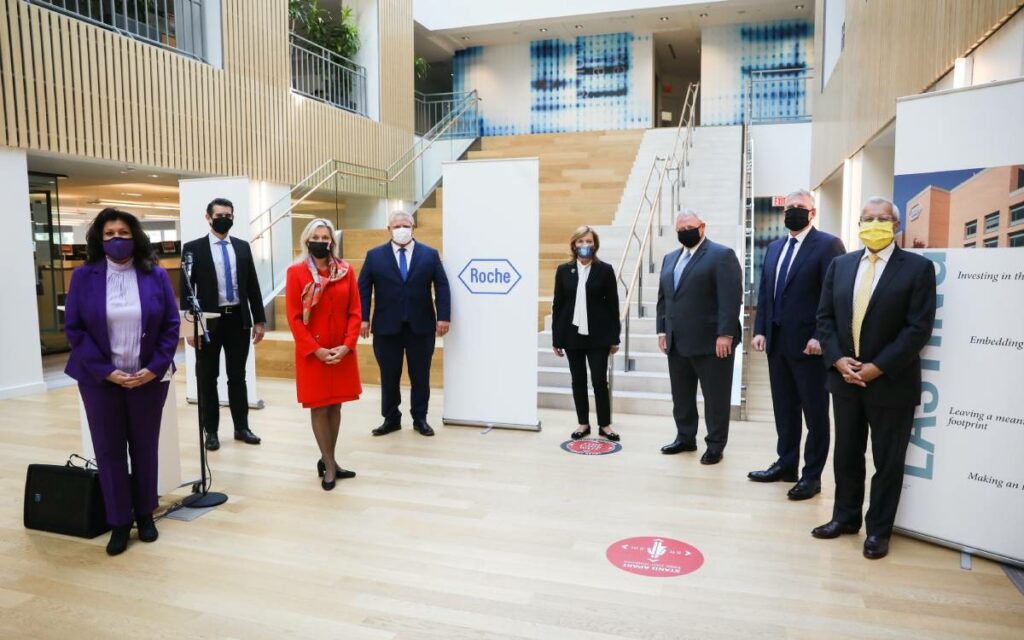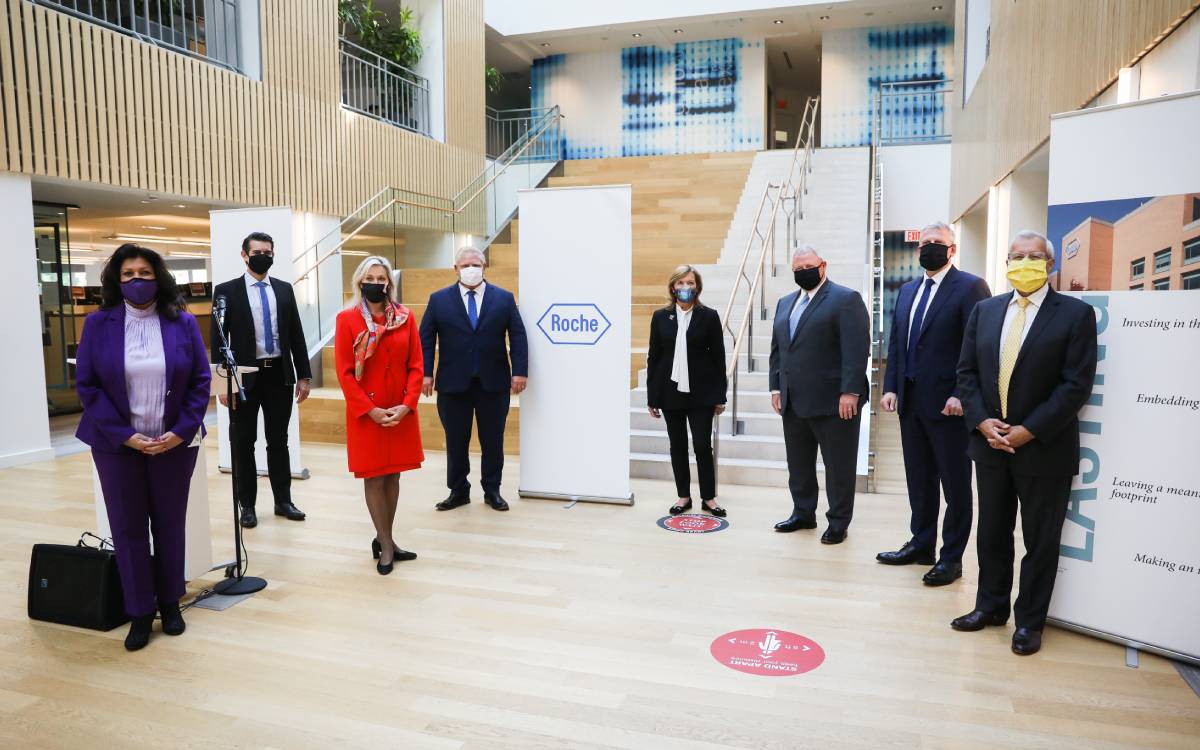 Left to right: Nina Tangri (MPP Mississauga—Streetsville), Damian Siggins (Global Head of Transformation, Roche), Bonnie Crombie (Mayor of Mississauga), Doug Ford (Premier), Christine Elliott (Minister of Health), Ronnie Miller (President and CEO, Roche Canada), Jason Fields (President and CEO, Life Sciences Ontario), and Vic Fedeli (Minister of Economic Development, Job Creation and Trade).
On Friday, the Swiss-based pharmaceutical and medical diagnostics company Hoffmann-La Roche announced its intention to establish a new Global Pharma Technical Operations site in Mississauga.
The site, which will support Roche's global manufacturing and supply chain operations, is expected to create 500 new highly-skilled jobs in just over three years — 200 by the end of 2020, and an additional 300 by the end of 2023.
In all, the company is set to invest $500 million over the next five years.
"This investment is further proof that Ontario has the best environment for jobs and opportunity", said Premier Ford, who was present at Friday's announcement.
"Roche's new operation hub in Mississauga will further anchor Ontario's position as a titan in life sciences, creating good-paying jobs in the community, and ensuring Ontario's best and brightest minds advance the important work Roche does to transform health care here in our province and beyond."
Ontario, which is quickly becoming a world leader in innovation in the life sciences sector, bested 12 international options considered for the new site.
With an already well-trained workforce in the STEM fields, alongside numerous world-class post-secondary institutions, the province was a natural choice for such a venture. But what helped put Ontario over the top to clinch the half billion-dollar investment was the Ford government's 'open-for-business' policies.
"Ontario was selected for this investment based on a strong competitive business environment, exceptional talent pool, and a government committed to fostering growth in the sector," said Roche Canada President and CEO, Ronnie Miller.
"We applaud the hard work done by the Government of Ontario and the Premier's Office to foster a business environment that can compete internationally to attract investment opportunities, and Roche's commitment to add up to 500 specialized positions is a direct result of these positive changes."
Amongst many other acts and initiatives, the recently tabled Better for People, Smarter for Business Act encourages investment in the life sciences sector by reducing regulatory burdens and allowing businesses to write off in-year capital costs on new research and medical equipment.
The legislation, put forward by Associate Minister of Small Business and Red Tape Reduction Prabmeet Sarkaria, compliments the province's newly established investment agency: Invest Ontario. The agency, promoted as a "one stop shop" for potential investors, is dedicated to attracting new business in the technology, advanced manufacturing, and life sciences industries.
The life sciences sector in Ontario employs 66,000 skilled workers and generates an annual revenue of over $53 billion.
"Ontario is home to leading-edge research institutions, we have a top tier STEM workforce, and our life science and innovation sectors are amongst the best in the world," said Minister of Economic Development, Job Creation and Trade Vic Fedeli, who was also present for the announcement on Friday.
"We are proud that Roche has expressed confidence in our province and selected Ontario as the home for their new site".