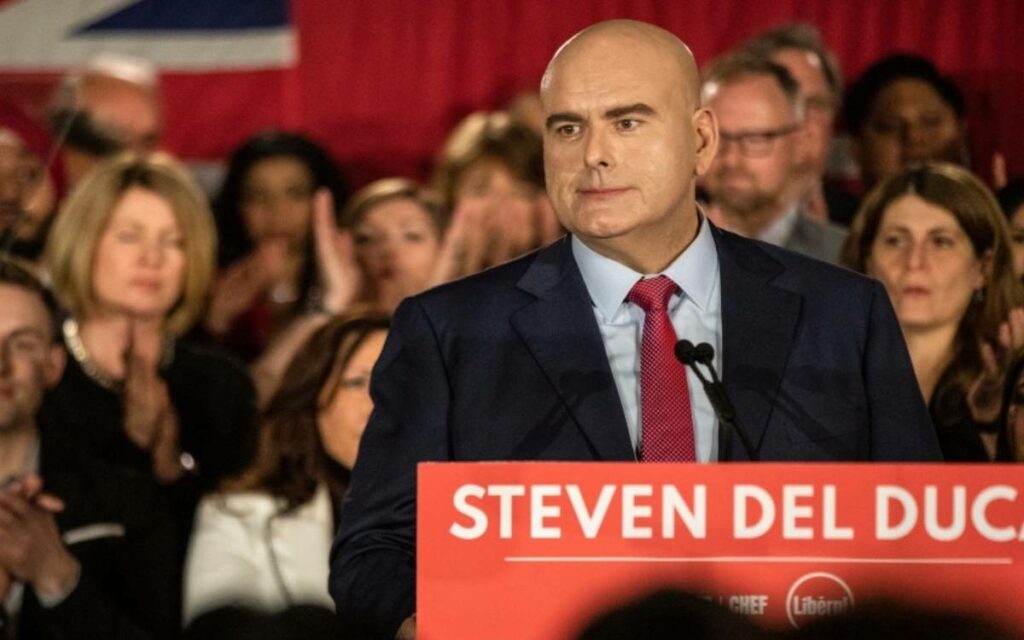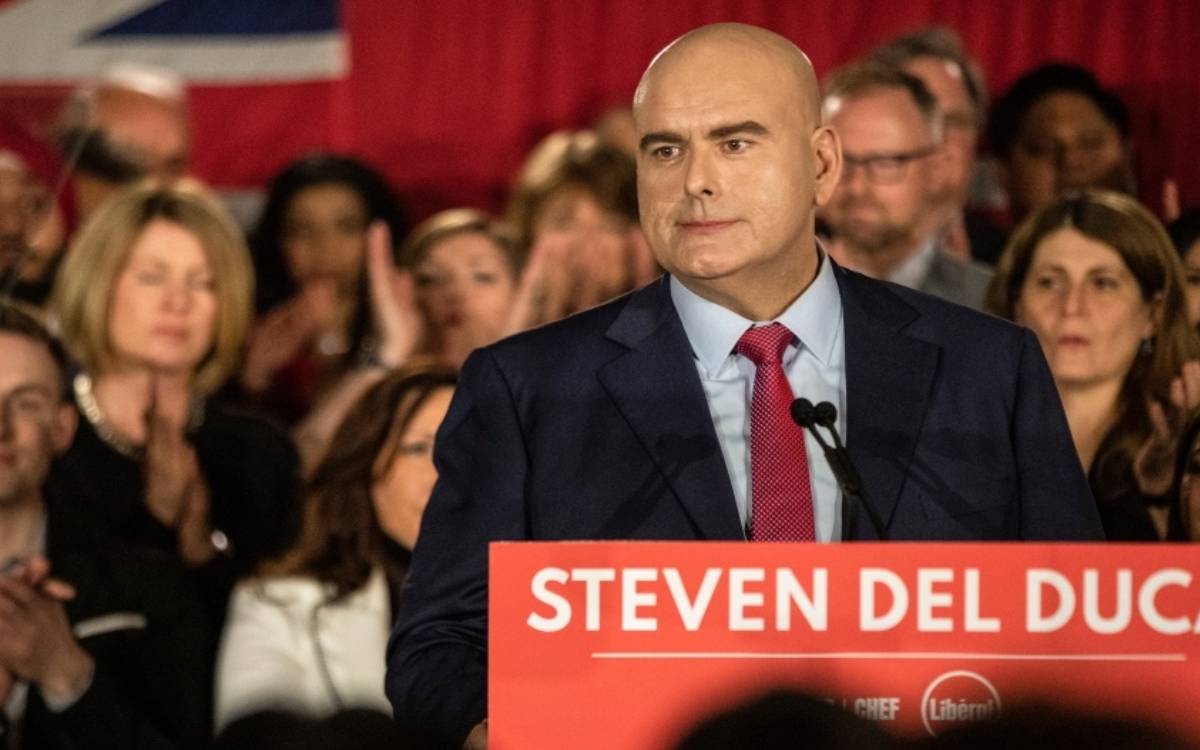 Latest polling shows Steven Del Duca's Liberals making gains. Photo credit: The Canadian Press/Chris Young
Most recent opinion polls on the voting intentions of Ontarians in the upcoming provincial election have suggested that the most likely outcome was the Progressive Conservative (PC) Ford government once again winning a majority. Late last week, however, an Ipsos poll conducted for Global News in mid-April suggested that this election might not be such a slam-dunk for the Tories.  
A number of earlier polls had shown fairly consistently that the Conservatives' support was about 37-40 per cent while the Liberals and NDP were both attracting support in the 25-30 per cent range. Some polls put the NDP ahead of the Liberals, while others had the Liberals in second place. Premier Ford's personal approval rating has also been on the increase in recent months. An Angus Reid survey conducted in mid-March found that approval of Ford had shot up by 13 per cent over the previous month to 43 per cent. This was Ford's best showing in some time.  
Last week's Ipsos poll will undoubtedly concern Conservatives, as it pegged support for the party at 35 per cent of decided voters – down 3 points from the previous poll and suggestive of a minority government. To make matters worse for the Conservatives, their loss was not evenly split among other parties but went entirely to the Liberals.  This put the Liberals at 32 per cent support, within striking distance of the PCs. The Liberals appear to be pulling ahead of the NDP, which only showed support of 23 per cent while the Green Party was at 5 per cent. These numbers all represent decided voters, while 14 per cent of Ontarians remain undecided and 7 per cent stated they did not intend to vote. 
The poll showed some interesting differences by provincial region as well, with the Liberals ahead in Toronto and Conservatives and Liberals neck-and-neck in the 905 area. There was a three-way tie among the PCs, Liberals and NDP in Southwestern Ontario, while the PCs hold a large lead in Central and Eastern Ontario.  The NDP was slightly ahead in the northern part of the province.  
Despite the reduction in Conservative voter intentions, the poll showed that over half of respondents continue to approve of the overall performance of the PC government, and 41 per cent believe the Ford government has done a good job. With respect to who Ontarians believe would make the best premier, Ford comes out strongly on top at 42 per cent, as compared with 24 per cent for Liberal leader Del Duca and 33 per cent for the NDP's Horwath.  
This election will be especially important for Andrea Horwath, as it will be her fourth at the helm of the NDP. Typically, a leader gets two chances, and sometimes only one. If current poll numbers prevail, it looks very unlikely that the NDP will hold on to their role as the Official Opposition – something that was viewed as a major victory for them in 2018. Although there is no obvious successor to Horwath waiting in the wings, a third-place finish will make it very difficult for Horwath to hang on to the leadership after four kicks at the can. As for Del Duca, despite his lacklustre performance to date as Liberal leader, having the party move back into the Official Opposition role will be seen as progress and cement his leadership until the next election. 
The possibility of a Conservative or even Liberal minority government also looms. Considering the pact that has been reached federally between the Liberals and the NDP, it is not far-fetched to suggest that some type of similar agreement might be contemplated in Ontario in a minority situation. Both the Liberals and NDP have said they will not support a Conservative minority government, and some Conservatives have already brought up the risk of a Liberal-NDP coalition as reason to support a Conservative majority on June 2.  
The Ontario election campaign does not officially begin until May 4. The Ontario budget is scheduled for later this week, and will undoubtedly announce a number of enticing goodies to attract votes. Ford has already promised to temporarily reduce provincial taxes on gasoline by 5.7 cents per litre starting on July 1 for a six-month period. More public opinion polls will be conducted, and there will be many more announcements from all parties as election day gets closer and voters pay more attention to political developments. One thing seems certain – it's beginning to look like we will see more of a horse race than was expected just a few weeks ago.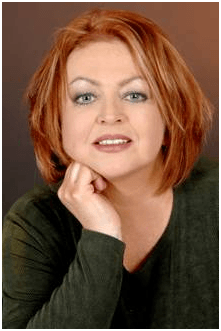 Catherine Swift is President of the Coalition of Concerned Manufacturers & Businesses of Canada (CCMBC). She was previously President of Working Canadians from 2015-2021 & President & CEO of the Canadian Federation of Independent Business (CFIB) from 1995-2014. She was Chief Economist of the CFIB from 1987-1995, Senior Economist with TD Bank from 1983-1987 & held several positions with the federal government from 1976-1983.
She has published numerous articles in journals, magazines & other media on issues such as free trade, finance, entrepreneurship & women business owners. Ms. Swift is a past President of the Empire Club of Canada, a former Director of the CD Howe Institute, the Canadian Youth Business Foundation, SOS Children's Villages, past President of the International Small Business Congress and current Director of the Fraser Institute. She was cited in 2003 & 2012 as one of the most powerful women in Canada by the Women's Executive Network & is a recipient of the Queen's Silver & Gold Jubilee medals.
She has an Honours BA and MA in Economics.