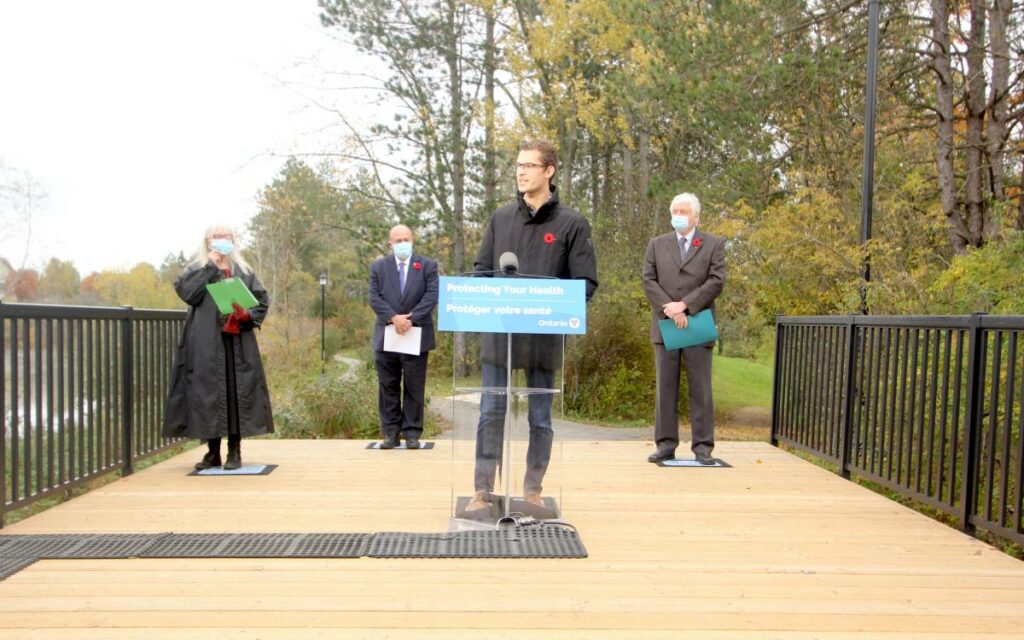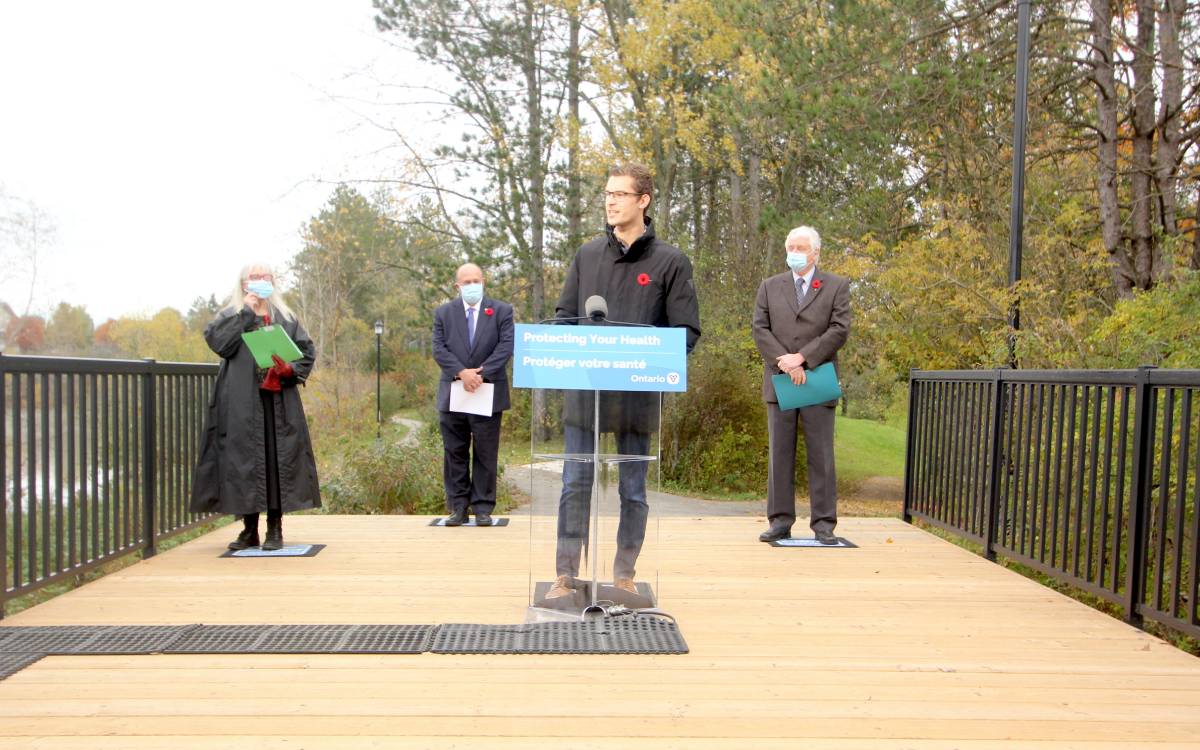 From left to right: Janice Gardner-Spiece, Executive Director of Community Addiction Services of Niagara, Associate Minister of Mental Health and Addictions Michael Tibollo, MPP for Niagara West Sam Oosterhoff, and MPP for Haldimand Norfolk Toby Barrett. The group announced provincial funding for a new local mobile mental health clinic at the Community Addiction and Mental Health Services of Haldimand and Norfolk in Townsend on Friday.
Help is on the way. That's the message coming out of Queen's Park this week. 
On Friday, Nov. 5 the provincial government announced new initiatives to help those in need of mental health and addiction services. As part of a project to help populations who are currently unserved or underserved by mental health services, new mobile health and addictions clinics will attempt to close the gap.
Communities in Haldimand-Norfolk and Niagara will be receiving the new clinics geared towards rural, remote, and underserved populations. The mobile clinic, which will consist of a team of mental health service providers, including social workers and nurse practitioners, will have the ability to do referrals to existing services, intake and brief services, and psychiatric support and follow-up.
When speaking to the issue, Deputy Premier and Minister of Health Christine Elliott said that the mobile clinics are important to making mental health services accessible to everyone.
"Through our government's Roadmap to Wellness, we are committed to breaking down barriers to accessing high-quality mental health and addictions services where and when it's needed. This innovative partnership will help to bring needed mental health and addictions services directly to individuals living in Haldimand-Norfolk, Niagara and the surrounding areas."
In its announcement, the provincial government stated that it believes mobile clinics are a key part in continuing its progress to addressing the need for more mental health services. It also believes that increasing mental health funding is key in the COVID-19 recovery.
Michael Tibollo, Associate Minister of Health and Addictions, said "since the release of Roadmap to Wellness last year, our government's top priority has been to continue making critical investments that will fill urgent gaps in mental health and addictions care, reduce waiting lists and address extensive wait times." 
"Through the development of the mobile mental health and addictions clinic, clients and families in Haldimand-Norfolk, Niagara and the surrounding region will have greater access to high-quality, evidence-based care, in a setting where they are fully supported on their journey towards recovery."
The investment is part of the government's larger mental health expenditure. In the 2021 Budget, the province committed $175 million in new funding to enhance and expand mental health services. This is in addition to a $194 million one-time investment made to mental health during the pandemic that included virtual mental health supports accessed by over 111,000 Ontarians. 
The new project will be run by Community Addictions and Mental Health Services of Haldimand Norfolk for the local region. The organization will be responsible for the oversight and operation of the project.
Niagara West MPP Sam Oosterhoff also sang the praises of the new project, saying that it will be of benefit for the people in need of mental health services. "The mobile mental health and addictions clinic will help improve access to high-quality health care for clients and families in rural Niagara."
"This clinic will include a multidisciplinary team of mental health and addictions service providers and is a key part of the four pillars of our government's Roadmap to Wellness plan."