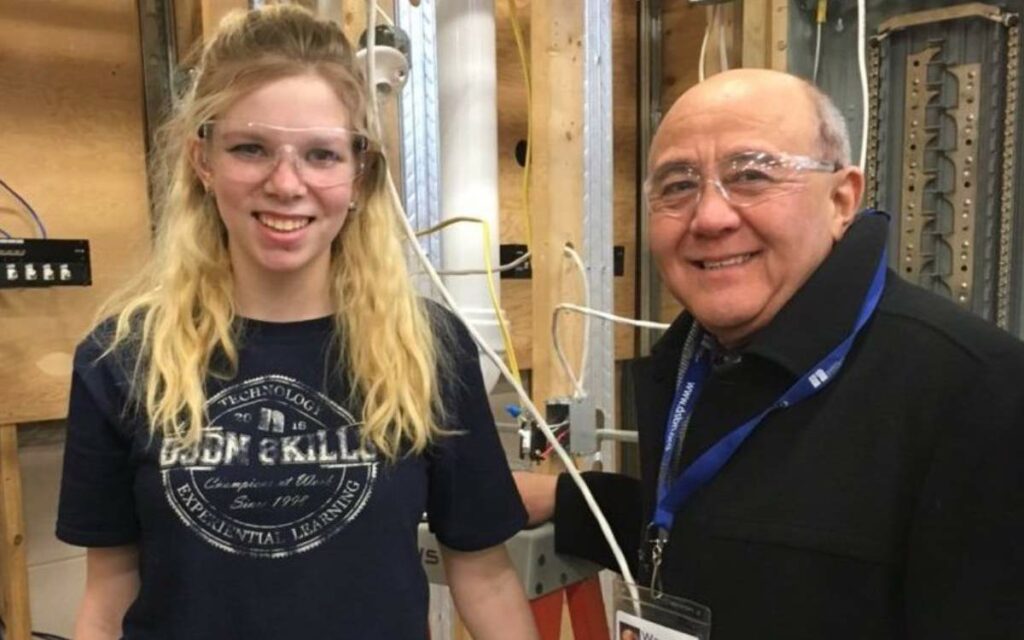 Warren Hoshizaki (pictured, right) spent almost half of his over 40-year career in education leading Niagara's public school board. Photo credit: Twitter/DSBN
After nearly two decades at the helm of the District School Board of Niagara (DSBN), Director of Education Warren Hoshizaki is calling it a career at the end of this calendar year.  
Hoshizaki made the announcement at Tuesday evening's DSBN board of trustees meeting.
He leaves his post at the DSBN as Ontario's longest-serving director of education.
In a statement on Wednesday, five-time board chair Sue Barnett called Hoshizaki "the most dedicated and humble individual" she's ever met.
"As a leader, he is tireless in his pursuit of making students' lives better," Barnett said. "From providing educational innovations and enhancements, to building state-of-the art schools and outdoor learning environments, to making a positive impact through unique programs, he has had an incredible influence on education in Niagara, which will benefit our communities for decades to come."
Prior to joining the DSBN as director in 2005, Hoshizaki served as director of education at Rainy River District School Board in northern Ontario for five years. Before that he served as superintendent at two separate school boards, principal at two elementary schools, and worked both as an elementary and secondary school teacher, as well as a coach for various sports.
According to a media release from the DSBN earlier this week, during his 18-year career leading Niagara's single largest employer, Hoshizaki helped embed "equity, inclusion, diversity, anti-racism, and social justice into curriculum and school culture", while elevating the board to a provincial "leader" in math and literacy. He also helped increase "access to opportunity" for students wanting to participate in apprenticeships and Specialist High Skills Major programs.
Affectionately known as "Mr. H" among students and staff, Hoshizaki said what he'll miss most as director of education is the ability to visit with students "to watch their development, and witness their success."
"For me, it always has been and must always be about the students," Hoshizaki said. "I am incredibly grateful for the opportunity to work for so many students and to work alongside the best educators, trustees, superintendents, administrators and support staff that you will find anywhere in this province."
In the months ahead, the 11-member board of trustees will form a hiring committee and look to find a replacement for Hoshizaki before Jan. 1, 2024. 
The DSBN operates 79 elementary schools and 20 secondary schools across Niagara's 12 municipalities, serving close to 40,000 students from JK to Grade 12. With a workforce of over 6,100 faculty and staff, the board is the region's single largest employer.