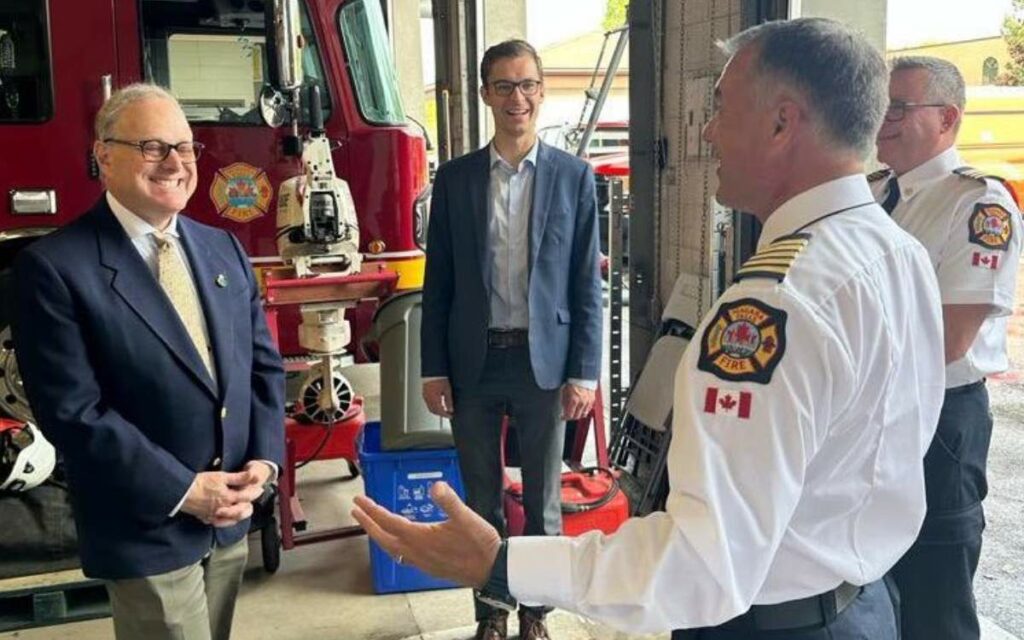 Alongside local MPP Sam Oosterhoff, Minister Michael Kerzner met with firefighters and law enforcement in Niagara Falls on Tuesday. Photo credit: Twitter/Michael Kerzner
Minister Michael Kerzner, the province's Solicitor General, met with some of Niagara's finest on a trip to the region Tuesday. 
Hosted by Niagara West MPP Sam Oosterhoff, Kerzner, whose ministry oversees public safety, policing, and emergency management, stopped by the Niagara Falls Fire Department before holding a roundtable discussion with the Niagara Regional Police Service (NRPS). 
"Informing conversation with (Niagara Falls Fire Department) about how we can support them and their community," Kerzner said on social media after the visit. "Our government is committed to ensuring our first responders have the tech, teams and resources they need to get the job done."
Speaking with regional law enforcement at NRPS headquarters in Niagara Falls, Kerzner thanked officers for their hard work and dedication and talked about how the province has recently enacted "concrete measures" to get more boots on the ground, making it easier to recruit and train service members. 
"We want to combat auto thefts. We want to make sure that violent repeat offenders are not on our streets," the Solicitor General said. "In the last month we've been very vocal on the need to do everything we can to keep Ontario safe."
As Kerzner alluded to in his talk with NRPS members Tuesday, at the end of April the Ford government announced it was removing tuition fees for the Basic Constable Training program at the Ontario Police College and would immediately be expanding the number of recruits that can be trained each year. 
In addition, it also introduced legislation that, once passed, will "clear the path for more people to consider a career in policing" by eliminating the post-secondary education requirement to become a police officer. 
In a press release last month, MPP Oosterhoff said the recent initiative was "welcome news for residents in Niagara", who have been calling for "safer neighbourhoods" and "more enforcement across the region."
Bill 102, Strengthening Safety and Modernizing Justice Act, 2023, is currently in second reading before the legislature's Standing Committee on Justice Policy.