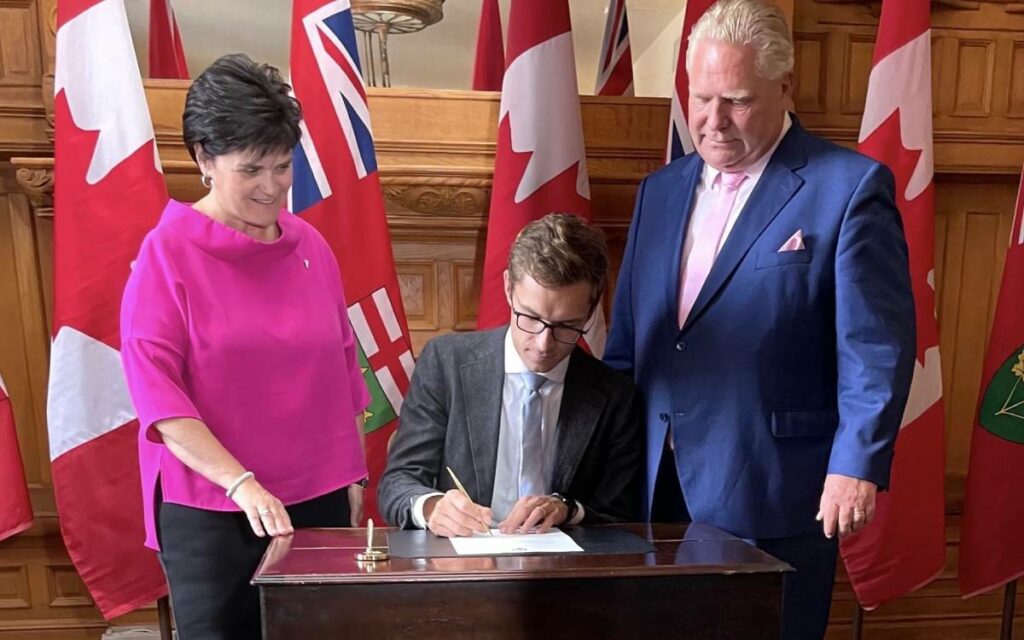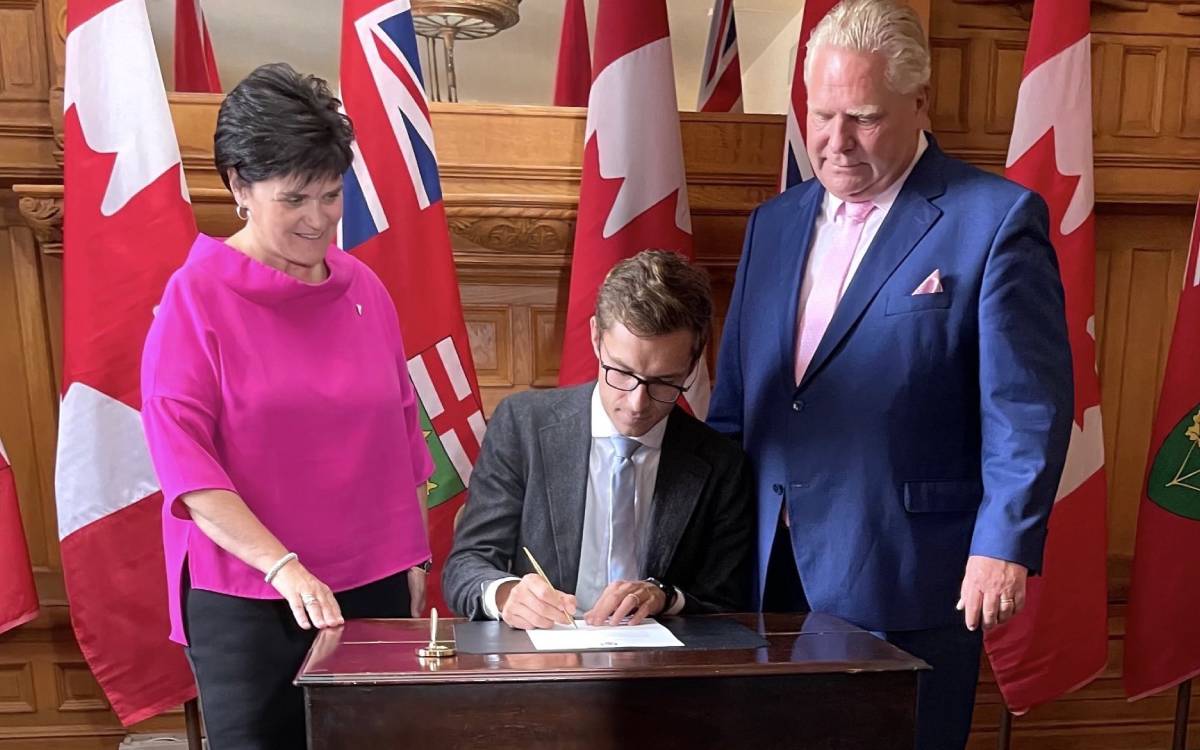 MPP for Niagara West Sam Oosterhoff is sworn in as parliamentary assistant to the newly created Minister of Red Tape Reduction at Queen's Park, June 29, 2022. Photo credit: Twitter/Sam Oosterhoff
Premier Doug Ford is a big proponent of cutting back on bureaucratic red tape, to say the least.
His entire 2018 election campaign effectively centered around the provincial government shedding excess regulation in an effort to be "open for business". 
Under Ford's leadership, in 2019 the province formed an associate ministry dedicated solely to red tape reduction. As part of the larger Ministry of Economic Development, Job Creation and Trade, the associate ministry successfully implemented its mandate and passed numerous pieces of business-friendly, red-tape eliminating legislation from the time of its creation, through the pandemic, up to the near present. 
According to the province, red-tape reduction initiatives implemented by the Ford government during the previous term resulted in almost $400 million in net annual savings to Ontario businesses. 
The endeavour was such a success, in fact, that the premier and his team decided to form a standalone 'Ministry of Red Tape Reduction' after gaining a second majority government in June. 
MPP for Milton and former multiculturism minister Parm Gill was tapped to manage the new portfolio last week. And this week, Gill's parliamentary assistant (PA) was named. 
Helping with the increasingly important cabinet file will be local MPP for Niagara West Sam Oosterhoff.
"I am looking forward to working closely with the Minister of Red Tape Reduction to make it easier, faster and cheaper to work, live and play in Ontario," said Oosterhoff following his swearing-in on Wednesday. "Although I have yet to get completely briefed up on all aspects of this new role, I am thankful that the Premier is giving me this opportunity to help rebuild our economy."
Oosterhoff, who was first elected in a 2016 by-election, spent the entire four years of Ford's first majority government as PA to the Minister of Education, which was first Lisa Thompson and then Stephen Lecce from June 2019 onward.
"It will be crucial to listen to the voices of stakeholders, job creators, and workers alike as we look to reduce unnecessary and onerous regulations which hold back productivity and economic opportunities," said Oosterhoff.
"There is a lot of work to do to drive efficiencies and cost saving measures for the taxpayers of Ontario, and I'm eager to consult with people from across our province to bring forward ideas and a plan to cut red tape, to put money back in the pockets of hardworking families, workers, and job creators."
Reportedly eager to pass the spring budget and a handful of other key legislative items right away, Premier Ford is set to resume provincial parliament on August 8.