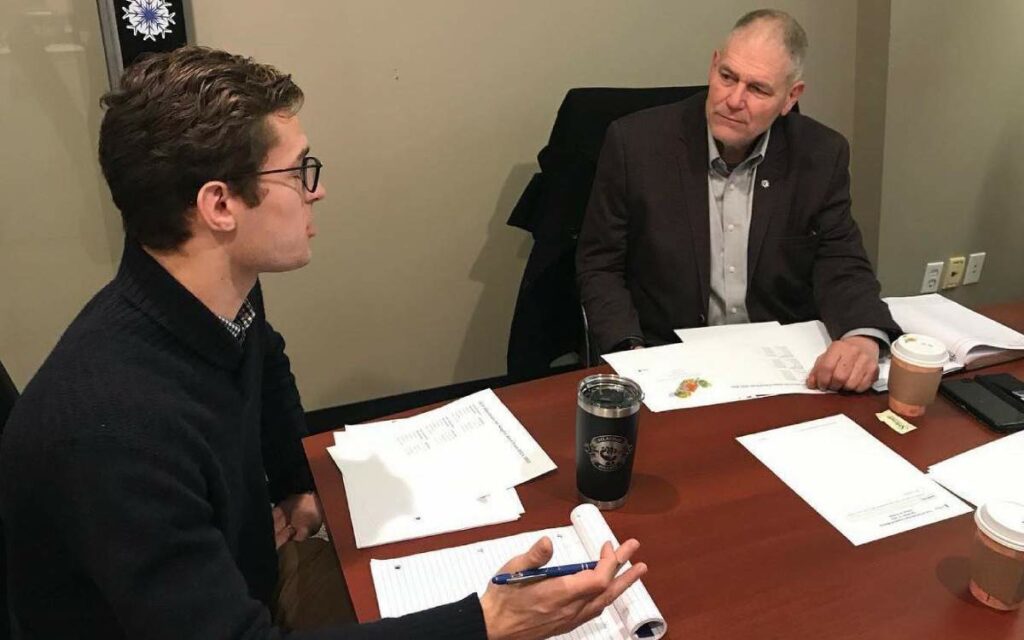 Niagara's lone PC Party MPP – pictured, left, alongside Grimsby mayor Jeff Jordan – talks health care, housing, and Greenbelt. Photo credit: Facebook/Sam Oosterhoff
Sam Oosterhoff, Member of Provincial Parliament (MPP) for Niagara West, is preparing for a significant year at Queen's Park. "I believe this will be a big year for this government, and the province as a whole, as we go about delivering on the promises we made to Ontarians in last year's campaign." Premier Doug Ford was re-elected on June 2 with a decisive 83 seat majority. 
While there are many key items on the government's agenda, Oosterhoff is most excited about a few, in particular. 
"I am really pleased to see the progress being made on health care," Oosterhoff shared in a recent interview with The Niagara Independent. "Whether we're talking about the new ability of pharmacies to deliver prescriptions or securing a new deal with the federal government on increased health-transfers, there is a lot to be excited about… we believe that the advancements we are making will allow the system to run much more efficiently and allow people to access the help they need in much shorter time."
Oosterhoff is also looking forward to tackling the cost of living, with a special focus on inflation and housing affordability. "Working to get the cost of food, housing and energy costs under control are big goals for this government", he said. "We think the federal decision to implement a freeze on foreign acquisition of Canadian property is a helpful tool… we're also looking at options of our own to try and help everyday citizens, including new Ontarians, to be able to realize the dream of home-ownership."
One of the more controversial policies of the Ford government, as it relates to housing affordability/availability, has been plans to develop Greenbelt land (Bill 23). The initiative has sparked widespread criticism from the opposition New Democrats, Liberals and Greens, as well as prominent organizations, including the Ontario Federation of Anglers and Hunters (OFAH). They argue that valuable land currently utilized for fishing, hunting, farming, and the maintenance of Ontario's biodiversity, will be negatively impacted by development. 
Oosterhoff said that while he understands and welcomes constructive criticism, he believes strongly in the expansion initiative. 
"I certainly respect the concerns that anglers/hunters, etc. may have", he said. "However, I think it's important to keep things in perspective… In Niagara, it is only 88 acres that will be developed, and even so, it is poor-quality land that does not offer itself to good farming."
Oosterhoff also believes that, at the end of the day, all Ontarians should have a decent place to live. "As it currently stands, there is simply not enough infrastructure to accommodate our immensely growing population." 
"We're welcoming over 300,000 new Canadians to this province annually, and they, like all of us, deserve the opportunity to live, work and raise their families in well-developed communities. Moreover, our plans will actually see the Greenbelt expanded significantly, and as climate change results in more fertile ground being available in our North, I think we can be confident that the balance is being effectively maintained."
Since the Legislature rose for the holidays, Oosterhoff has been taking advantage of the opportunity to engage with the residents in his riding and attend community activities.
"We've been having lots of events that I've been enjoying being able to take part in," he said. "It has also been a great chance to make note of the things we'd like to see accomplished in 2023 and consider how to realize these objectives for our people, communities and province". 
The Ontario Legislature is scheduled to commence the 2023 parliamentary session on Tuesday, February 21.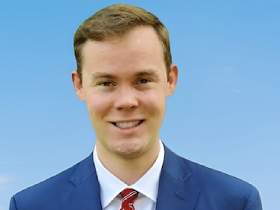 Nick Redekop completed his Honours Bachelor of Arts Degree in Labour Studies at Brock University. He has previously served in municipal and federal politics. In his free time, Nick enjoys following sports, taking part in outdoor activities, and reading biographies. Nick resides in Niagara Falls