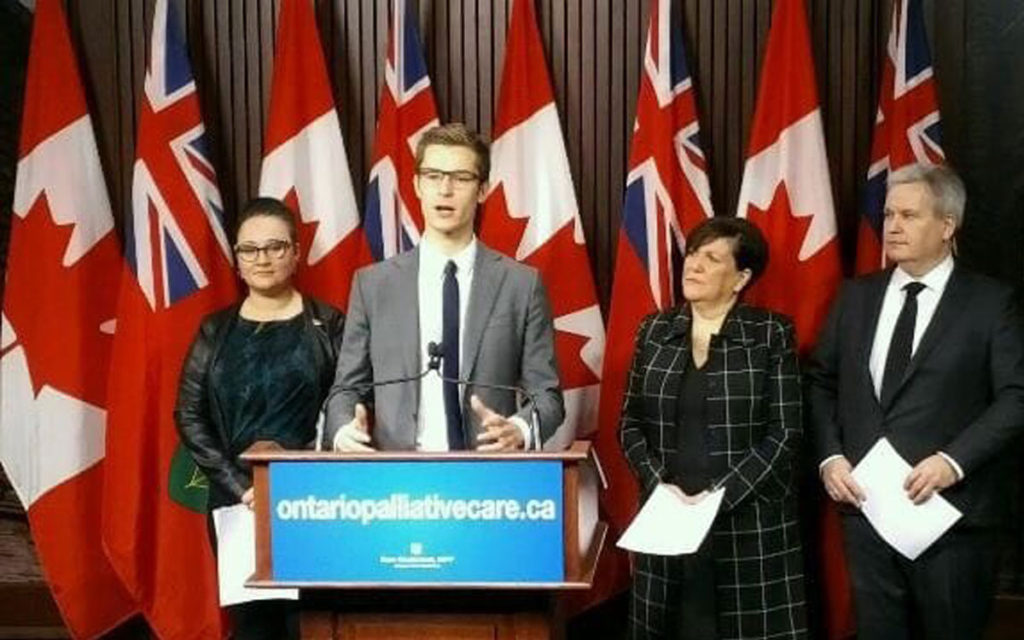 West Niagara MPP Sam Oosterhoff introducing his private member's bill that would improve palliative care in Ontario
Ontario's youngest MPP is taking it upon himself to improve palliative care services and access in this province, something most people associate with the elderly.
Oosterhoff once again tabled his first Private Member's Bill, the Compassionate Care Act. Bill 3, as it is now known, last week. The bill would establish a hospice palliative care framework for the province of Ontario.
Oosterhoff originally introduced the Compassionate Care Act in November 2017. While it passed Second Reading unanimously on December 14, 2017, the bill did not become law as the Parliament was dissolved before the bill made it to Third Reading.
"Hospice palliative care is of great importance to the people of Niagara West and to those across Ontario," declared Oosterhoff. "I am glad that I have the opportunity to introduce and debate this key piece of legislation during this summer session."
Oosterhoff is hoping that all parties will come together again and support the bill. "The issue is non-partisan," he stated.
He said not only has his family dealt with loved ones in need of palliative care but that he also knows a multitude of families and members of the community who've also had to navigate the system in need of compassionate end of life care. "There needs to be dignity for all life and that includes end of life," said Oosterhoff in an interview.
Dying is something people are afraid to talk about but it needs to be discussed the MPP said. He's adamant that people should not be dying in such a harsh clinical environment like an acute care hospital. "People should be in a comfortable place like a hospice or their own home, surrounded by family, friends and loved ones."
He said Ontario should have 1,300 palliative care beds based on population. The province actually has 300. The bill is intended to create a framework and a strategy for end of life care.
The Region's only PC MPP was quick to point out that Niagara is fortunate to have outstanding hospice facilities like Hospice Niagara and McNally House.  "Depending on where you live in the province you could have great care and great access or very poor care and poor access," Oosterhoff explained.
"We should all be able to live a good life and die a good death."