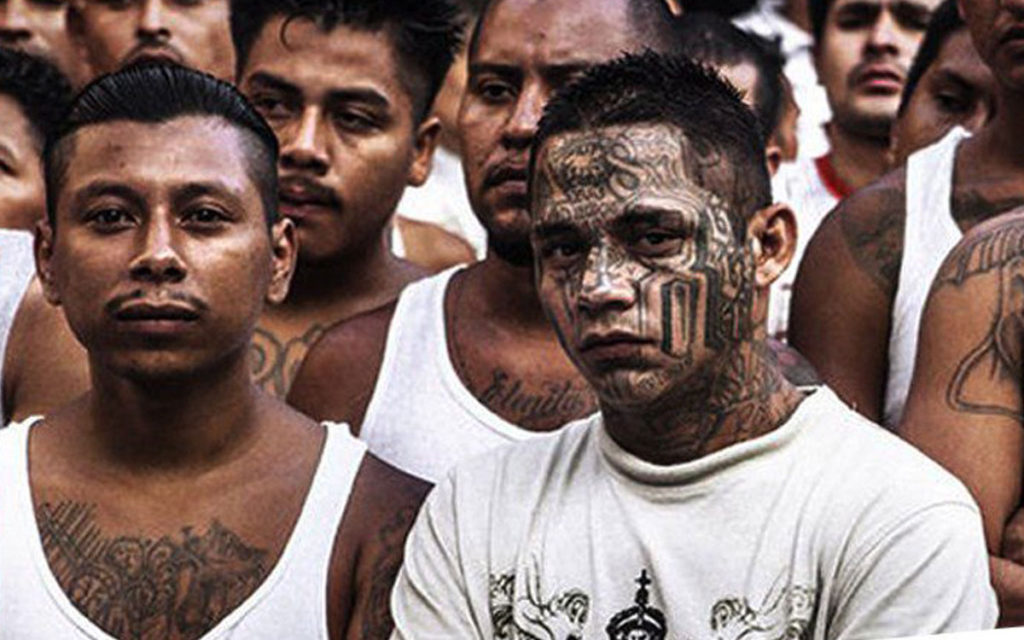 Members of the notorious MS-13 gang who would have a free pass to Ontario as a "sanctuary province" under an NDP government
Progressive Conservative (PC) leader Doug Ford has campaigned vigorously on his "Ontario – Open for Business" policies.  Andrea Horwath of the New Democratic Party (NDP) on the other hand has largely campaigned on higher taxes for the "rich" and expanded "free" government services.  This is all predictable, but recently Horwath has promised to make Ontario a "Sanctuary" province.  A deeply disturbing policy, that one could say even borders on insanity, would among other things, provide free health care and welfare services to illegal immigrants.
In the NDP universe where there are limitless resources, the sky is coloured by rainbows and unicorn sightings are frequent, making Ontario a "Sanctuary" province is also thought to be good government policy. Let us examine some evidence we have about how this type of policy will affect and disrespect all taxpayers and legal immigrants.
We have all witnessed the problems associated with illegal immigration both in Europe and in the United States.  In Europe we have seen welfare systems become broken, security threatened, and a rise in violent crime, more particularly sexual assaults.  In the U.S. we also have seen a rise in homelessness in those "Sanctuary" cities and states, resources for shelters, food banks, and hospital services brought to the breaking point.  It has become so bad in some cities in California that they are suing the state to escape from having to have "Sanctuary" status.  "Sanctuary" status in the U.S. also has one other component that Horwath has not mentioned in her plan but if her plan is to resemble that of California it will be a part of it.  That component is that local law enforcement shall not notify, or co-operate with Federal Immigration authorities when an illegal immigrant has been arrested, detained or charged with a crime, nor when an illegal alien is released from prison.  In 2017, over 100 illegal alien criminals who are members of the ultra violent gang MS-13 were released without notifying federal authorities.
MS-13 is a trans-national gang made up of primarily illegal El-Salvadorian immigrants who have lost protected status under the current administration.  These MS-13 animals go by the motto "mata, viola, controla" (kill, rape, control), and are known for their machete attacks and decapitating victims. They could very well be on their way to a neighbourhood near you if Horwath and the NDP win this election.
Recently in a leaked document sent to police forces across the country there was a warning from Criminal Intelligence Service Canada about this gang setting up cells in our cities due to the immigration enforcement pressures they now face in the U.S. Justin Trudeau has already laid out the welcome mat, but Andrea Horwath wants to put a big flashing "Open for Sanctuary" sign for these animals.  The question needs to be asked, Why? Why would we want these animals coming here to get away from American authorities?  Why would we want to give them free health care and welfare?
This is just one of the realities that Horwath either doesn't know about, or willfully refuses to acknowledge.  How many people will try to illegally stay in Canada if they know they can get free healthcare and welfare? Andrea Horwath is proposing to make Ontario the world's healthcare and welfare provider.  What is the cost of this foolish, insane, utopian policy?
At a time when Ontario faces huge debt and debt service payments, when Ontario is struggling to provide healthcare to our seniors who have paid into the system, when Ontario has people waiting weeks and months to have medical tests and see specialists, we have people getting treated in the hallways of our hospitals, and a criminal element just waiting to take advantage, Andrea Horwath wants to open up Ontario. Not open for business, but to open to the world's illegal immigrants for free healthcare and welfare.  I say the cost of this insanity is far too high, not just in the financial sense but in the cultural societal sense as well. Andrea we are closed for "Sanctuary".