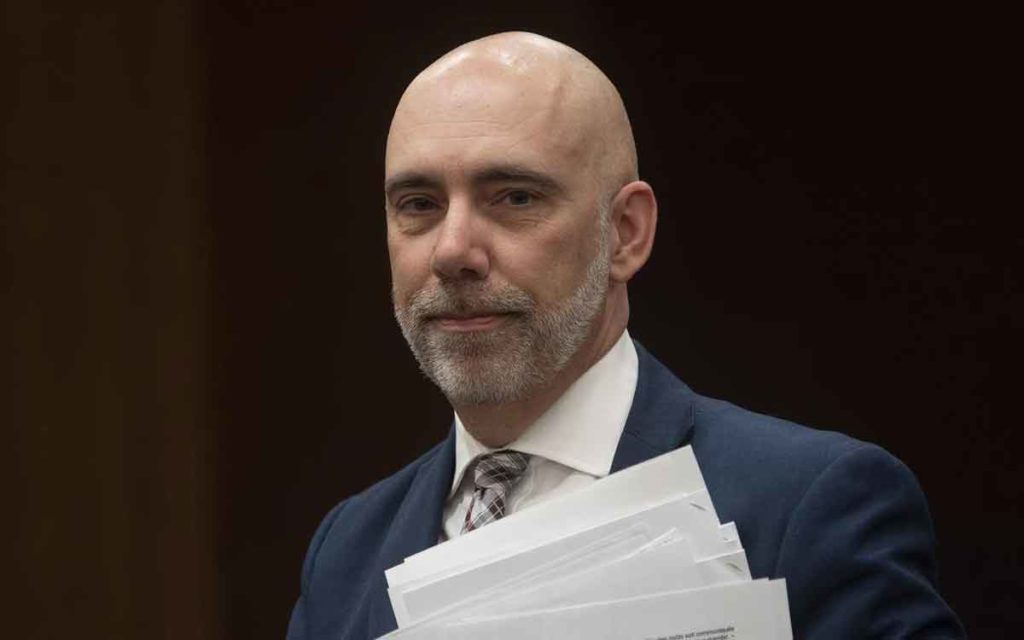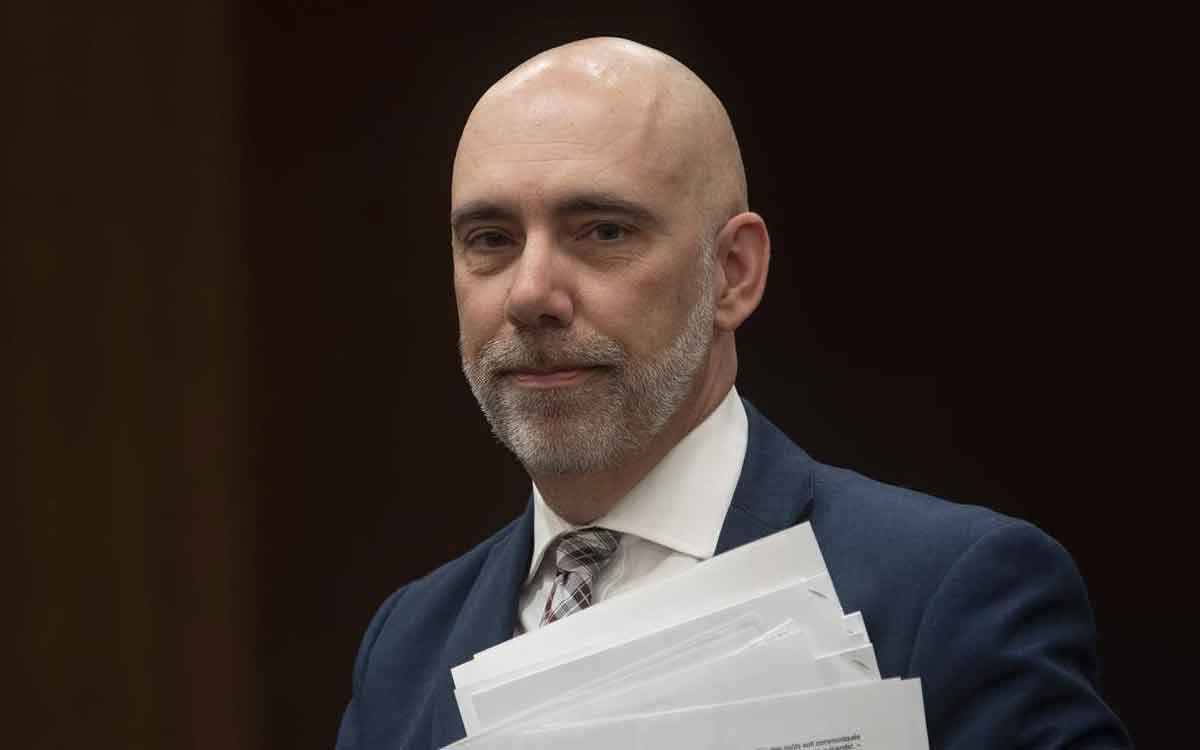 Parliamentary Budget Officer Yves Giroux waits to appear before the Commons Finance committee on Parliament Hill in Ottawa, Tuesday March 10, 2020. Photo: Adrian Wyld/THE CANADIAN PRESS
 A budget deficit of $252 billion this year and a national debt of more than $1 trillion? But then, who is counting?
Two weeks ago the Parliamentary Budget Officer Report was issued and it projected that, given the combined impact of the pandemic and the collapse of world oil prices, Canada will have a budgetary deficit of $252.1 billion this year. The country's GDP (the value of all goods and services produced) will fall by 12 per cent for the fiscal year. This will result in federal tax revenues falling by $60 billion, while the government's program spending will increase by $168 billion.
To put all these numbers in context, it is the worst financial statement in Canada's history. The deficit figure that is about to blot the ledger books of our country is greater than in any single year during the Great Depression.
That was two weeks ago. Fast forward to this week when Parliamentary Budget Officer (PBO) Yves Giroux appeared before MPs to testify at a finance committee meeting. Giroux said the $252 billion figure he cited in his report is "optimistic" and that it is "a low-ball estimate" of how much the federal government programs will cost the federal treasury this fiscal year. He anticipated the figure to be higher as the government continues to spend billions of dollars on emergency economic support programs to respond to the coronavirus pandemic.
Giroux explained, "The figure of $252 billion is very likely to be the very optimistic scenario, as opposed to the number for the deficit for the current fiscal year. It's very difficult to estimate what is a likely deficit figure given that details are missing for some of these potentially very expensive measures."
Giroux also projected that the coronavirus lockdown could result in Canada's debt climbing to surpass $ 1 trillion. The PBO replied to Conservative MP Pierre Poilievre's question whether it was "possible or realistic" that the federal debt could reach a trillion dollars during this fiscal year. He answered, "Possible, yes. Realistic? Yes. Certainly not unthinkable."
In follow-up to the PBO appearance, the Federal Department of Finance reaffirmed Giroux's projection, saying that the department had no estimate on the amount of money spent by the Trudeau Government in the last nine weeks. As it turns out, the Office of the Auditor General of Canada is also not able to provide any performance audits of federal departments. It has been reported that the Trudeau Government has been withholding operations funding from the office, preventing it from conducting its regular schedule of audits.
So, one trillion dollars of debt: $1,000,000,000,000. Can Canadians carry this burden? The short answer is "yes." Given the current projections, the PBO sees the federal debt-to-GDP ratio rising to 48.4 per cent this year (Trudeau Government has boasted it has always been able to keep it at a manageable 30 per cent). Even at this inflated rate, the debt-to-GDP remains below its peak of 66.6-per-cent back during the PM Jean Chretien years of 1995–96. In the mid-90s Canadians were paying 38 cents of every tax dollar to pay the interest on the national debt. As it is in our post-pandemic world, Canadians will be paying about 30 cents on the dollar in interest payments – but that depends on interest rates.  As Paul Boothe, a former senior bureaucrat at Finance Canada also explains, it will depend on the foreign government(s) who will set the conditions on the debt they will finance (about one-third of government's debt).
For the PM, this is a problem for another day. Trudeau said recently, "There will be time after this is all done as we figure out how exactly this unfolds, where we will have to make next decisions on how that recovery looks. But right now our focus is on getting through this together as a country." When pressed about how Canadians may be told what the country's books look like, Trudeau offered, "We'll find ways to share this with you but we have not yet been able to determine what the best way is of looking at a budget or an economic update or maybe another way of sharing information with Canadians about what we foresee for the months to come."
It is difficult to keep track of the multiple financial commitments made by the Trudeau Government. The numbers are alarming. Last reported, more than 7.3 million Canadians have applied for emergency assistance. Another 96,000 employers have applied for the 75 per cent wage subsidy to cover about 1.7 million workers. Another 518,000 businesses have applied for $40,000 government-backed loans.
And there are increasing concerns being expressed by MPs and media about the lack of government controls in place to monitor its own spending. This week, details of how the federal government has suspended "compliance and enforcement" of the EI program during the pandemic were exposed. Federal civil servants revealed to media that massive fraud is taking place. There are as many as 200,000 cases being given the $2,000-a-month emergency payment; yet, questions to the PM about this $400-million-per-month-boondoggle were dismissed.
In a special column to the Globe and Mail, Preston Manning sounded an alert on the gross spending by the federal government. He wrote, "Sooner or later – and preferably sooner – Canadians will come to realize that the country is headed into a financial and economic crisis of unprecedented magnitude with, as yet, no realistic plan or demonstrated capacity on the part of Prime Minister Justin Trudeau's minority government to deal with it."
Last word goes to an unlikely left-of-centre character, former NDP Leader Thomas Mulcair, who was also highly critical of the Trudeau Government's spending ways. Mulcair wrote in a Sun Media editorial: "Trudeau will have created $10,000 of new debt for every man, woman and child in Canada during his time in office. The sums are staggering. Trudeau swatted away questions on that, not because it isn't a huge problem but because he knows there'll be an election before he has to bring in new taxes to start dealing with it."
Mulcair concluded his criticisms with a lament for Canada's future taxpayers, "Once again, this generation of leaders is putting everything on the maxed-out credit card of our grandchildren. One of the greatest inequalities in our society is that which exists between generations and it's getting more and more unfair."
(Is it now not accurate to say that with this $1 trillion dollar debt legacy, Trudeau Jr. has far surpassed the dubious legacy of Trudeau Sr., the father of Canada's debt and its deficit-spending tradition?)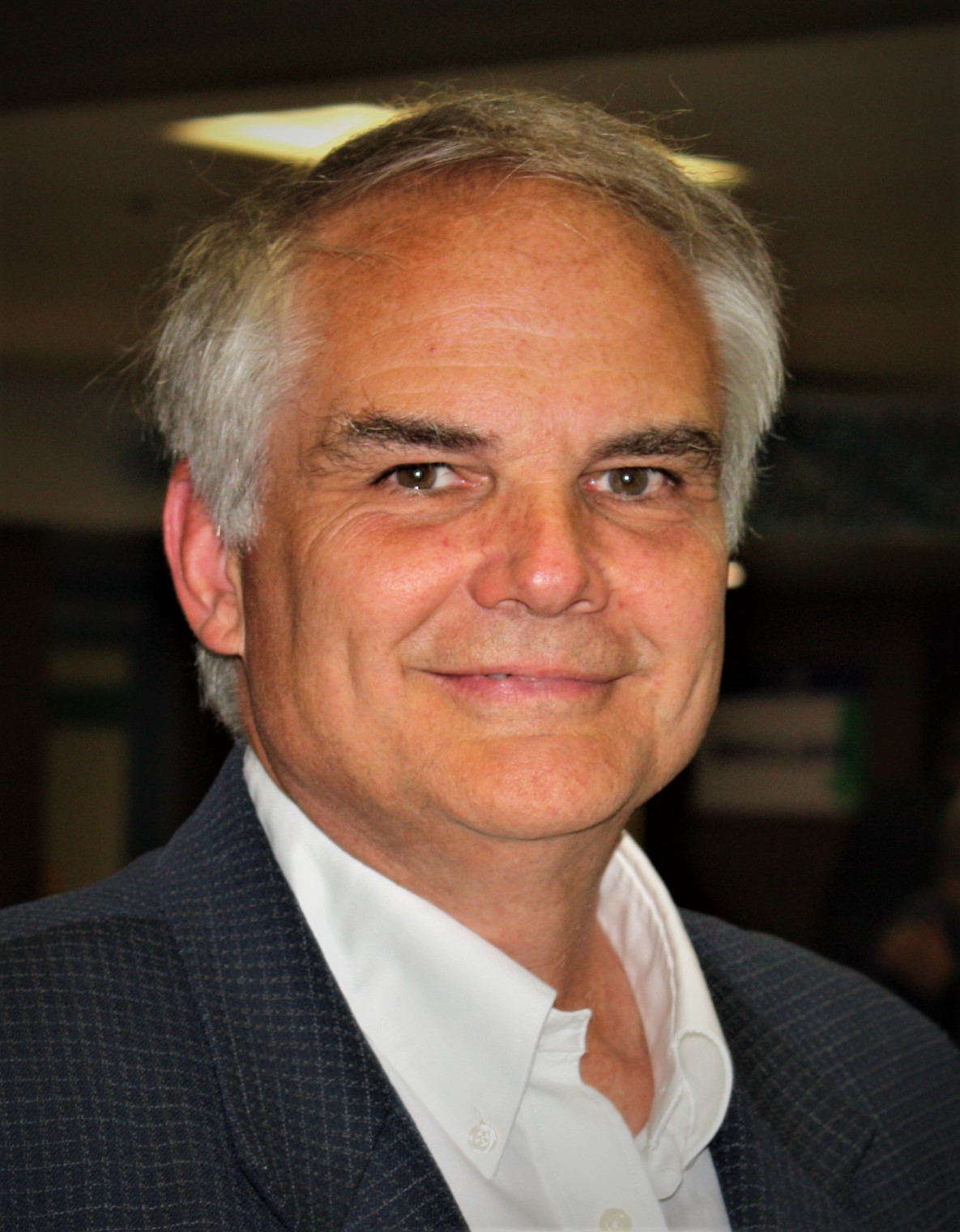 Chris George is an advocate, government relations advisor, and writer/copy editor. As president of a public relations firm established in 1994, Chris provides discreet counsel, tactical advice and management skills to CEOs/Presidents, Boards of Directors and senior executive teams in executing public and government relations campaigns and managing issues. Prior to this PR/GR career, Chris spent seven years on Parliament Hill on staffs of Cabinet Ministers and MPs. He has served in senior campaign positions for electoral and advocacy campaigns at every level of government. Today, Chris resides in Almonte, Ontario where he and his wife manage www.cgacommunications.com. Contact Chris at chrisg.george@gmail.com.