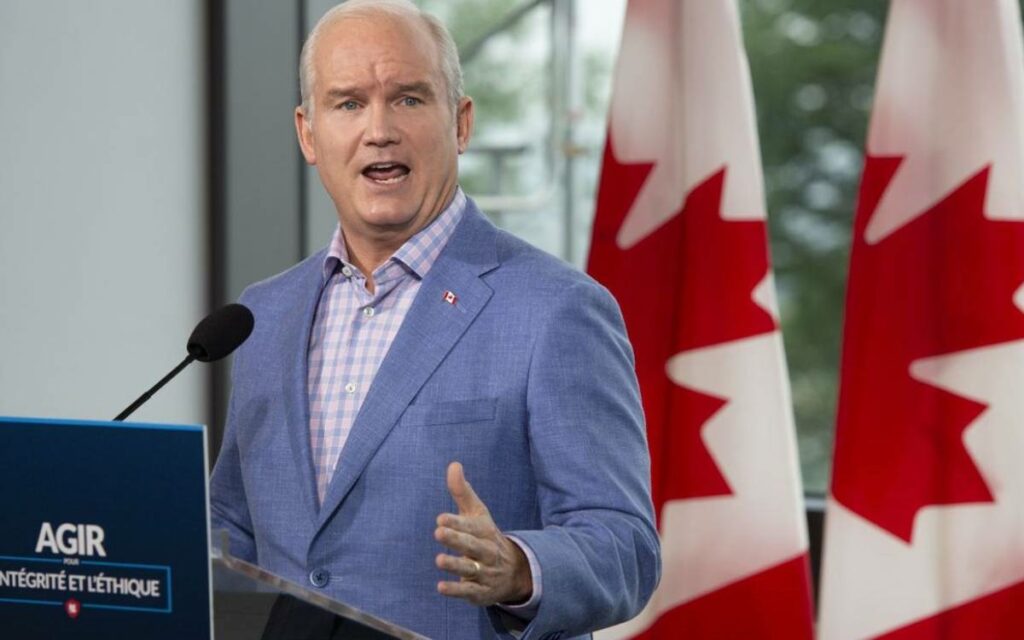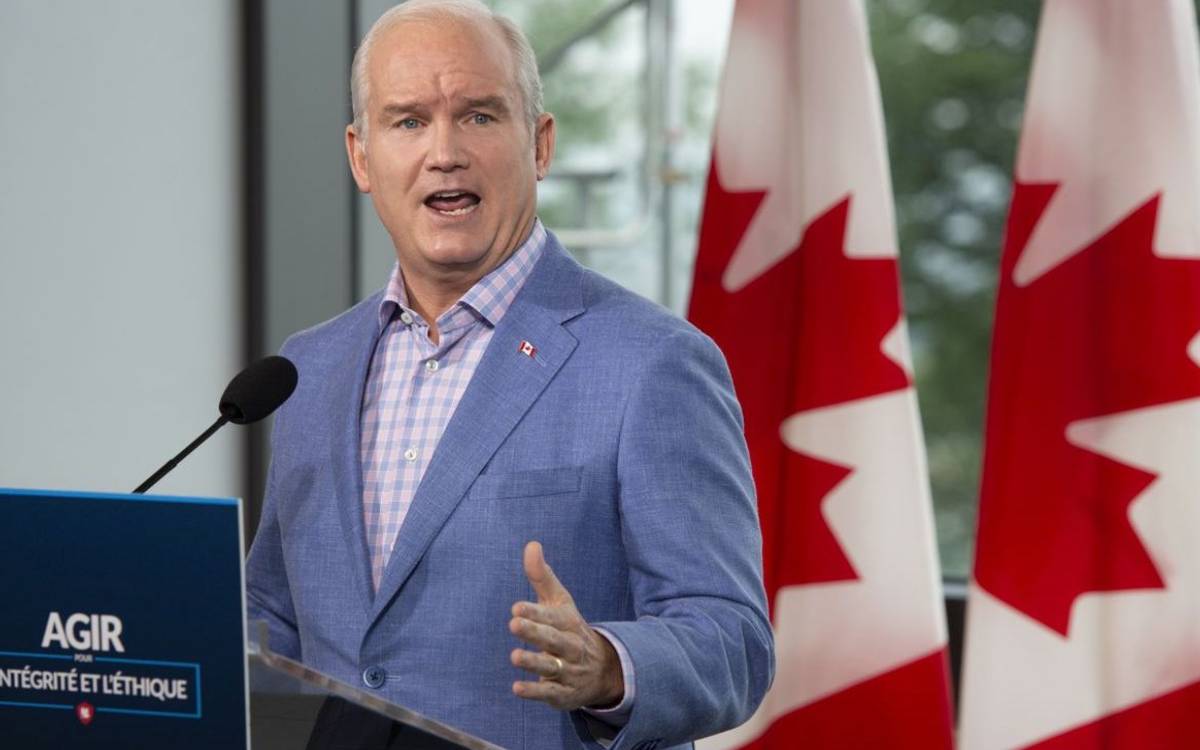 Conservative Party leader Erin O'Toole speaks to the media in Quebec City on Aug. 18, 2021. Photo credit: The Canadian Press/Ryan Remiorz
In a statement released Friday, Canada's Leader of the Official Opposition Erin O'Toole asked Primer Minister Justin Trudeau and the governing Liberals to further ease travel restrictions between the U.S. and Canada by removing the need for pre-departure PCR testing. 
"Canada's Conservatives are calling on the Trudeau government to remove the current pre-departure PCR testing requirements for fully vaccinated travellers entering Canada through land borders, in addition to harmonize with US regulations on air travel, and remove the pre-departure requirement for a PCR test in favour of a rapid antigen test for fully vaccinated travellers," said O'Toole. 
The Conservative Party leader pointed to work conducted by the government's own expert advisory panel to justify elimination of the test. 
"In May, the government's COVID-19 Testing and Screening Expert Advisory Panel released a report recommending that fully vaccinated non-exempt travellers do not need to take a pre-departure test," said O'Toole. "The expert panel and leading health experts have made it clear that it is time to update the pre-departure PCR policies for fully vaccinated travelers entering through land borders and air travel."
Since mid-October, when the U.S. initially announced it would be reopening its land ports of entry to fully vaccinated Canadians, local officials on both sides of the border in Niagara have called for an end to the expensive requirement. 
In a recent bilateral press conference held on Nov. 8, the day the border reopened, the mayors of Niagara Falls Ontario and New York both underlined the two jurisdictions' high vaccination rates and reiterated their call to end the current testing protocol. 
"In Niagara Falls, we are like one city divided by international border. With vaccination rates among the highest in the world, it's time to allow our families, friends and visitors who are fully vaccinated the ease of safe travel that we once enjoyed," said Mayor of Niagara Falls, Ont. Jim Diodati. 
Democratic Congressman for Western New York Brian Higgins, who was also in attendance at the Nov. 8 press conference, called the testing requirement "redundant". 
"For the last 19 months all of us have been admonished to follow the science. Science tells us that the vaccine is highly effective in keeping people from getting and giving COVID," said Higgins. "Requiring a test is a redundant and costly requirement for those fully vaccinated and it presents an unnecessary obstacle to returning a pre-pandemic flow of people across the border which benefits the economies of both nations." 
At Niagara Region's most recent Public Health workshop on the status of COVID-19 on Nov. 5, the region's acting medical officer of health Dr. Mustafa Hirji endorsed continuation of the measure. 
"While the vaccine provides very good protection, it's not 100%," said Hirji. "So, [testing] is one additional thing we can do to make sure we don't have any infections that get missed coming back [into Canada]." 
Canada's chief public health officer Dr. Theresa Tam recently said that the government is "actively" and "quite carefully" looking at the country's testing policy for travellers.