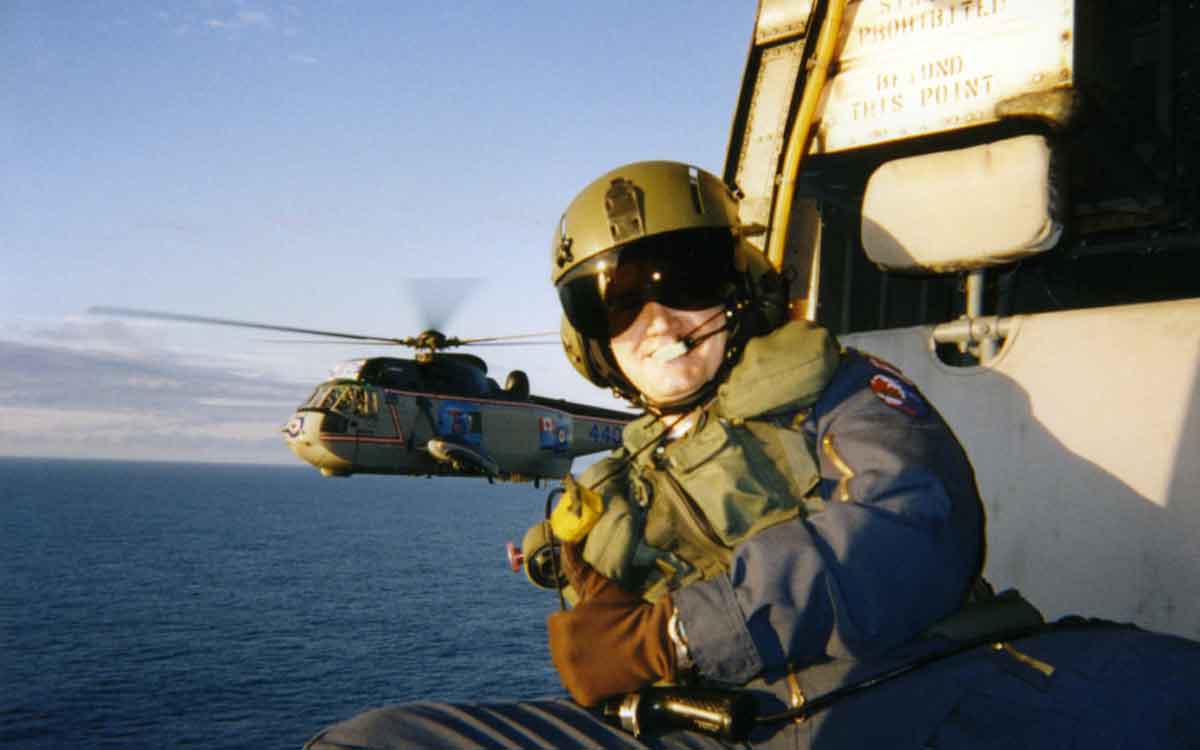 Erin O'Toole conducting training exercises near Puerto Rico during his service with the Royal Canadian Air Force.
Saturday marked the 76th anniversary of D-Day, when over 150,000 Allied troops — including 14,000 Canadians — successfully stormed the beaches of Normandy and kicked off Operation Overlord. Often considered "the beginning of the end" of the war in Europe, the battle earned Allied forces an all-important foothold on the continent and eventually culminated in the liberation of France. The capture of Juno Beach — and the subsequent push inland that saw the 3rd Infantry Division seize more territory than any other landing force at Normandy — is one of the shining moments in Canadian military history.
In an effort to commemorate the exceptional service members who fought and died that day, as well as all of the military personnel who sacrificed for Canada in World War II, The Niagara Independent reached out to former member of the Royal Canadian Air Force, Erin O'Toole.
From 1991 to 2000, O'Toole was an active member of the armed forces, conducting search and rescue operations, maritime surveillance, tactical navigation, and naval support. He retired from active duty with the rank of Captain, before going on to serve three years in the reserves while completing law school.
In 2012, O'Toole won his first of three successive elections in the riding of Durham. His time in Parliament has seen the Ontario MP serve as Minister of Veteran Affairs, Parliamentary Secretary to the Minister of International Trade, Official Opposition Critic for Public Safety and Shadow Minister of Foreign Affairs. O'Toole finished third of 14 registered candidates in the 2017 federal Conservative leadership race. He is once again vying to become the Conservative Party leader in 2020.
See below for The Niagara Independent's exclusive interview with Mr. O'Toole.
TNI: What does the sacrifice of those who fought and died at the Battle of Normandy, and the over one million Canadians who served in World War II for that matter, mean to you?
O'Toole: The Battle of Normandy was a momentous victory for the Allied Forces. It was a turning point in the war and I'm proud of the important role the Canadian Forces played. D-Day will forever be a day of pride for our nation, but also a day of mourning.
As a veteran of the Royal Canadian Air Force myself, I know personally that freedom comes at a cost. I'm reminded of the many Canadians who paid the ultimate sacrifice in the Battle of Normandy and throughout the war. Their service was inspiring and will never be forgotten.
I'm thankful to all of the brave men and women who served our country during World War II, leaving their homes and families to defend the values we all share as Canadians. As a veteran and a father, I'm proud of our history of standing strong in the defence of freedom.
TNI: Some historians claim that the Canadian assault on Juno Beach was the most strategically successful of the day's various landings. Amongst other considerations, one factor that contributed to the success was the Canadians' high-quality training and preparation. As a former service member, can you speak a bit about this long tradition of high-caliber training in the Canadian military and its continuation into the present day?
O'Toole: Globally, the Canadians Forces have a reputation of excellence. From Vimy to Juno to Kapyong to Kandahar, in combat roles to delivering humanitarian aid to Haiti and helping with disaster work at home and abroad, Canadian soldiers, sailors, and aircrew have punched above their weight and never failed to make the world a better place.
Here at home, service members have been working tirelessly to protect our seniors from COVID-19. They are always there to answer the call, even in these unprecedented times.
Unfortunately, the Trudeau government has failed to provide our service members with much-needed funding for new equipment. The brave men and women who serve our country are excellent ambassadors of the Canadian Military and our country, but there is a lack of critical investments to enhance technology, ensure our equipment is effective and in our infrastructure.
TNI: Lastly, as prime minister would you look to strengthen and increase support for Canada's armed forces?
O'Toole: Absolutely. Our service members need to have effective and reliable equipment. In my platform, I have committed to enhancing support for Canada's defense by ensuring Canada meets its NATO commitments in a deliberate but strategic way, increasing spending responsibly, taking the deficit into account, and leveraging the capabilities of Canadian innovators.
I will also assign the task of defence procurement to a single minister rather than it being split between multiple ministers and departments, in order to streamline the procurement process while concentrating and therefore enhancing accountability and efficiency.
I will expedite the delivery of new fighter jets to replace 40-year-old planes, while ending the Liberal practice of cancelling procurements solely because they were started by another party, saving hundreds of millions of dollars and valuable time for critically needed equipment.
Recognizing that Canada's strongest defence asset is its people by being conscious of the heavy operation toll – particular on SOF – that tears military families apart and depletes Canada's ability to deploy by only deploying our forces when they have clear and achievable missions along with the appropriate resources needed to achieve them; prioritizing recruitment and retention, including an emphasis on retraining and skills development to allow those willing to serve to continue to do so among other initiatives.
With melting sea ice, we can no longer depend on Mother Nature to defend our North, whether from Russian territorial aggression or environmental damage caused from foreign exploration and oil tankers invading our North. My government will recognize that Canada's Northern peoples have strong ties and deep knowledge of the North, expand the Canadian Rangers in number and mandate, while making investments in their education, equipment, and training. This will include establishing a Canadian Rangers led drone program for sovereignty, environmental and wildlife observation.