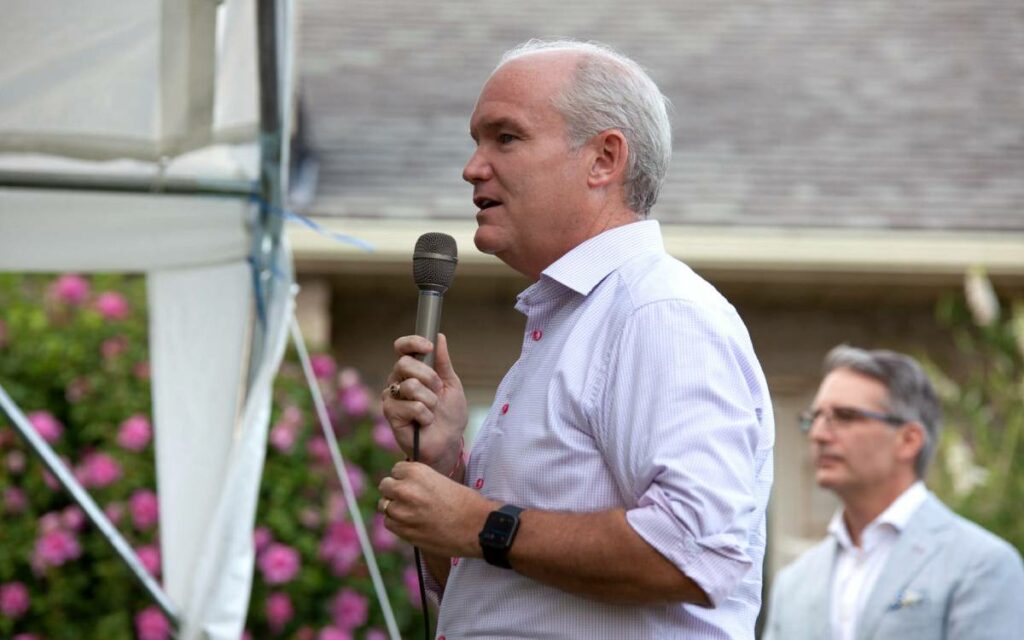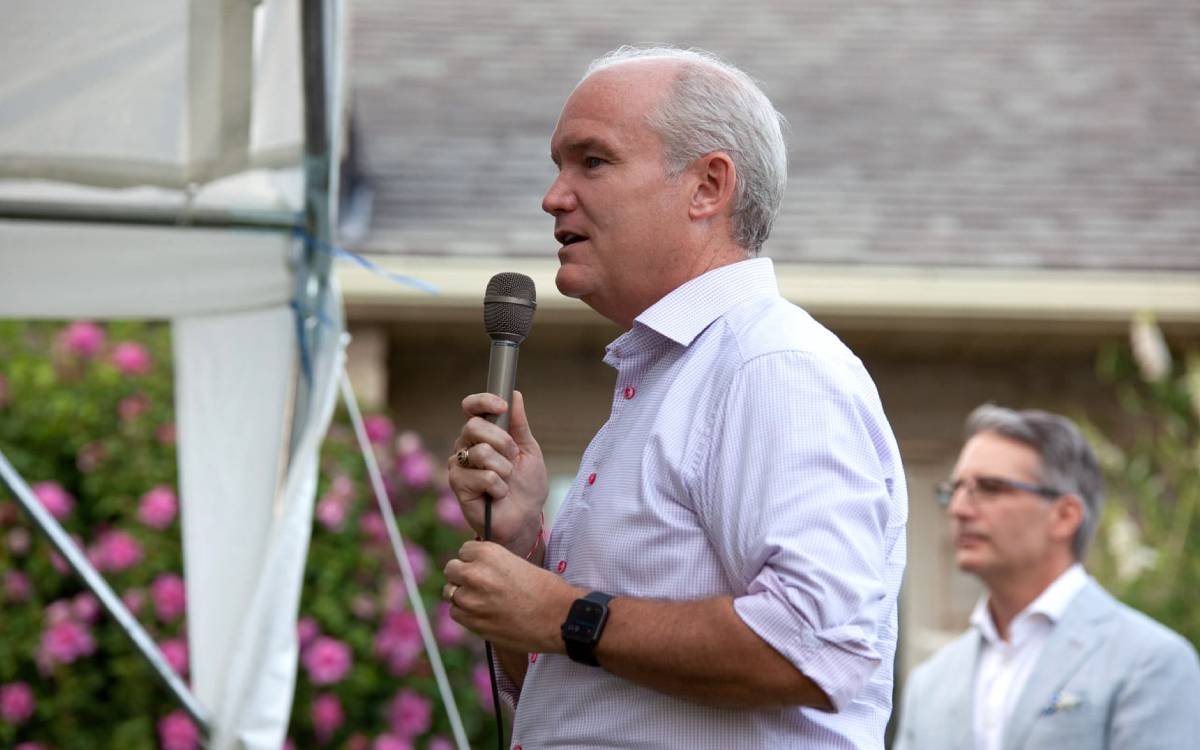 Leader of Canada's Official Opposition Erin O'Toole speaks to a small gathering in Welland, Aug. 10, 2021. Pictured in back is Niagara Centre federal Conservative candidate and current Welland city councillor Graham Speck. Photo credit: Facebook/Graham Speck
Earlier this week, Canada's Leader of the Official Opposition and head of the federal Conservative Party Erin O'Toole was in Niagara to tour small businesses and discuss the issues with local residents. 
O'Toole, who will challenge Justin Trudeau for the prime ministership of Canada in the country's upcoming September election, provided The Niagara Independent with an exclusive interview between his many stops and engagements on Tuesday. While a wide variety of topics were covered during the interview, particular attention was paid to the economy, jobs, and housing affordability. 
Below is a partial transcript of the interview, gently edited for clarity. Mr. O'Toole's responses are unbolded.
According to a recent analysis of PBO documents by the Canadian Taxpayers Federation, it's predicted the federal government will not return the country to a balanced budget until the year 2070 if spending proceeds as planned. 
Now, you can blame the pandemic to an extent, but as Canada's Parliamentary Budget Officer Yves Giroux recently commented, "Given their temporary nature, federal COVID-19 support measures do not have a material impact on long-term fiscal sustainability." 
What is the Conservative plan for balancing the budget and securing Canada's economic future? — both in the immediate post-pandemic era and beyond. 
That should scare people — 2070 — nearly half a century before the Liberals can come close to balancing the budget. 
The fifth pillar of the Conservative Party's 'Canada's Recovery Plan' is getting back to balance by the end of the decade. 
We will focus on swift economic recovery of all sectors in the short term, especially helping highly impacted sectors, like tourism here in Niagara, as well as small businesses that are hanging on by a thread. 
For the next couple of years, we will have targeted programs to help [such sectors/businesses] not only survive, but thrive, including incentivising hiring. 
We'll ramp down the spending — the emergency spending and over-program spending Mr. Trudeau has put into the system — in a way that's responsible. 
We're the only party with a plan, and the only party that supports people whether they work in tourism, hospitality, steel and aluminium [manufacturing], or resources and energy in Western Canada — we need every economic cylinder firing to secure the future."
We're slowly inching our way out of the pandemic, but many in this country still remain unemployed — some by choice (electing to continue exploiting particular government disincentives), but many others simply can't find a job. 
What is your plan to secure jobs and get Canadians back to work?
The first pillar of our plan is our one-million-jobs-in-one-year commitment.
We're going to make sure that we have an approach to incentivise people that have been chronically unemployed – to help them get a job opportunity. 
Today in Oakville at Sheridan College, I announced a program accelerating apprenticeship spots — and actually having a Canadian working/training benefit for workers that want to get a loan to upgrade their skills to get a new job. 
If the pandemic has shifted things and people need to start a new career, we have a program to let people self-direct their ability to get back into the job market.
Once again, this is the difference between Canada's Conservatives and the other parties on the Left. They're going to turn the CERB into some guaranteed income that will just hollow out our country's ability to have healthcare, old-age security, what have you — we want people to work. There's nobility in working. Whether you get up to open your small business or whether you get up to work for someone else, there's nobility in that. We have to stand up for that. 
I met an immigrant today who came [to Canada] 40 years ago with literally nothing. He said he loves this country because it allowed him to work hard and succeed. That is the Canadian dream.
As a young person with a young family, every day I see the dream of owning a house with a small yard slip further and further away. 
What can the federal government do to make housing more affordable for young people, like myself, trying to enter the housing market for the first time?
There's so many young families across southern Ontario's Golden Horseshoe — and the problem is just as bad in places like British Columbia — a whole generation thinking that they're never going to have home ownership. 
We have a number of policies to tackle that. 
In fact, my shadow minister for housing [Brad Vis] is a millennial MP from BC. 
We're going to make sure that the federal government's role — whether it be with the CMHC, the way mortgages are approached, right through to first time home-buyers incentives and programs — actually meets the needs of the real market. 
A study came in just the last day showing that Trudeau's program has completely failed. It hasn't met the objectives, and actually people in Ontario wouldn't even qualify with the numbers involved. 
Of course, supply is an issue — and that's municipal and provincial. But there's a role the federal government can play to accelerate the building of supply. We need more supply in those markets [like Niagara] to make sure that your family has access to homes in a way that's affordable. And we need to make sure that federal first-time homebuyers incentives are actually something that can be applied in your area, not just something that is announced and doesn't apply to anyone. 
We put forward a number of ideas a few months ago, including blocking foreign-buyers from just gobbling up real estate — whether to secure investment or for money-laundering. We need to put a freeze on all foreign-buyers, because we already have a crisis which can't be made worse by outside forces.