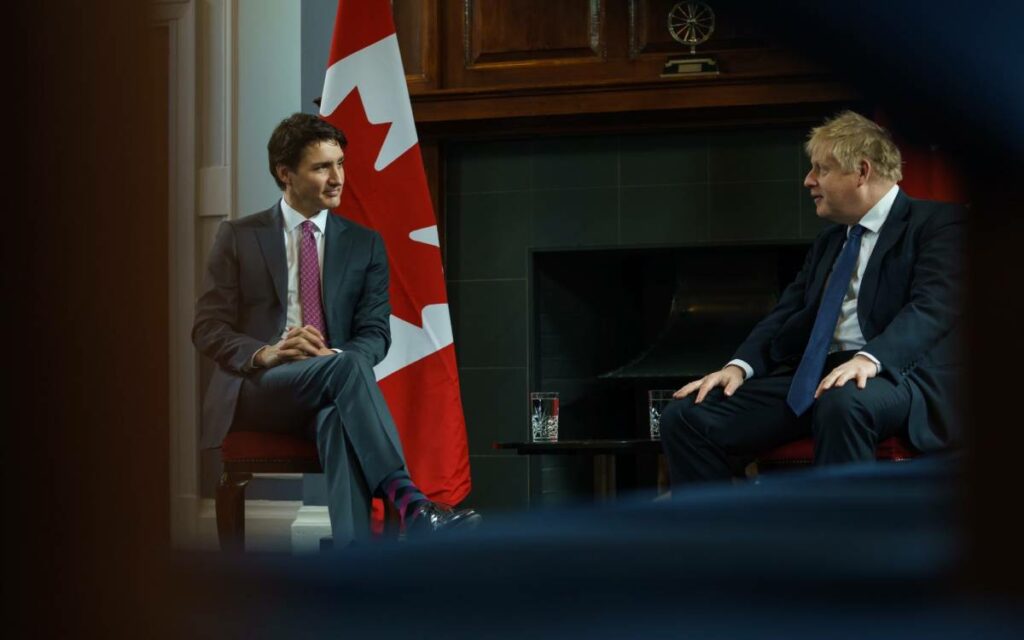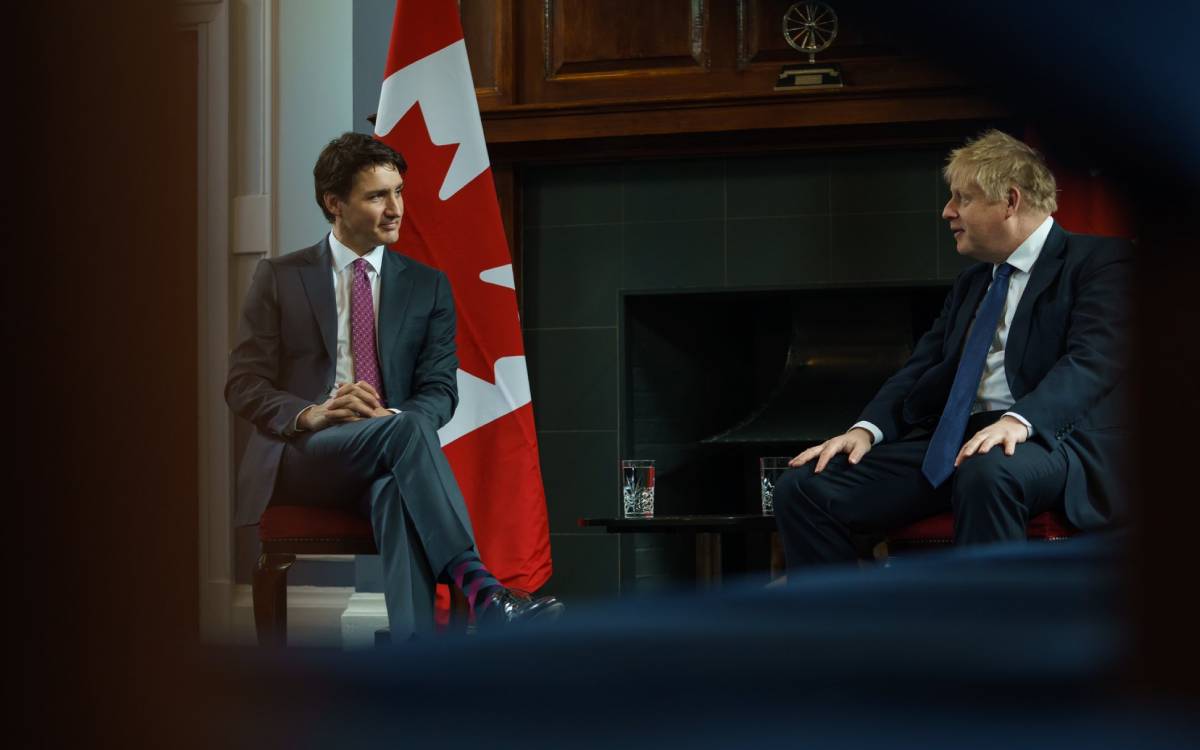 Prime Minister Justin Trudeau meets with his British counterpart Boris Johnson at 10 Downing Street in London, Mar. 7, 2022. Photo credit: Twitter/Justin Trudeau 
There is a Hans Christian Andersen folktale entitled The Emperor's New Clothes about a foolhardy leader who parades through town to everyone's embarrassment. Much like the Canadian Prime Minister's public relations tour through Europe this week, Justin Trudeau's exposure revealed naked truths about his government and its commitment to the crisis unfolding in Ukraine. 
In British media there appeared humourous comparisons between "dreamboat Justin Trudeau" and frumpy British PM Boris Johnson, with one fawning observation that the Canuck's stylish threads and catwalk strides had him "looking like he had just stepped out of the pages of a menswear catalogue."  However, reports back home shared news of crowds chanting unpleasantries outside Number 10 Downing Street, and a series of press conferences that had foreign reporters rolling their eyes at the Canadian PM's non-speak. There were also three particular poses PM Trudeau struck that were anything but vogue. 
NATO: "threadbare"
In Europe, there is a heightened political sensitivity on how the North Atlantic Treaty Organization (NATO) can provide more to the defense of Ukraine. PM Trudeau was questioned at almost every press conference on whether his government would accept Canada's military commitment to NATO; Maclean's magazine reported that Trudeau "ignored the question or used standard platitudes." In response to a direct question of whether Canada would boost its military budget to meet NATO's spending target of two per cent of GDP, Trudeau said: "We need to make sure that the women and men in the Canadian Armed forces have all the equipment necessary to be able to stand strongly, as we always have as members of NATO."
To put it politely, Canada's contribution to NATO is threadbare. The tale of the tape is this: NATO has a defence spending target of two per cent of GDP for its member countries. Last year Canada placed 24th of 30 members in spending an unfashionable 1.39 per cent of GDP to NATO. In a press conference Wednesday, NATO Secretary General Jens Stoltenberg said, "Canada is contributing in many ways. But then, of course, I would like to see all allies to do even more, and therefore I call on all allies to step up."
Through the week, as he pledged Canadians' good-faith, Trudeau would repeatedly mumble, "we continue to look at what more we can do." Then mid-week Finance Minister Chrystia Freeland hinted at increases to the country's defence spending to be announced in the spring federal budget. Apparently, NATO members and the besieged Ukrainians will need to wait until then to get a straight answer to their question.  
Refugee Program: "ill-fitted" 
The news of nearly two million people fleeing from the advancing Russian firepower has pulled at heartstrings throughout Canada, home to the largest population of Ukrainian diaspora. To its credit, the Canadian government was quick to answer the call of this rapidly evolving humanitarian crisis. In a call with Ukrainian President Volodymyr Zelensky, PM Trudeau promised, "Canada would continue to be there for them." On Thursday in Warsaw, Trudeau recommitted Canada's pledge to Polish President Andrzej Duda.
The Canadian government will expedite refugee applications and develop an emergency travel stream that eliminates many of Canada's visa requirements for Ukrainians. Pending security checks, Ukrainian refugees can work or attend school for at least two years. The government is also prioritizing applications from Ukraine for permanent or temporary residency.
These are all excellent initiatives, however, the details of this hastily stitched program tell us we should consider making alterations ASAP. For example, the government admitted it will take two weeks before the Canadian program is operational as officials must implement identification procedures, including biometrics, for receiving the refugees. Another concern is the program is only available to Ukraine citizens; non-citizens need not board the flights to Pearson. This has distressed the great number of displaced people without citizenship – racialized minorities and asylum seekers – who will not be able to return to Ukraine or their home countries. 
So, as PM Trudeau was providing reassurances before microphones in Europe, immigration experts in Canada voiced skepticism about the ill-fitted program. Immigration Canada is renowned for its processing delays – so, why exactly do we need to process refugees before flying them to safety? What impact will the Ukrainian refugees have on other refugees awaiting resettlement to Canada? What about the urgent need to assist in Afghanistan, where Canada has only resettled 8,580 of the promised 40,000 Afghan refugees since August 2021? 
Oil and Gas: "faux fashion" 
In one of his first stops this week, PM Trudeau held a press conference with U.K. PM Johnson and Dutch PM Mark Rutte. The PMs' joint presentation focused on the need for European countries to lessen their dependence on Russian oil and gas. Rutte talked about the risks to energy supplies in Europe, "The painful reality is that we are still very much dependent on Russian gas and Russian oil. We have to consider how we can all move away as fast as possible from dependence or reliance on Russian hydrocarbons."
Then Trudeau suggested Canada would be there to support European nations weaning off Russian energy. When asked whether Canada could supply the oil and gas that Europe required, Trudeau was confidently vague, "We will be there to support, as the world moves beyond Russian oil and indeed, beyond fossil fuels, to have more renewables in our mix. We need to move forward on decarbonizing our economies, but we need to do that in a way that supports people through that process and we're going to continue doing that."  
In other words, our fashion-conscious, trendy PM told Europeans they should not look to Canada for oil and gas, but expect sometime in the future to benefit from dependable Canadian renewable resources. As Boris Johnson speculated on the possibility of re-firing U.K. coal plants to meet his country's immediate energy needs, Justin Trudeau's faux fashion was on display for all to see.   
And there was good reason no promise for Canadian oil and gas was forthcoming. The Trudeau government is aggressively refashioning the Canadian economy to transition from oil and gas. Just last week the government announced it was halting all further spending on the Trans Mountain Pipeline, effectively killing this half-finished project. Last month the government buried the Québec Energie Saguenay liquified natural gas export facility, north of Quebec City. It also recently announced an additional delay in reviewing a Bay Du Nord offshore oil project off the coast of Newfoundland. Across the country, the Trudeau government is doing everything it can to shut down carbon-based industries and replace them with "tomorrrow's fad": subsidized renewable resources.
Dan McTeague, president of Canadians For Affordable Energy, astutely critiques what this means in light of the Russian invasion of Ukraine, "The opportunity exists to have our Canadian energy resources made available to Europeans who are threatened with serious energy shortages… Europe really does miss Canada – from the table of grownups who understand the realities of global politics and day to day life for the millions threatened by an absence of affordable energy."
From Trudeau's posturing on NATO, to refugees, to oil and gas, respectfully, Hans Christian Andersen himself could not have written this.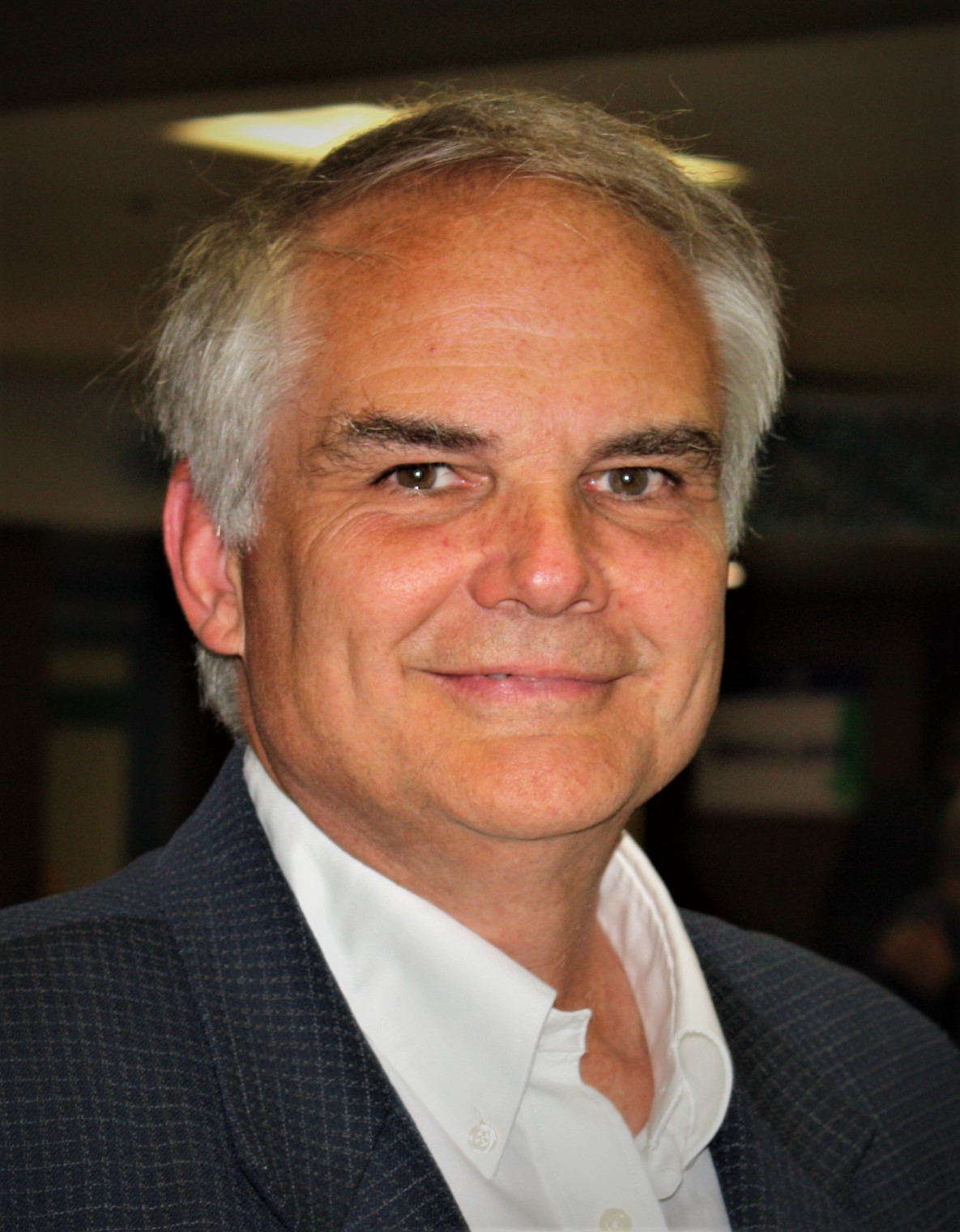 Chris George is an advocate, government relations advisor, and writer/copy editor. As president of a public relations firm established in 1994, Chris provides discreet counsel, tactical advice and management skills to CEOs/Presidents, Boards of Directors and senior executive teams in executing public and government relations campaigns and managing issues. Prior to this PR/GR career, Chris spent seven years on Parliament Hill on staffs of Cabinet Ministers and MPs. He has served in senior campaign positions for electoral and advocacy campaigns at every level of government. Today, Chris resides in Almonte, Ontario where he and his wife manage www.cgacommunications.com. Contact Chris at chrisg.george@gmail.com.