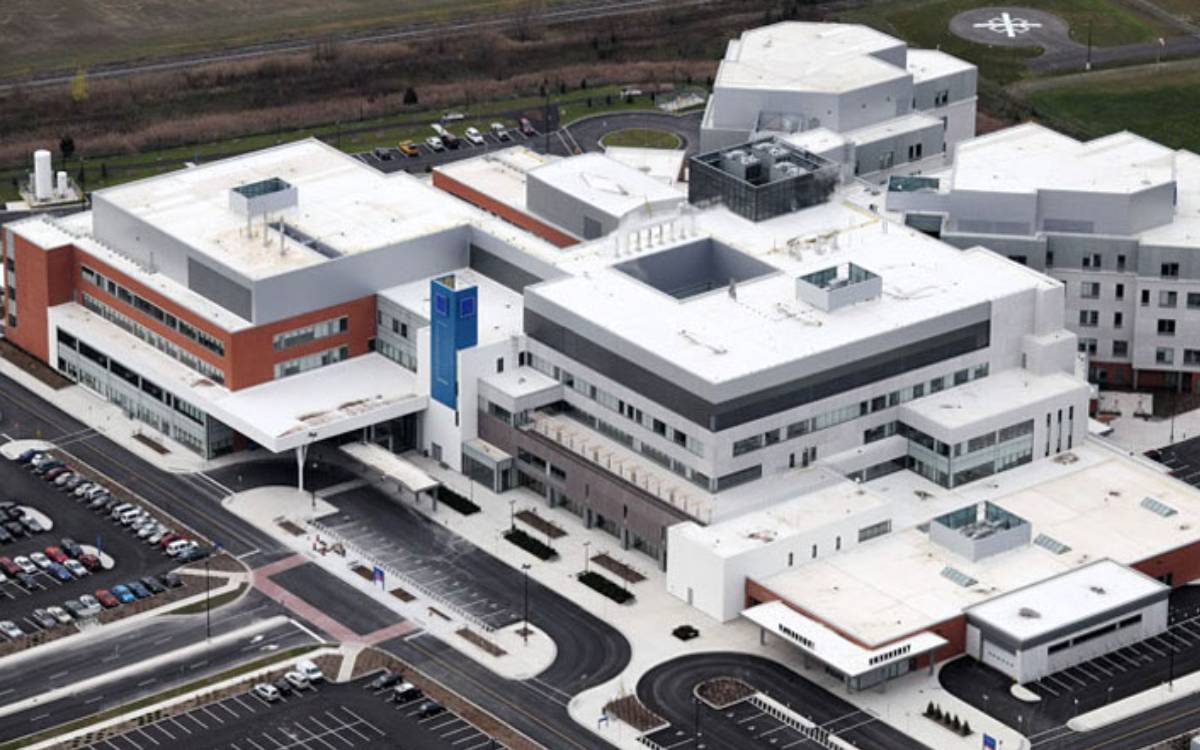 Niagara Health's St. Catharines site. Photo credit: Infrastructure Ontario
Overwhelmed by increased demand and an ever-growing staff shortage fueled by the recent rise in COVID-19 cases, Niagara Health has taken dramatic action to maintain adequate levels of care at its facilities. 
On Tuesday, the organization announced it was temporarily closing Fort Erie's urgent care centre in order to redeploy personnel to the region's emergency departments. 
"Temporarily closing the Fort Erie Urgent Care Centre was a decision that was not taken lightly," said Bunny Alexander, chair of Niagara Health's board of directors. "The Board of Directors and Senior Leadership agreed that we need to take this step to address staffing shortages and maintain essential services for the high volumes of patients in our community needing emergency care."
The move was immediately met by harsh criticism from residents, Mayor of Fort Erie Wayne Redekop, and the town's provincial and federal representatives. 
"We have made ourselves clear with Niagara Health – we don't support the temporary closure of our urgent care centre," said Mayor Redekop. "We don't support not being consulted before they made the decision. And, we expect Niagara Health and other provincial authorities to get our urgent care centre back up and running as soon as they are able to secure staffing levels in their emergency rooms."
In harmony with the town's mayor, Conservative MP for Niagara Falls Tony Baldinelli called the move "unacceptable".
"Closing the UCC [urgent care centre] in the fourth largest community in the Region will do nothing to support the more than 30,000 people who are also vulnerable and need access to timely and available critical medical services," said Baldinelli. 
"If Canada was prepared for this pandemic, and if federal health funding were expanded months ago as many of the Premiers have been asking, then decisions like temporarily closing the UCC in Fort Erie would possibly not have happened."
"Speaking as the federal MP," concluded Baldinelli, "I strongly oppose this decision, and I hope to see access and service restored as quickly as possible in Fort Erie for those who need urgent care."
In addition to shutting down Fort Erie's urgent care centre, on Thursday Niagara Health announced that it's also suspending its mandatory vaccination policy for staff, which was set to take effect Jan. 27, 2022. 
"When our mandatory COVID-19 vaccination program was put in place in October 2021, the Omicron variant was not anticipated," read a press release from the organization. "Given the intensity of the fifth wave and the urgent need to focus on our response, Niagara Health's Executive Team has made the decision to pause implementation of the program."
Like the urgent care centre closure, Niagara Health's president and CEO Lynn Guerriero said the move is only temporary.
"We remain committed to a fully vaccinated workforce at our hospital, and we will proceed with the implementation at a later time to be determined," said Guerriero.
Workers who are unvaccinated will be required to participate in regular antigen testing and complete screening before every shift. 
According to Niagara Health, over 350 staff members are currently in self-isolation, with nearly 150 employees having tested positive for COVID-19 since Dec. 21, 2021. 
CORRECTION: The headline of this story initialled indicated unvaccinated staff were being brought "back". However, no Niagara Health employees have lost their jobs for being unvaccinated to date, given that the policy has/had yet to take effect.