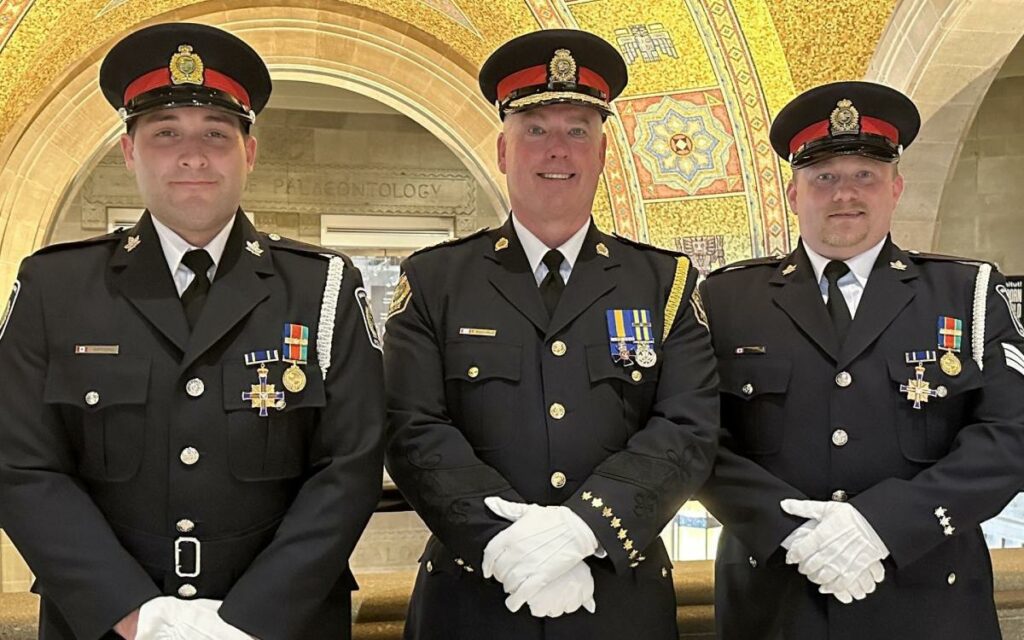 Mike Delano (right) and Christian Gifford (left) were honoured with the Ontario Medal for Police Bravery at a ceremony in Toronto on Thursday, June 22. Pictured in-between Delano and Gifford is NRPS chief Bryan MacCulloch. Photo credit: Twitter/Bryan MacCulloch
At a ceremony at Queen's Park in Toronto last week, the Ontario government honoured 21 police officers and 13 firefighters from around the province with the Ontario Medal for Police Bravery and the Ontario Medal for Firefighter Bravery. 
The medals are the province's highest honours and are given to police officers and firefighters who have "demonstrated great courage in risking their lives to save the lives of others."
"I have spent much time thinking about the constant risks and dangers that first responders face," said Lieutenant Governor Elizabeth Dowdeswell, who presided over the ceremony. 
"In accepting these medals, I hope that these brave men and women will re-commit themselves to serving the public with integrity, knowing that their accomplishments will help motivate a new generation of Ontarians to join their ranks – looking to follow their example."
Among the 34 first responders honoured at last Thursday's ceremony were two Niagara Regional Police Service (NRPS) officers: Sergeant Mike Delano and Constable Christian Gifford. 
Delano and Gifford were awarded the Ontario Medal for Police Bravery for their actions in an incident on Christmas Day three years ago. 
On December 25, 2020, the pair were among a number of officers who responded to a report of a vehicle being driven by a suicidal man believed to be armed with a knife, just west of St. Catharines. The suspect had been involved in an altercation at his parents' home where he had assaulted several family members before fleeing. He reportedly had consumed an unknown quantity of medications. 
After police brought the man's car to a halt, Constable (now Sergeant) Delano and a patrol sergeant tried to de-escalate the situation by negotiating with the suspect. Instead of reacting peaceably, he got out of his car and charged Delano, brandishing a knife. Positioned behind his vehicle, the constable removed his service weapon and shot at the man who stopped briefly before continuing to charge. 
Seeing his colleague in danger, Constable Gifford ran to provide back up to Delano. The two officers struck the suspect several times before he finally came to a stop. The pair assisted delivering first aid, while the man pleaded to be left to die. The tourniquets applied to the man before the paramedics arrived saved his life. According to the province, the officers' actions "prevented an already volatile situation from spinning out of control."
"Ontario is fortunate to be home to the best police officers and firefighters in the country," said Solicitor General Michael Kerzner. "When confronted with the perils these men and women faced, most of us would have hesitated – they didn't. They ran toward danger. And for that we honour them with the province's highest award for bravery – their work is an inspiration to us all."
Since 1975, the province has awarded 315 Ontario Medals for Police Bravery. Since 1976, the province has 260 Ontario Medals for Firefighter Bravery.